Vegan Chef Von Der Pool on Cooking for Common, Weight Loss, and the FLOTUS
Chef Lauren Von Der Pool is never without her pink Himalayan sea salt. When she eats out, the Miami-based vegan chef simply tells the kitchen to hold the salt, sauce, and dressings and adds her own mineral-rich seasoning. But long before she rose to the top and became a personal chef for clients such as Common, Stevie Wonder, and the Williams sisters, Von Der Pool subsisted on a diet of Cheetos and Funyuns.
The self-described onetime "bad girl" and "gangster" had her aha moment when she was stabbed in the head and nearly died in her hometown of Washington, D.C. She was 16 and realized she needed to turn her life around — beginning with what she was putting into her body. Von Der Pool began volunteering at a local health-food store in exchange for produce and would go home and experiment by creating raw, vegan dishes in her kitchen. It was while she was selling her creations outside Howard University that she caught the attention of Westley Howard, founder of Egyptian Magic Healing Skin Cream. He became her mentor and close friend, and with his encouragement and guidance, the teenaged chef enrolled at the Cordon Bleu School of Culinary Arts in Pasadena, California.
Next thing she knew, Von Der Pool was working for Wolfgang Puck and catering the Oscars and Grammys — a goal she set for herself right after meeting Howard. Then came the creation of her private chef and catering company, Von Der Pool Gourmet and Healthy Living Services, followed by three years of working almost exclusively for Venus and Serena Williams. "I ate, drank, and slept Serena and Venus," Von Der Pool jokes.
Indeed, Venus wrote the foreword to her friend's new book, Eat Yourself Sexy: The Goddess Edition. The tennis champion credits the chef with helping her battle Sjögrens syndrome, an autoimmune disease. Williams writes that had it not been for Von Der Pool's vegan dishes, she never would've recovered from being ranked number 105 in the world and gone on to have as many career wins. In fact, the chef was with the sisters when they won their gold medals at the 2012 Olympics.
In the book, 31-year-old Von Der Pool offers vegan recipes, as well as food principles such as which foods should never be combined for optimal health. For instance, fruit should be eaten only with other fruit, except melon, which has to be eaten on its own. She advocates eating organic and drinking alkaline water. You can also find beauty mask recipes and plenty of herbal remedies for various aches, pains, and digestive issues. If you're hoping to lose weight, Von Der Pool's advice is to begin with self-love, because if you love yourself, you will naturally avoid poisonous foods, she explains. And when you combine self-love with self-discipline, you have the power to keep the weight off for good.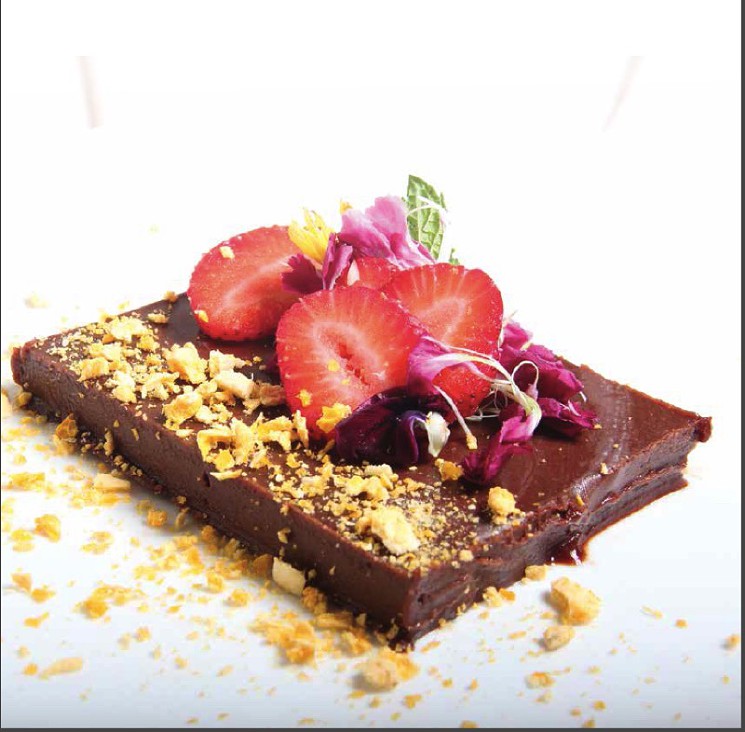 Chocolate fudge made with raw chocolate and avocados from the chef's book.
Courtesy of Lauren Von Der Pool
One of the highlights of the chef's career was being invited to the White House in 2009 as part of the Green Energy Economy
Forum and later being asked by Michelle Obama's office to be one of the executive chefs for the first lady's childhood obesity prevention campaign project, Let's Move! "It was a miracle," says Von Der Pool, who also has her own nonprofit teaching children about healthy eating.
"Working with Michelle Obama spiraled into such a beautiful thing because I've been able to help so many people. The whole movement has been very good to me, and I'm just grateful to be part of it."
For the past two years, Von Der Pool has called downtown Miami her home, but she's constantly traveling. Right now she's headed to New York and then Spain to cook for Academy Award-winning music artist Common. What's more, she's also set her sights on opening a natural healing village in Belize, where people can be treated by top specialists in the field. Von Der Pool says that she loves Miami but that she wants to be surrounded by more nature and to live in the rainforest for at least part of the year.
At the end of October, the author and chef launched a pop-up lunch service at the Sunset Harbour ice-cream shop Emack & Bolio's. The vegan mac 'n' cheese is ridiculously delicious. "I want it to taste good because I like mac 'n' cheese and it was one of my favorites before I became vegan," she says. Unfortunately, the pop-up is on hold until she returns from touring with Common. However, Von Der Pool promises to be back at Emack & Bolio's in mid-December during lunchtime. What's more, her company's taking orders for vegan Thanksgiving dishes, including vegan turkey. Call 305-903-0491 or visit Emack & Bolio's.
"If I can come from where I came from and do what I did, there are no excuses."