Chance the Rapper Donates $1 Million to Chicago's Public Schools
Chance the Rapper has donated $1 million to Chicago's public school system, stoking a long-running debate about the city's education system and how it is funded.
On Monday, the performer, a Chicago native, announced that the sum would support the arts and after-school programming. In a news conference at Westcott Elementary School blocks away from where he grew up, he called the donation a "call to action."
"I'm honored to make this donation to Chicago Public Schools Foundation and help cultivate Chicago creative minds," he said, adding, "I'm committed to helping Chicago's children have quality learning experiences that include the arts."
His gift comes at a moment when the city is grappling with a crisis over funding its schools. The rapper, who was educated in the Chicago's public schools, had been a vocal advocate for fixing the budget issues confronting the school system, which is the nation's third largest, serving over 400,000 students. It is facing a budget deficit that could bring an early end to the school year.
Chance met on Friday with Bruce Rauner, Illinois's Republican governor, to discuss the city's schools.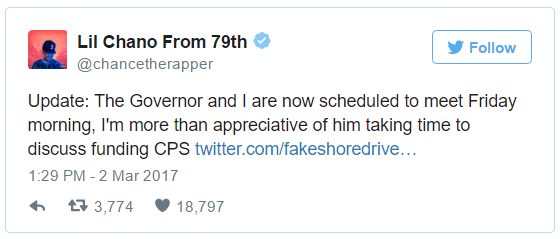 Afterward, Chance said he found the governor's responses to his questions "vague," and he urged news outlets to explore how Chicago's school system arrived at its current state.
"Governor Rauner can use his executive power to give Chicago's children the resources they need to fulfill their God-given right to learn," he said at a news conference. "While I'm frustrated and disappointed in the governor's inaction, that will not stop me from continuing to do all I can to support Chicago's most valuable resource: its children."
A few hours before the rapper's announcement, Mr. Rauner circulated a memo proposing two plans that might help secure $215 million in funding for the city's school system.
On Monday, the donation drew praise from the former first lady Michelle Obama, also a Chicago native, who on Twitter called him an "example of the power of arts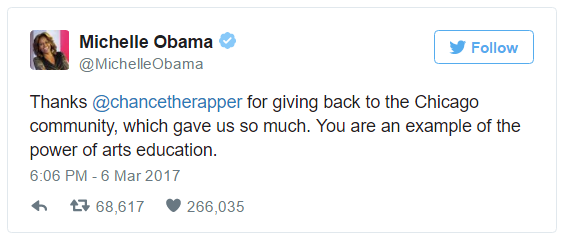 A spokeswoman for the governor, Eleni Demertzis, said in a statement that philanthropy would not solve the schools' funding crisis.
"While the Rauners are passionate donors to our schools, individual contributions will never be enough to address the financial challenges facing C.P.S.," Ms. Demertzis said. "It would be helpful if C.P.S. officials came to Springfield and joined in serious, good-faith discussions about the long-term stability of all of our schools."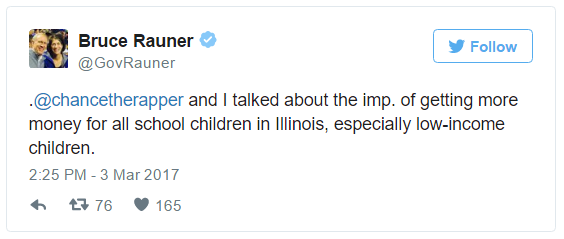 Chance the Rapper's donation will be shared among 10 public elementary schools and high schools.
Monique Dockery is the principal of one of the 10 schools, Westcott Elementary, which is receiving $10,000. In a telephone interview on Tuesday, she said she was shocked to learn the news.
"It just opened up a whole new world for Westcott and its students," she said. "We focus a lot on reading and math and the core subjects, and yet we have some very talented students who can go beyond that."
The donation from the rapper, whose real name is Chancelor Johnathan Bennett, is funded through a portion of proceeds from ticket sales of his upcoming tour. Chance urged others to join fund-raising efforts through SocialWorks, an organization he helped create, aimed at youth empowerment. For every $100,000 raised, the organization will award an additional $10,000 to a specific school.
The fund-raising efforts are the continuation of philanthropic and civic engagement for the rapper in his hometown. During the presidential election, he held a voter-registration drive at the Magnificent Coloring Day Festival and led a parade of early voters following a concert at Grant Park in November.