Barack Obama is David Letterman's first guest on his new Netflix show
Legendary talk show host David Letterman's new Netflix show, "My Next Guest Needs No Introduction," debuts Jan. 12, and former President Barack Obama is slated to be the first guest.
The streaming service said the interview will mark Obama's "first television talk show appearance since leaving office."
Netflix shared a sneak peek at the six-part series on Thursday:
————————————————————————————————————-
 Barack Obama Is 'Most Admired Man' For 10th Year In A Row, Gallup Poll Says
For the 22nd time, former Secretary of State Hillary Clinton is the most admired woman.
Former President Barack Obama is the most admired man in the United States and has been for the past 10 years, according to a Gallup poll released Wednesday.
The poll found that 17 percent of respondents declared Obama as the man they most admired, with President Donald Trump in second place with 14 percent. Former Secretary of State Hillary Clinton was named the most admired woman with 9 percent of respondents, just surpassing the 7 percent who chose former first lady Michelle Obama.
Former President Barack Obama is the most admired man in the United States and has been for the past 10 years, according to a Gallup poll released Wednesday.
The poll found that 17 percent of respondents declared Obama as the man they most admired, with President Donald Trump in second place with 14 percent. Former Secretary of State Hillary Clinton was named the most admired woman with 9 percent of respondents, just surpassing the 7 percent who chose former first lady Michelle Obama.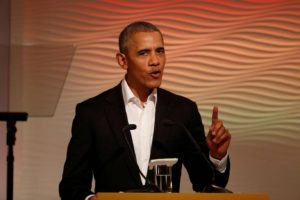 Obama invokes Hitler's rise in stark warning to America
'That's what happened in Germany in the 1930s'
Speaking during a question and answer session at the Economic Club of Chicago on Tuesday, the former US president warned against growing nativism in America.
"We have to tend to this garden of democracy or else things could fall apart quickly," Mr Obama said.
He went on to compare the situation to Germany in the 1930s where, despite a long history of high-level cultural and scientific achievements (and the existence of a functioning democracy), Adolph Hitler nonetheless rose to power, reported Crain's Chicago Business.
"Sixty million people died," he added. "So, you've got to pay attention. And vote."
Although Mr Obama did not mention Donald Trump by name, some believed his comments were aimed at the current US president and his "Make America Great Again" rhetoric – which critics argue has fuelled nationalism.
Mr Trump has been accused of fuelling anti-Muslim sentiment across the US.
———————————————————————————————————————
Obama joins Kimmel during charity late-night special
Obama made video (RED) shopathon AIDS special
WASHINGTON (CNN) – Late-night host Jimmy Kimmel welcomed "currently unemployed" former President Barack Obama to his fund-raising special on Tuesday night.
The late-night show's third annual (RED) shopathon special — which included Hollywood A-list guests such as Bono, Kristen Bell, Ashton Kutcher and Bryan Cranston — encourages viewers to join the fight against AIDS. Obama made a video message for the event.
"More than half of all people living with the virus are on life-saving medication, and AIDS-related deaths have been cut in half since their peak," Obama said in the video. "It wasn't down to mysterious forces or chance, but the countless people working for years who chose to make this progress."
To try to coerce people to donate, the former president also said those who help or contribute can pilot Air Force One for a day or access classified alien files. "No? We can't do that either?" Obama joked, when a camera crew said he actually couldn't offer those prizes.
"I know we live in a time when cable news and our Twitter feeds can make it feel like cynicism is everywhere," Obama said. "But when it comes to the fight against HIV/AIDS there is some genuinely good news to share."
During the special, Kimmel said that in the last two years, the (RED) shopathons have raised about $97 million. Like last year, Kimmel and some of the participating celebrities wrote and performed an original song for the special. This year's was titled "We're Going to Hell."
In 2017, Kimmel has transformed into what some observers have described as the "conscience of the nation." It began in May after he delivered an emotional monologue about his son's battle with a heart defect. He defended the Affordable Care Act, also known as Obamacare, and encouraged viewers to put aside their political differences to hold politicians accountable for health care issues.
Since then, he has utilized his opening monologues to deliver emotional, thoughtful takes on the current political climate, most recently making an impassioned, tearful plea for action on guns after the deadliest mass shooting in modern US history took place in Kimmel's hometown of Las Vegas in October.
——————————————————————————————————————
11/28/17 09:06 AM EST
Obama to meet with world leaders
Former President Barack Obama will meet with Chinese President Xi Jinping and Indian Prime Minister Narendra Modi in an upcoming trip abroad.
Obama will visit China and India before making a stop in Paris, according to a spokesperson for the former president. Obama will speak at various summits in the three countries he visits.
The Times of India last week reported that Obama would be in India's capital city of New Delhi on Dec. 1 for an Obama Foundation event, which the spokesperson confirmed in a statement.
President Trump recently concluded his own five-nation tour of Asia, in which he met with both Xi and Modi during the 12-day trip.
Obama's trip to India will come shortly after first daughter Ivanka Trump's visit to the country.
Trump, a White House senior adviser, met with Modi during the eighth Global Entrepreneurship Summit in Hyderabad.
"It was an honor to meet with you Prime Minister Modi. Thank you for co-hosting the 8th annual Global Entrepreneurship Summit! @StateDept," Trump wrote on Twitter Tuesday.
During her speech to the summit, Trump spoke of female entrepreneurs, adding to her continued focus on women's issues in her role at the White House.
---
Obama's Name to Replace Jefferson Davis' on Mississippi School
A public elementary school in Mississippi named after the president of the Confederacy will be renamed to honor the first black president of the United States.
Davis Magnet International Baccalaureate Elementary in Jackson, which is named for Jefferson Davis, will be renamed Barack Obama Magnet International Baccalaureate Elementary beginning next school year, the school's PTA president, Janelle Jefferson, said at a Jackson Public Schools Board of Trustees meeting Tuesday night.
The prospect of changing the name of what Jefferson called the best elementary school in Mississippi was raised by a student, she told NBC News.
"They know who [Davis] was and what he stood for," she said. "This has a great impact on them, because [Obama] is who they chose out of anybody else they could. This is the person that the whole school supported. He was their Number One choice."
The PTA asked the Davis Magnet community to submit suggestions for the new name, Jefferson said. Parents, students and school staff were given two weeks to submit recommendations, and they voted using paper ballots on Oct. 5.
Students from every class researched and gave presentations about their candidates at an assembly before the vote, Jefferson said. The decision to name the school after Obama was made on Oct. 6.
School buildings must be named "for persons of good character and prominence who have made outstanding contributions to the school system," according to the school board's facility-naming policy. "A facility named to honor a person shall not be renamed except for compelling reasons."
"Every generation has a right to choose how it represents itself," Jake McGraw, public policy coordinator the University of Mississippi's William Winter Institute for Racial Reconciliation, told NBC News. "Having a school where there was input from parents, teachers and students — along with the school board — it seems like a model for how these decisions should be approached across the country."
About 98 percent of current Davis students are black, Jefferson said.
The students chose Obama because they were alive during his administration and felt that he shared their principles, Jefferson said.
McGraw said: "It shows that we don't need to shy away from exploring these controversial topics. It's important not just in the symbolism of an elementary school, but here we're having a real genuine examination of our history in an elementary school — within the broader school system in Jackson — which is exactly where it needs to happen."
It's unknown how expensive the name change will be, she said.
"Our parents are movers and shakers, so I know that we can rise to the occasion to raise those funds to make sure we can implement the name change," she said.
The name change was announced amid a nationwide debate over the removal of Confederate statues across the country, along with name changes for buildings honoring racially charged figures from U.S. history.
The dispute over removing Confederate statues was at the center of protests in Charlottesville, Virginia, on Aug. 12, in which one woman died and 19 other people were injured.
"When you realize who this school is named for, I think that it's a positive thing to be a part of this movement," Jefferson said. "We want what's best for our kids. We want our kids to identify with persons who they can relate to."
---
November 8, 2017
Obama reports for jury duty
---
Barack Obama is building a library — and grappling again with Chicago politics
CHICAGO — When the Barack Obama Presidential Center opens in 2021, it will sprawl across 20 acres on this city's densely packed South Side. A museum will occupy one towerlike building; another, dubbed "The Forum," will house a test kitchen, recording studio and auditorium. The library itself won't literally house his papers, since they plan to digitize everything, but will feature a rooftop park to complement the complex's community garden, sledding hill and playground.
The 44th president says he wants it to serve not as a monument to himself but to bigger ideals — democracy, citizenship, civic engagement. Still, Chicago Sun-Times columnist Lynn Sweet spoke for many when she predicted that the complex will one day be known around here as "Obamaland."
For now, as Obama is busily raising the hundreds of millions needed to construct and endow it, ahead of a planned groundbreaking next year, he is once again navigating the tensions and attempting to finesse the politics of the town where he got his start.
Building on public land in a city is always a messy endeavor, and the excitement and pride the city holds for the Obamas is tinged with concerns.
Earlier this month, the former president stopped by the Gary Comer Youth Center to make a surprise visit to a training class his foundation held for local activists. Its director, Ayoka Mota Samuels is a fan and booster, but she has heard the grumbling from some of the neighbors about the prospect of having a massive tourist attraction in their midst.
How will traffic be mitigated? Is the plan to replace the parkland where the center is being built sufficient? Who is going to get the construction jobs?
"It wouldn't be Chicago if we didn't have complaints about everything. . . . People are definitely excited about the library, without a doubt, but they are concerned about 'how does it impact me?' " she said. "Chicagoans are like that about everything. . . . It means that we care about what's going to happen in our neighborhood."
Dozens of groups have asked the city, the Obama Foundation and the University of Chicago (the official library host) to sign a legally binding pledge to protect low-income housing and homeowners, set aside 80 percent of jobs for immediate neighbors and bolster support for black-owned businesses, among other things.
At a community meeting last month, Obama said he wasn't interested, according to the Chicago Tribune. Agreements such as those, he said, can be highly successful for communities dealing with for-profit developers.
"But here's the thing," he said. "We are a nonprofit and aren't making money. We are just bringing money to the community."
Obama's deep connections to his adopted home town were on display last week during the first summit of his new foundation. His mother-in-law, a Chicago native, sat in the audience, and the city's role in his life story was a constant refrain.
"I arrived here, and for the next three years, I traveled all through the South Side and worked with leaders in churches and block clubs and community organizations," he said during the opening session. His own successes were modest, he said, but he learned that "ordinary people in local communities can do extraordinary things when they're given a chance, when their voices are heard."
Michelle Obama reminisced about life in a neighborhood packed full of her extended family.
"We lived in a house above my maternal aunt," she said. "We lived around the corner from my grandmother and another aunt. My grandfather, my mother's father, [and his wife] were separated, never divorced but living right around the corner from each other. That's black Chicago for you. It's functional dysfunction."
Still, there's no indication they plan to move back. The Obamas recently purchased a home in Washington, where their daughter Sasha is still in high school, and the New York Post claims that the couple is shopping for an Upper East Side apartment.