We Were Eight Years in Power: An American Tragedy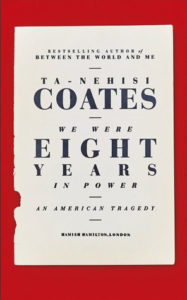 A sweeping collection of new and selected essays on the Obama era by the National Book Award-winning author of Between the World and Me
"We were eight years in power" was the lament of Reconstruction-era black politicians as the American experiment in multiracial democracy ended with the return of white supremacist rule in the South. Now Ta-Nehisi Coates explores the tragic echoes of that history in our own time: the unprecedented election of a black president followed by a vicious backlash that fueled the election of the man Coates argues is America's "first white president."
But the story of these present-day eight years is not just about presidential politics. This book also examines the new voices, ideas, and movements for justice that emerged over this period–and the effects of the persistent, haunting shadow of our nation's old and unreconciled history. Coates powerfully examines the events of the Obama era from his intimate and revealing perspective–the point of view of a young writer who begins the journey in an unemployment office in Harlem and ends it in the Oval Office, interviewing a president.
We Were Eight Years in Power features Coates's iconic essays first published in The Atlantic, including "Fear of a Black President," "The Case for Reparations," and "The Black Family in the Age of Mass Incarceration," along with eight fresh essays that revisit each year of the Obama administration through Coates's own experiences, observations, and intellectual development, capped by a bracingly original assessment of the election that fully illuminated the tragedy of the Obama era. We Were Eight Years in Power is a vital account of modern America, from one of the definitive voices of this historic moment.
---
Blessed Life: My Surprising Journey of Joy, Tears, and Tales from Harlem to Hollywood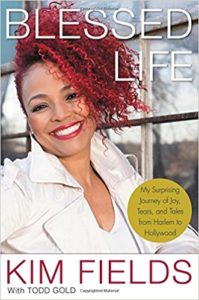 From "Facts of Life" to "Living Single" to "Dancing with the Stars" to wife and mom, here's the BLESSED LIFE of Kim Fields, veteran actress, TV personality, and star.
Kim Fields has lived most of her life with people thinking they know her, which is understandable. From her first job on a Mrs. Butterworth syrup commercial at age 7, she has spent 40 years in the public eye. There were 9 years as Dorothy "Tootie" Ramsey on the classic sitcom The Facts of Life, 5 more in her 20s starring as Regine Hunter on the seminal coming-of-age show Living Single, and most recently appearing as herself on Real Housewives of Atlanta and Dancing with the Stars.
Behind the camera, she has directed episodes of Kenan & Kel, Tyler Perry's Meet the Browns and House of Payne, and BET's Let's Stay Together. Between gigs, the pop culture icon's life has included theater, spoken word, music, speaking engagements, and simply being present to the point that she cannot go a day without someone stopping her to say, "When I was a kid, I wanted to be Tootie" or "You were my role model."
Flattered and blessed, after four decades in the business, Kim finally understands the role she has played onscreen and off as a successful, outspoken African-American woman. However, for as much as she's been in the public eye, people have really never known her the way they think they have, and that's because she, herself, spent most of her life figuring herself out. Now, at age 48, she is ready to set the record straight. She says, "It's not that I've been misunderstood. It's that I finally feel like I understand me enough to tell the life story that I've been asked to write for years." It will be a chronicle of living, learning, and keen moments of self-discovery as she's journeyed through the many facets and chapters of life. Fields found faith at age 14 and has found God to be right there every step of the way since then.
---
The Mother of Black Hollywood: A Memoir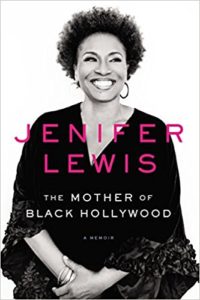 From her more than three hundred appearances for film and television, stage and cabaret, performing comedy or drama, as an unforgettable lead or a scene stealing supporting character, Jenifer Lewis has established herself as one of the most respected, admired, talented, and versatile entertainers working today.
This "Mega Diva" and costar of the hit sitcom black-ish bares her soul in this touching and poignant—and at times side-splittingly hilarious—memoir of a Midwestern girl with a dream, whose journey took her from poverty to the big screen, and along the way earned her many accolades.
With candor and warmth, Jenifer Lewis reveals the heart of a woman who lives life to the fullest. This multitalented "force of nature" landed her first Broadway role within eleven days of her graduation from college and later earned the title "Reigning Queen of High-Camp Cabaret."
In the audaciously honest voice that her fans adore, Jenifer describes her transition to Hollywood, with guest roles on hits like The Fresh Prince of Bel-Air and Friends. Her movie Jackie's Back! became a cult favorite, and as the "Mama" to characters portrayed by Whitney Houston, Tupac Shakur, Taraji P. Henson, and many more, Jenifer cemented her status as the "Mother of Black Hollywood."
When an undiagnosed menatl illness stymies Jenifer's career, culminating in a breakdown while filming The Temptations, her quest for wholeness becomes a harrowing and inspiring tale, including revelations of bipolar disorder and sex addiction.
Written with no-holds-barred honesty and illustrated with more than forty color photographs, this gripping memoir is filled with insights gained through a unique life that offers a universal message: "Love yourself so that love will not be a stranger when it comes."
---
Sing, Unburied, Sing: A Novel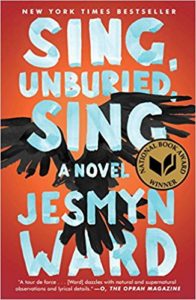 *WINNER of the NATIONAL BOOK AWARD for FICTION 
*A TIME MAGAZINE BEST NOVEL OF THE YEAR and A NEW YORK TIMES TOP 10 OF 2017
*Finalist for the Kirkus Prize
*Finalist for the Andrew Carnegie Medal
*Publishers Weekly Top 10 of 2017
"The heart of Jesmyn Ward's Sing, Unburied, Sing is story—the yearning for a narrative to help us understand ourselves, the pain of the gaps we'll never fill, the truths that are failed by words and must be translated through ritual and song…Ward's writing throbs with life, grief, and love, and this book is the kind that makes you ache to return to it." —Buzzfeed
In Jesmyn Ward's first novel since her National Book Award–winning Salvage the Bones, this singular American writer brings the archetypal road novel into rural twenty-first-century America. An intimate portrait of a family and an epic tale of hope and struggle, Sing, Unburied, Sing journeys through Mississippi's past and present, examining the ugly truths at the heart of the American story and the power—and limitations—of family bonds.
Jojo is thirteen years old and trying to understand what it means to be a man. He doesn't lack in fathers to study, chief among them his Black grandfather, Pop. But there are other men who complicate his understanding: his absent White father, Michael, who is being released from prison; his absent White grandfather, Big Joseph, who won't acknowledge his existence; and the memories of his dead uncle, Given, who died as a teenager.
His mother, Leonie, is an inconsistent presence in his and his toddler sister's lives. She is an imperfect mother in constant conflict with herself and those around her. She is Black and her children's father is White. She wants to be a better mother but can't put her children above her own needs, especially her drug use. Simultaneously tormented and comforted by visions of her dead brother, which only come to her when she's high, Leonie is embattled in ways that reflect the brutal reality of her circumstances.
When the children's father is released from prison, Leonie packs her kids and a friend into her car and drives north to the heart of Mississippi and Parchman Farm, the State Penitentiary. At Parchman, there is another thirteen-year-old boy, the ghost of a dead inmate who carries all of the ugly history of the South with him in his wandering. He too has something to teach Jojo about fathers and sons, about legacies, about violence, about love.
Rich with Ward's distinctive, lyrical language, Sing, Unburied, Sing is a majestic new work and an unforgettable family story.
---
I'm Judging You: The Do-Better Manual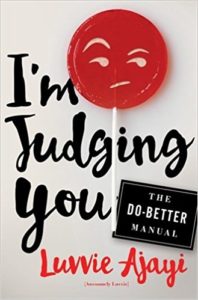 "A truth-riot of a book!"―Shonda Rhimes
New York Times Bestseller
#1 Washington Post Bestseller
Redbook "20 Books By Women You Must Read this Fall" 
GoodHousekeeping.com "17 New Best New Books to Read This Fall"
BookRiot "100 Must-Read Hilarious Books"
Goodreads Choice Awards Finalist
Now in development with "Shondaland" and ABC Signature Studios as cable television series
Comedian, activist, and hugely popular culture blogger at AwesomelyLuvvie.com, Luvvie Ajayi, serves up necessary advice for the masses in this hilarious book of essays
With over 500,000 readers a month at her enormously popular blog, AwesomelyLuvvie.com, Luvvie Ajayi is a go-to source for smart takes on pop culture. I'm Judging You is her debut book of humorous essays that dissects our cultural obsessions and calls out bad behavior in our increasingly digital, connected lives. It passes on lessons and side-eyes on life, social media, culture, and fame, from addressing those terrible friends we all have to serious discussions of race and media representation to what to do about your fool cousin sharing casket pictures from Grandma's wake on Facebook.
With a lighthearted, razor sharp wit and a unique perspective, I'm Judging You is the handbook the world needs, doling out the hard truths and a road map for bringing some "act right" into our lives, social media, and popular culture. It is the Do-Better Manual.
---
Wild Beauty: New and Selected Poems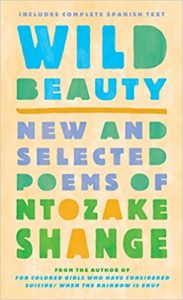 From the poet, novelist, and cultural icon behind the award-winning and celebrated Broadway play, for colored girls who have considered suicide/when the rainbow is enuf, comes an evocative and moving bilingual collection of new and beloved poems.
In this stirring collection of more than sixty original and selected poems in both English and Spanish, Ntozake Shange shares her utterly unique, unapologetic, and deeply emotional writing that has made her one of the most iconic literary figures of our time.
With a clear, raw, and affecting voice, Shange draws from her experience as a feminist black woman in American to craft groundbreaking poetry about pain, beauty, and color. In the bestselling tradition of Rupi Kaur's Milk and Honey, Wild Beauty is more than a poetry collection; it is an exquisite call to action for a new generation of women, people of color, feminists, and activists to follow in the author's footsteps in the pursuit of equality and understanding. As The New York Times raves, "Ntozake Shange writes with such exquisite care and beauty that anyone can relate to her message."
---
A Good Cry: What We Learn From Tears and Laughter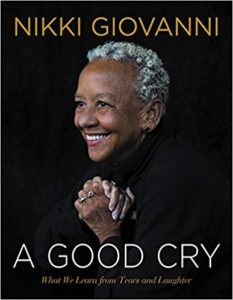 One of America's most celebrated poets looks inward in this powerful collection, a rumination on her life and the people who have shaped her.
The poetry of Nikki Giovanni has spurred movements, turned hearts and informed generations. She's been hailed as a firebrand, a radical, a healer, and a sage; a wise and courageous voice who has spoken out on the sensitive issues, including race and gender, that touch our national consciousness.
As energetic and relevant as ever, Nikki now offers us an intimate, affecting, and illuminating look at her personal history and the mysteries of her own heart. In A Good Cry, she takes us into her confidence, describing the joy and peril of aging and recalling the violence that permeated her parents' marriage and her early life. She pays homage to the people who have given her life meaning and joy: her grandparents, who took her in and saved her life; the poets and thinkers who have influenced her; and the students who have surrounded her. Nikki also celebrates her good friend, Maya Angelou, and the many years of friendship, poetry, and kitchen-table laughter they shared before Angelou's death in 2014.
---
We're Going to Need More Wine: Stories That Are Funny, Complicated, and True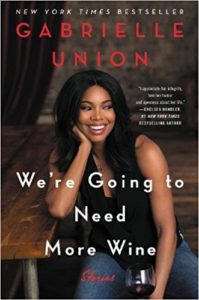 NEW YORK TIMES BESTSELLER
"A book of essays as raw and honest as anyone has ever produced." — Lena Dunham, Lenny Letter
In the spirit of Amy Poehler's Yes Please, Lena Dunham's Not That Kind of Girl, and Roxane Gay's Bad Feminist, a powerful collection of essays about gender, sexuality, race, beauty, Hollywood, and what it means to be a modern woman.
One month before the release of the highly anticipated film The Birth of a Nation, actress Gabrielle Union shook the world with a vulnerable and impassioned editorial in which she urged our society to have compassion for victims of sexual violence. In the wake of rape allegations made against director and actor Nate Parker, Union—a forty-four-year-old actress who launched her career with roles in iconic '90s movies—instantly became the insightful, outspoken actress that Hollywood has been desperately awaiting. With honesty and heartbreaking wisdom, she revealed her own trauma as a victim of sexual assault: "It is for you that I am speaking. This is real. We are real."
In this moving collection of thought provoking essays infused with her unique wisdom and deep humor, Union uses that same fearlessness to tell astonishingly personal and true stories about power, color, gender, feminism, and fame. Union tackles a range of experiences, including bullying, beauty standards, and competition between women in Hollywood, growing up in white California suburbia and then spending summers with her black relatives in Nebraska, coping with crushes, puberty, and the divorce of her parents. Genuine and perceptive, Union bravely lays herself bare, uncovering a complex and courageous life of self-doubt and self-discovery with incredible poise and brutal honesty. Throughout, she compels us to be ethical and empathetic, and reminds us of the importance of confidence, self-awareness, and the power of sharing truth, laughter, and support.