L–R: Lizette Delgado, Shavonda E. Sumter, Angela Garretson, John Currie, Marilyn Davis, Michellene Davis, Linda Jumah Baraka, Patricia Perkins Auguste, Jeannine Larue, Lena Cohen, Linda S. Carter, Verlina Reynolds Jackson, and Angela McKnight


Journey of Black Excellence Gala
By NJ Legislative Black Caucus Vice Chair and Gala Chair Shavonda E. Sumter
The New Jersey Legislative Black Caucus (NJLBC), New Jersey Legislative Black Caucus Foundation (NJLBCF), and New Jersey Black Issues Convention (NJBIC) joined together with leaders from across the state to host the inaugural 400 Years and Counting Journey of Black Excellence Gala: Honoring Trailblazers of History and Our Future."

We came together to commemorate the journey of Africans throughout the United States and beyond as well as celebrate our future contributions. A collaborative event uniting African Americans from across our great state, organizations, and friends instrumental in uplifting our culture and for their own achievements received honors and awards. While we recognize the painful transgressions that have impacted Africans in the United States, we celebrate our spirited ancestral journey through which we have demonstrated our resiliency.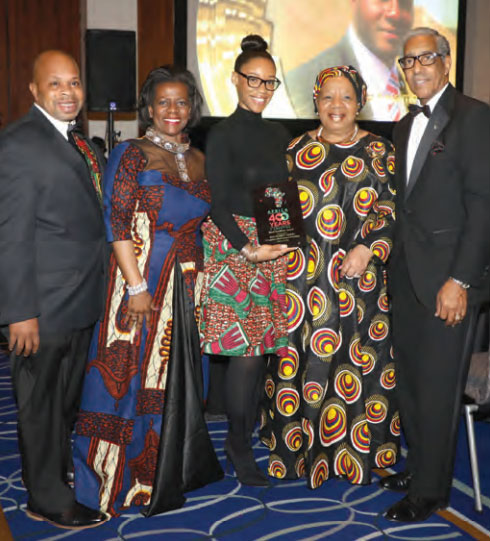 OUR 2020 AWARDEES:

New Jersey Lt. Governor
Sheila Y. Oliver

Chairman of the NJ Legislative Black Caucus New Jersey
Senator Ronald L. Rice (2020 Legacy Award)

Bloomfield College President
Dr. Marcheta Evans

My Daughter, Your Daughter, Inc.
Founder & President Rev. Dr. Prince Adekoya, I

Youth Leader
Casey Fortson

Jersey City Police Sergeant
Marjorie Jordan

Industrial Bank President
B. Doyle Mitchell, Jr.

Community Activist
Dassou Kassimou

Nesbitt Funeral Home Owner
Kim Nesbitt Good

RWJ Barnabas Health
Executive Vice President and
Chief Corporate Affairs Officer
Michellene Davis, Esq.


Funds from this event support paid internships sponsored
by the New Jersey Legislative Black Caucus Foundation.