Pierre Toussaint Scholarship Fund Virtual Gala
L–R: Executive Director Brother Tyrone Davis, C.F.C., Office of Black Ministry; Keisha Sutton-James; and Cardinal Timothy Dolan
Pierre Toussaint Scholarship Fund Virtual Gala Scholarship Students Share Fundraiser Proceeds
Pierre Toussaint Scholar Keith Guerrant served as the host of the cocktail reception. Special guest performer, Awardwinning Singer and Actress, Vanessa Williams brings greetings for the evening.
In addition to the 85 undergraduate and graduate students receiving scholarship funds from the proceeds of the Pierre Toussaint Scholarship Fund Virtual Gala on November 2, a portion of the money raised helped support parish food pantries in the Archdiocese of New York provide for others on Thanksgiving.
"I'm proud and excited for my fellow peer scholars," Keith Guerrant, a 23-year-old parishioner of St. Charles Borromeo in Harlem told Catholic New York (CNY). Guerrant, a graduate student at Teachers College, Columbia University; has been a Pierre Toussaint scholar since 2015.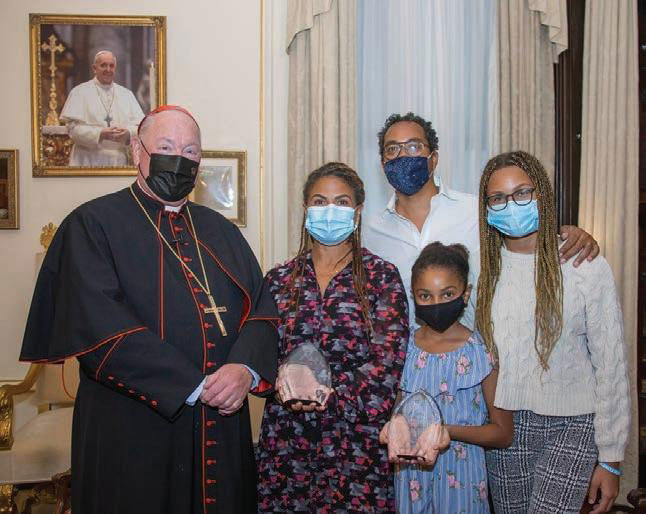 "I'm proud of their selflessness. It stuck out to me and makes me proud because a lot of individuals suffered due to the pandemic and what happened in 2020."
Multi-Platinum Recording Artist, Actress, and Author Vanessa Williams was the special guest performer; and Carla Harris, vice chairman, managing director, senior client advisor at Morgan Stanley, was the mistress of ceremonies. The event, organized by the archdiocesan Office of Black Ministry, honored Keisha Sutton-James, chair, Percy Sutton Foundation; and remembered Percy Ellis Sutton, political leader, entrepreneur, civil rights activist, and attorney.
"That theme is something that has really energized me," explained Brother Tyrone Davis, C.F.C., executive director of the Office of Black Ministry. The scholars came up with the idea to donate to the food pantries. "The other important part about this to us is that we have turned over the primary responsibility for this to our young adults," he said.
The Archdiocese of New York's Office of Black Ministry administers the Pierre Toussaint Scholarship Program. Established in 1983, it is a program of mentorship and support for college student-leaders of diverse ethnic, cultural, and national backgrounds.