Maya Angelou was a civil rights activist, poet and award-winning author known for her acclaimed 1969 memoir, 'I Know Why the Caged Bird Sings,' and her numerous poetry and essay collections.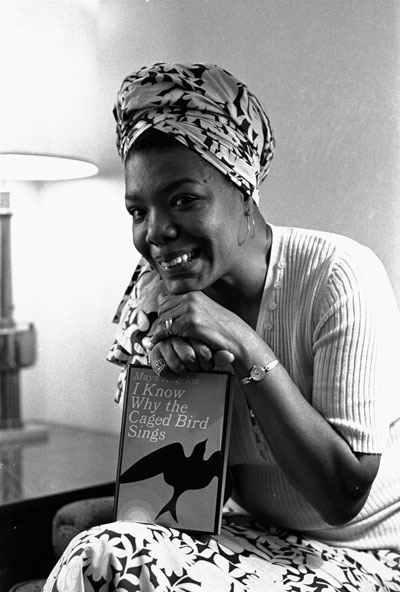 Who Was Maya Angelou?
Maya Angelou was an American author, actress, screenwriter, dancer, poet and civil rights activist best known for her 1969 memoir, I Know Why the Caged Bird Sings, which made literary history as the first nonfiction bestseller by an African American woman. Angelou received several honors throughout her career, including two NAACP Image Awards in the outstanding literary work (nonfiction) category, in 2005 and 2009.
Early Life
Angelou was born on April 4, 1928, in St. Louis, Missouri. Angelou had a difficult childhood. Her parents split up when she was very young, and she and her older brother, Bailey, were sent to live with their father's mother, Anne Henderson, in Stamps, Arkansas.
As an African American, Angelou experienced firsthand racial prejudices and discrimination in Arkansas. She also suffered at the hands of a family associate around the age of 7: During a visit with her mother, Angelou was raped by her mother's boyfriend. As vengeance for the sexual assault, Angelou's uncles killed the boyfriend.
So traumatized by the experience, Angelou stopped talking. She returned to Arkansas and spent years as a virtual mute.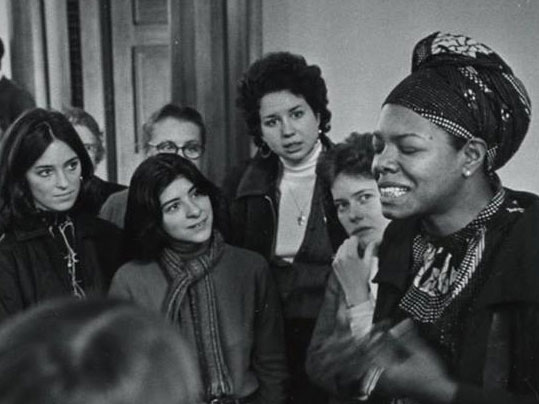 Education

During World War II, Angelou moved to San Francisco, California. There she won a scholarship to study dance and acting at the California Labor School.
Also during this time, Angelou became the first Black female cable car conductor — a job she held only briefly — in San Francisco.
Acting and Singing Career

In the mid-1950s, Angelou's career as a performer began to take off. She landed a role in a touring production of Porgy and Bess, later appearing in the off-Broadway production Calypso Heat Wave (1957) and releasing her first album, Miss Calypso (1957).
A member of the Harlem Writers Guild and a civil rights activist, Angelou organized and starred in the musical revue Cabaret for Freedom as a benefit for the Southern Christian Leadership Conference, also serving as the SCLC's northern coordinator.
In 1961, Angelou appeared in an off-Broadway production of Jean Genet's The Blacks with James Earl Jones, Lou Gossett Jr. and Cicely Tyson.
Angelou went on to earn a Tony Award nomination for her role in the play Look Away (1973) and an Emmy Award nomination for her work on the television miniseries Roots (1977), among other honors.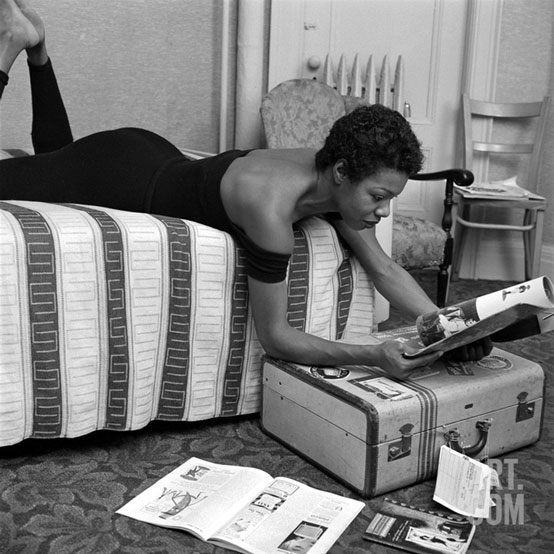 Time in Africa
Angelou spent much of the 1960s abroad, living first in Egypt and then in Ghana, working as an editor and a freelance writer. Angelou also held a position at the University of Ghana for a time.
In Ghana, she also joined a community of "Revolutionist Returnees" exploring pan-Africanism and became close with human rights activist and Black nationalist leader Malcolm X. In 1964, upon returning to the United States, Angelou helped Malcolm X set up the Organization of Afro-American Unity, which disbanded after his assassination the following year.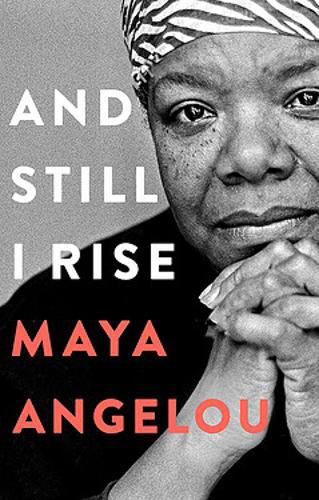 Poems
'Just Give Me a Cool Drink of Water 'fore I Diiie' (1971)
Angelou published several collections of poetry, but her most famous was 1971's collection Just Give Me a Cool Drink of Water 'Fore I Die, which was nominated for the Pulitzer Prize.
Other famous collections of Angelou's poetry include:
Oh Pray My Wings Are Gonna Fit Me Well (1975), which includes Angelou's poem "Alone"
And Still I Rise (1978), which features the beloved poem "Phenomenal Woman"
Shaker, Why Don't You Sing? (1983)
I Shall Not Be Moved (1990), featuring the poem "Human Family"; Apple famously used a video of Angelou reading this poem in an advertisement at the 2016 Olympics
Even the Stars Look Lonesome (1997)
'On the Pulse of Morning' (1993)
One of her most famous works, Angelou wrote this poem especially for and recited at President Bill Clinton's inaugural ceremony in January 1993. The occasion marked the first inaugural recitation since 1961 when Robert Frost delivered his poem "The Gift Outright" at John F. Kennedy's inauguration.
Angelou went on to win a Grammy Award (best spoken word album) for the audio version of the poem.
Other well-known poems by Angelou include:
"His Day Is Done" (1962), a tribute poem Angelou wrote for Nelson Mandela as he made his secret journey from Africa to London
"Amazing Peace" (2005), written by Angelou for the White House tree-lighting ceremony
Books
'I Know Why the Caged Bird Sings' (1969)
Friend and fellow writer James Baldwin urged Angelou to write about her life experiences. The resulting work was the enormously successful 1969 memoir about her childhood and young adult years, I Know Why the Caged Bird Sings.
The poignant story made literary history as the first nonfiction bestseller by an African American woman. The book, which made Angelou an international star, continues to be regarded as her most popular autobiographical work.
In 1995, Angelou was lauded for remaining on The New York Times' paperback nonfiction bestseller list for two years—the longest-running record in the chart's history.