Remembering David Dinkins
By R.L. Witter
Since I interviewed the first (and thus far, only) African-American Mayor of New York City, Honorable David N. Dinkins in 2014, the former mayor received numerous awards and accolades, including the renaming of the David N. Dinkins Municipal Building on October 15, 2015.
At 91-years-old he stepped down from teaching his popular course at Columbia University's School of International and Public Affairs (SIPA). But true to his lifelong, strong work ethic, Dinkins wasn't finished leaving his mark on New York City and the world. He continued to play an active role at Columbia University and served a variety of civic and charitable organizations and Boards that included the Association to Benefit Children, Children's Health Fund, Coalition for the Homeless, Jazz Foundation of America, The Nelson Mandela Children's Fund, and Posse Foundation, among others.
Beginning in 1995, Dinkins oversaw and hosted the annual David N. Dinkins Leadership & Public Policy Forum, discussing and dissecting challenging issues such as education, criminal-justice reform and race, the environment, immigration, voting rights, and gun control. Keynote speakers included Vice President Al Gore; then Senator Hillary Clinton; U.S. Rep. John Lewis, the late civil rights icon; and in 2020 Van Jones.
As I reflect upon the man, his life, and his legacy, only now have I fully processed the weight of losing him and why the loss affected me profoundly. My first recollection of Mayor Dinkins is the fuzzy, childhood memory of him and his wife attending a party my parents hosted at our home in the mid-1970s. No more than 5 or 6 years old at the time, I was "helping" take guests' coats as they arrived. I can still recall how sweetly and gently he whisked the fur coat from his wife's shoulders in one, smooth motion. He handed me the heavy coat and with a skeptical smile asked, "Have you got it? Are you sure?" He was sharply dressed and his eyes were so kind; I walked carefully so as not to trip over or drop that coat. I wanted to impress this man.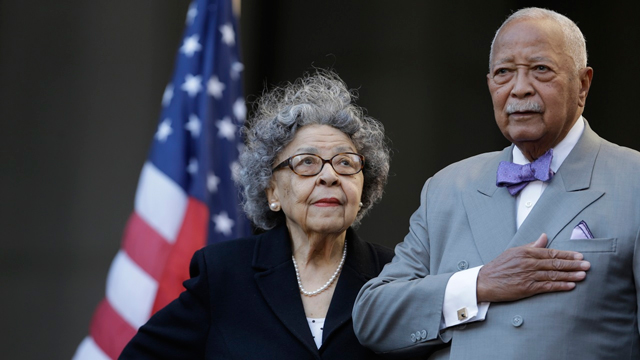 My dad was an attorney in New York and active in social and legal circles, so our families' paths crossed many times over the years. I was a student at Howard University when Dinkins ran for and became mayor of New York City. I felt an overwhelming sense of pride, not only because my family knew Mayor Dinkins personally, but also because we were both Howard Bison.
The former mayor's decency and transparency were hallmarks of both his way of life and his legacy. He considered his marriage and family his two greatest accomplishments. He often spoke of his "bride," Joyce and how their love story began as students at Howard University in 1953. "You have to be lucky and you have to pick the right one," he once told me regarding marriage. "It just happened for us that it worked out." It almost seemed both melancholy and apropos that he left this earth barely six weeks after she did. It was odd to think of one of them without the other. Their marriage inspired many couples and interestingly enough, current New York City Mayor Bill de Blasio met NY First Lady Chirlane McCray while they were both working on Dinkins' mayoral campaign.
As history looks back over Mayor Dinkins' years in office and all he brought to New York City from the USTA National Tennis Center to the Times Square makeover to NY Fashion Week, I am hopeful he and his legacy will receive their proper due. He was instrumental in lifting and changing what was once a city many wouldn't recognize today into the "gorgeous mosaic" Mayor Dinkins always saw.
I last saw Mayor Dinkins in September, 2018. He was seated in the second row at Harlem's Abyssinian Baptist Church on the day of my dad's memorial service. He was dapperly dressed, as always, with a lovely bow tie. By then he was accessorizing his ensembles with a cane. The church was packed; there were more than 1,100 people in attendance and the service was more than two hours long. At the end of the service, people formed a line and began filing by to express their condolences to our family. Mayor Dinkins paid his respects and as he took my hand, his was a bit shaky, his eyes, however, as they met mine, still seemed so incredibly kind.