Berkeley College New York Student Team of Innovators Receive Honorable Mention
A team of Berkeley College New York students received an honorable mention at the Black Inventors Hall of Fame Inaugural Design Thinking Collegiate Challenge hosted in Tulsa, OK, on Sunday, May 30, 2021, in which they presented an idea for an app to prevent human trafficking in young girls. Students Rebekah Andrews-Brannock and Cadjnie Cameau, both of Brooklyn, NY, and May 2021 graduate Keyry Broncano, of Pomona, NY, attended various events held over the weekend by the Black Excellence Alliance, the Challenge's sponsor, to honor the 100th anniversary of the Tulsa Race Massacre and the destruction of Black Wall Street.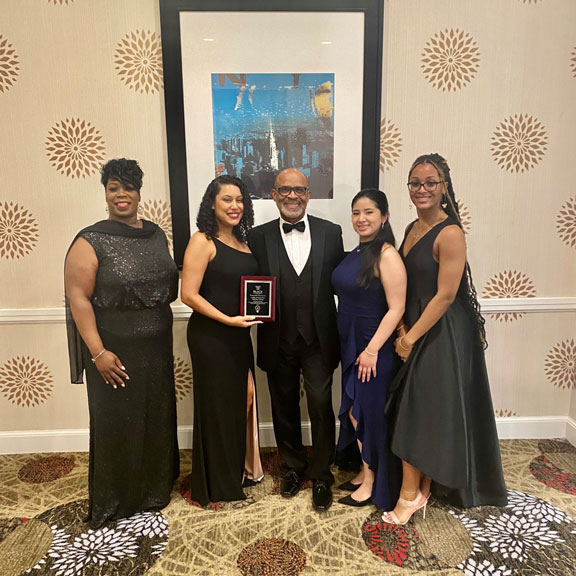 "As we reflect on a troubling time in our nation's history and the devastating impact of the Tulsa Race Massacre on African Americans, our students are the key to reshaping the future," said Michael J. Smith, President of Berkeley College. "We are grateful to the Black Inventors Hall of Fame and the Black Excellence Alliance for providing an exceptional opportunity to put the ingenuity of our students to work toward solving racial inequities and to experience the past, present and future of the community of Greenwood firsthand."
The Berkeley team, nicknamed the "Ladies of Distinction," faced off against the "Design Thinking Collaborative" representing the University of Colorado, who developed a solution to inequities in mathematics education, and the "TU Trailblazers," from the University of Tulsa, who analyzed racial beliefs among pre-med students and its impact on patient care.
In his opening remarks, James Howard, Executive Director, Black Inventors Hall of Fame, commended the scholars for their work in tackling "wicked problems that disproportionately impact people of color," adding that the value of the student projects was "how thoughtful they were in applying empathy."
The idea to address human trafficking in young girls stemmed from the experience of one of Andrews-Brannock's relatives, highlighting the real-world implications and importance of the research for the Black community.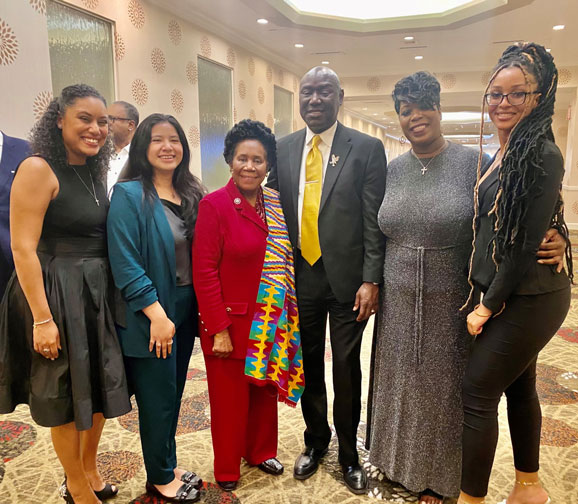 "I had the honor of representing Berkeley College with my teammates to identify an issue within the Black community and come up with an innovative solution," said Andrews-Brannock, who added that she appreciated the opportunity to have her voice heard and serve as a role model for other young Black women. "This event is about knowing our history, knowing exactly what happened in the past and how we can prevent it from happening again," she said.
About Berkeley College Berkeley College, founded in 1931, is a career-focused institution accredited by the Middle States Commission on Higher Education that offers students Master's, Bachelor's, and Associate's degree and Certificate programs in more than 20 career fields. The College also offers continuing education programs to enhance career credentials.
Berkeley College has campuses in Midtown Manhattan and White Plains, NY, as well as in Newark, Paramus, Woodbridge, and Woodland Park, NJ, with more than 4,900 students enrolled. In addition, Berkeley College Online® serves a global population. U.S. News & World Report has named Berkeley College among the Best Colleges for Online Bachelor's Programs and among the Best Online Bachelor's Programs for Veterans, for eight consecutive years. The website address is www.BerkeleyCollege.edu.

The mission of Berkeley College is to empower students to achieve lifelong success in dynamic careers.
About the Black Excellence Alliance & Black Inventors Hall of Fame The Black Excellence Alliance is a consortium of Black leaders and organizations focused on the development of the diaspora through education, employment and entrepreneurship. The Black Inventors Hall of Fame (BIHF), a member organization of the Black Excellence Alliance, is focused on honoring legendary Black inventors and educating the public about the contributions of Blacks to the well-being of the world. Every year BIHF inducts extraordinary Black inventors to permanently recognize their innovative contributions to society. Please visit BlackExcellence.org and BIHOF.org for more information