Charlie Parker with Strings
LIVE Performance by Donald Harrison, Jr & Amadi Azikiwe
By Ron Scott
The iconic alto saxophonist and composer Charlie Parker was so phenomenal it seems as though he still lives. Musicians record his compositions; some chose the alto just because it was his instrument, and when he is mentioned in conversations it sounds as though they are speaking of a deity.
Parker, also known as "Bird," created the swift, blazing tempo called bebop, which lit up the instruments of his co-founding bandmates trumpeter Dizzy Gillespie, pianist Thelonious Monk, guitarist Charlie Christian, and drummer Kenny Clarke.
While Parker is known for his intense dexterity, in 1950 under the auspices of producer Norman Granz, he released two of the arguably most beautiful albums in jazz history entitled Charlie Parker with Strings (Mercury Records). Both albums (all standards) featured Parker in the configuration of a small, classical string section and a jazz rhythm section, rather than his standard bebop quintet. They were Parker's most popular sellers during his lifetime, and were admitted to the Grammy Hall of Fame in 1988.
For Parker's centennial + 1 celebration (cancelled last year due to the COVID-19 pandemic), composer and alto saxophonist Donald Harrison, Jr. will collaborate with violinist, music director, and founder of the Harlem Symphony Orchestra Amadi Azikiwe in a live performance of Charlie Parker with Strings. You can hear those memorable, beautiful jazz standards at the annual Charlie Parker Jazz Festival on August 28 in Harlem's Marcus Garvey Park.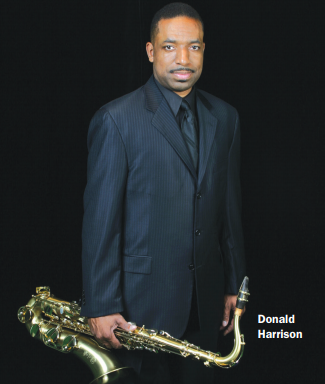 Harrison, the 2022 NEA Jazz Master recipient and creator of "nouveau swing," a blend of jazz with R&B, hip-hop, rock, and soul; says he is ready to swing on the classical side. He has performed with 200 jazz masters and created three influential styles of jazz. He has also performed with the Ohio State University Orchestra, accompanied by strings for a similar project.
"I was looking around online for a classical musician and found Amadi," says Harrison. "I was impressed by his YouTube performances so I called him and we discussed the project. I am looking forward to the collaboration." Harrison's quartet: pianist Dan Kaufman, bassist Nori Naraoka, and drummer Joe Dyson accompanied by Azikiwe and 11 members of the Harlem Symphony Orchestra and the quartet perform a few orchestrations of his original music plus some of his "nouveau swing" music. During a recent telephone interview, Azikiwe noted Harrison had called him to explain the Parker project and asked if he was up for the challenge? "Of course, I said yes; my father was a trumpeter and I did play trombone in the high school jazz band and really liked it a lot," said Azikiwe. "But since classical music has been 99% of my life, I will have to do my homework. But this is a unique opportunity to reconnect and learn a tremendous amount of music."
The music director says he was first introduced to Parker's music at the conservatory. "After listening I was convinced he was the greatest saxophonist to ever live," stated Azikiwe. "For this project I am immersing myself into a different world. I have been getting familiar with Donald's music and his timing."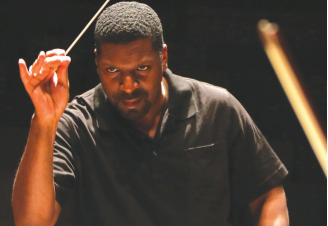 Azikiwe, an accomplished conductor, violist, concerto soloist, chamber musician, orchestral musician, and instructor, started the Harlem Symphony Orchestra in 2004. He felt Harlem needed a classical orchestra so he just called 23 of his friends and they began performing locally at churches like St. Mark's and Convent Baptist Church. In 2006 they were invited to perform a chamber concert in the British Virgin Islands. However, the symphony's big media break came in 2007 when they were asked to perform at the world-famous Apollo Theater. They were so impressive, Jonelle Procope (then president and CEO of the Apollo Theater Foundation) invited them to appear on an annual basis. Unfortunately, they have not performed there in over a year due to the COVID-19 pandemic. "Sharing our programs with the Harlem community has been incredibly gratifying," said Azikiwe. Both musicians only planned one rehearsal With Harrison saying, "One rehearsal should be enough." Azikiwe agreed, "Yes, we are professionals so it will work out."
On August 25, Conversation: A Bird with Strings featuring Harrison, Azikiwe and the musicians discussing their Charlie Parker with Strings concert takes place at the Jazz Museum in Harlem (58 West 129th Street). I am privileged to moderate the discussion, and we are all blessed to revisit the genius of Charlie Parker