Positive Change in the Midst of Adversity
The Positive Community Corporation (TPC) can now be counted among the many victims of hurricane Ida. Our Montclair, NJ offices were flooded. Estimates are that over six inches of water poured onto our floors. Archives and equipment were damaged; records lost and recent issues soaked. Our corporate headquarters has been at this location for 20 years; we have never experienced such an event!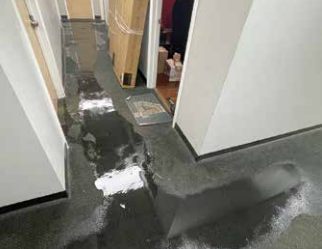 Our team is now scattered, working from remote locations while renovations to the offices are being completed—more Zoom meetings and conference calls. This trial brings to mind Cannonball Adderley's iconic jazz classic, "Mercy, Mercy Mercy." The artist's opening introduction to the track says it all: You know, sometimes we're not prepared for adversity . . .
Notwithstanding the apparent set-back, the blessing is that our team remains resilient, healthy and strong; we have already had the experience of working together remotely months before during the COVID-19 shutdowns; our sense of humor is still intact. When we return to the office in late October or early November we'll have new carpets, appliances; new and freshly painted walls.
Growth and Action
We continue to press on in an unwavering quest to grow this business and promote positive change in the communities we serve! Thank you for your many calls, prayers and words of comfort. We appreciate our readers, bulk subscribers and our advertisers.
Two words best describe TPC's collective outlook: (1) Positive (2) Change. Real and lasting progress greatly depends on an individual and collective commitment to creative growth and action—positive change. Deep down inside that's what the vast majority of us really want, but are unable to articulate. Positive Change is the call of the ages—the business about the future! How can we go forward without positive change? Yes, positive change in our homes, our schools, our music, our houses of worship, in matters of health, the arts, finance, business and economy; media presentation and international cooperation. We believe positive change is about life-affirming values and achievable objectives. What does positive change look like to you?
The Positive Side
In this issue, we are proud to introduce two wonderful men, outstanding leaders, "soul brothers" who are making a difference in business advocacy and corporate diversity. Meet John Harmon of the African American Chamber of Commerce of NJ and Michael J. Garner of NYC's Metropolitan Transit Authority (MTA).
Over the past year, Positive Community Media has paid special attention to economic matters. Because of the economic adversities as a result of the pandemic, and the promise of new employment and business opportunities inherent in the pending trillion dollar federal infrastructure bill, "A Change is Gonna' Come." And now we must do all we can—together— to ensure that our people will be on the positive side of change in America!
. . . because a positive community is everybody's business. It really pays to care!