Friends and Authors Shares Insights on Black Achievement in New Book
By Candace Waller
Black Faces in High Places:10 Strategic Actions for Black Professionals to Reach the Top and Stay There published by HarperCollins in February is both inspiring as it shares insights from professionals at the top of their fields and informative by providing career tips to the younger generation. Written by friends Dr. Jeffrey Robinson and Dr. Randal Pinkett who met when they both studied engineering at Rutgers University, this book is a continuation of their first book Black Faces in White Places: 10 Game-Changing Strategies to Achieve Success and Find Greatness.
"When we wrote the first book (Black Faces in White Places) in 2010 that was the age of Obama and there was a sense of excitement around race relations with the election of the first Black president and all the hope that carried for the future of our country and society," said Dr. Pinkett. "Fast forward 10 years later in 2020, we're winding down the Trump administration, George Floyd is murdered, and the Covid-19 pandemic is at our doorstep. All three of those developments elevated our awareness and the importance of Black leadership. The first book was about how you navigate environments where Black people are underrepresented. In the midst of the turmoil of 2020, we said to ourselves it's time to revisit some of the same themes but from a different perspective which is focusing on Black leadership. We also tackled the idea of not just getting to the top and staying at there, but when you are in a position of power and influence making certain you are pulling those levers for the benefit of Black people and being unapologetic and intentional in that regard."
Many of the strategies outlined in the books are things Dr. Pinkett and Dr. Robinson used to obtain success in their own careers. Dr. Pinkett is the Chairman and CEO of BCT Partners, a consulting firm based out of Newark, NJ that was featured in BE 100's, Black Enterprise magazine's list that recognizes the highest performing Black-owned companies in the nation. In addition to that, Pinkett was the 2005 winner of Donald Trump's television show The Apprentice and the only person of color to win.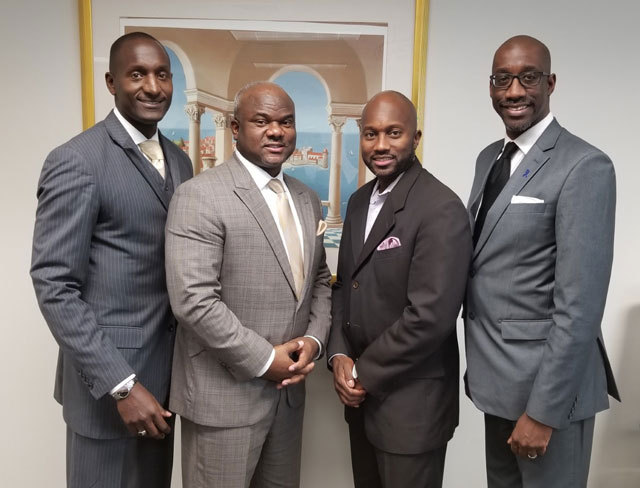 Dr. Robinson is a sought-after speaker that has appeared on Dateline, NBC Nightly News, and Black Enterprise among other television programs, and is a leading faculty member at Rutgers Business School. In addition to collaborating on these two books, they have also started several companies together including BCT Partners along with two other friends they met in the engineering program at Rutgers. The other founders of the company are Lawrence Hibbert, who serves as President and Managing Partner of BCT Partners and Dallas Grundy Senior Vice President and Chief Operating Officers at the University of Akron.
Collaboration is an important aspect of their success and their book gives tips about networking and how to find mentors. Faith is another important aspect that many of the people interviewed said helped guide them. Both Dr. Robinson and Dr. Pinkett said their belief in God is an important aspect of their personal and professional life.
"So many of the people we interviewed talked about their faith and how that motivated them to not only achieve but to also give back," said Dr. Robinson. "Faith is not something most business people, meaning most white business people, talk about and it's not in business books. I remember in our first book we had content about faith and leadership and the editor took it all out and questioned why is this in a business book? We had to explain that we know our audience and we also know what people said to us. On the one hand, it surprises me how faith was a theme every one of the people we interviewed talked about. On the other hand, it doesn't surprise me because we are people who don't separate the secular and the sacred we're able to talk about both. I loved seeing that in the book."
Dr. Pinkett said he was most surprised at collaborations that didn't take place referencing potential mergers between BET and Radio One and BET and Ebony magazine publisher John Johnson.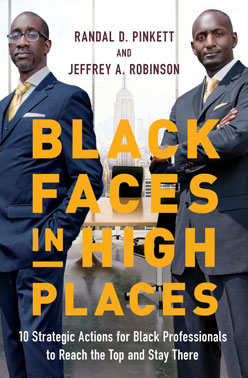 "I was surprised, shocked, and disappointed that there were all these attempts to create broader, larger, organizations that could scale which gives you a greater opportunity for impact, Dr. Pinkett said. "These missed opportunities to reach scale was very disappointing but also pointed to the need for our generation to cast aside the egos as that was part of the reason the mergers failed and to see the greater good of combining forces of working together as we say in Strategic action number six leveraging our might."
Black Faces and White Places: 10 Strategic Actions for Black Professionals to Reach the Top and Stay There is available on Pyramid books and Amazon.
Dr. Pinkett and Dr. Robinson are active on social media and have their own websites. Dr. Robinson can be reached @JRobinsonPHDon social media and www.jeffreyrobinsonphd.com. Dr. Pinkett can be reached on social media @RandalPinkett or www.randalpinkett.com.
Candace Waller
What Goes Around Comes Around novel
Amazon link bit.ly/What_Goes_Around_Comes_Around www.candacewaller.com