Inauguration of Essex County College's 9th President – Dr. Augustine A. Boakye Read about Dr. Boakye
Dr. Augustine A. Boakye
President, Essex County College
Dr. Augustine Boakye is Essex County College's 9th President, initially assuming the leadership position on July 21, 2020. He was officially appointed President by the College's Board of Trustees effective November 1, 2021. His Inauguration will take place on Tuesday, May 5, 2022. Dr. Boakye started his Essex County College career in 2009 as an Associate Professor of Economics. In 2013, he was named Chair of the Division of Business, and also served as Acting Dean of Liberal Arts and Business before becoming President.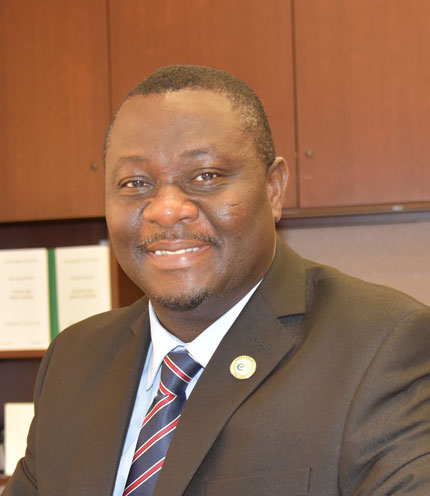 Dr. Boakye is the former Regional Chair of the Accreditation Council for Business Schools and Programs (ACBSP). Having served as an educator for two decades, Dr. Boakye has exemplified true leadership in his career and loves to share educational best practices with his administration team.
He is currently overseeing extensive renovations, designed to provide the most optimum learning experience for students. The College's West Essex campus is being demolished and completely reconstructed to better serve students in the western portion of the County.
While in the Business Division, Dr. Boakye championed the creation of new academic programs such as the A.S. in Finance, A.S. in Supply Chain Management (SCM), Certificate in SCM/Logistics & Business Professional Certificate. He introduced Business Week, the Business Plan Competition, and Financial Literacy in the College. Dr. Boakye has served as an Advisor of the Student Government Association (SGA).
He earned his Ph.D. in Economics from the University of Dundee, Scotland, United Kingdom.
1. What are some of the top academic programs at ECC? – Both our Registered Nurse and Licensed Practical Nurse programs are excellent, with students securing positions immediately following graduation. Similarly, our other Health Science programs (Radiography, Physical Therapist Assistant and Vison Care Technology) offer outstanding career pathways. Many students enroll as General Science majors before deciding their specialty. The Biology, Pre-Medicine curriculum is top line. Other popular majors include Engineering Technologies, Business Administration, Finance, Supply Chain Management and Criminal Justice. And that's just to name a few of our outstanding programs.
2. ECC is considered by some to be a place of "Second Chances" for students. But it is much more than that. How is that? – Essex County College is a destination for so many of our students, not just a place to go. Yes, some students are looking for a second chance, including those who transfer in. But we are also here for students fresh out of high school who are looking to immediately continue their education. As an open access institution, we are here for everyone.
3. What does the College offer in terms of Workforce Development Training? – Not everyone wants to complete a college degree. A number of our residents want training and specialized job skills to either enter or reenter the workforce. We offer training in a number of health field programs such as Certified Nursing Assistant, Phlebotomy Training, Patient Care Technician, and Medical Coding & Billing. There are training programs in Cyber Security and Information Technology with outside partners. All these programs are short term offerings, ranging from 8 to 20 weeks.
4. What services are available to keep students on track toward both retention and completion of their degrees? – We call these "wrap around" services. It starts with our new One Stop Welcome Center. The Center allows students to apply, register, receive advisement and get financial assistance in one centralized campus location. Basically, most everything needed to become a student at Essex County College. The College provides one-on-one tutoring, in-person or online, through our Learning Center and academic divisions. There is a Student Food Pantry meeting the serious problem of food insecurity among our students. Mental health services are provided through the Office of Student Development and Counseling. We have a laptop loaner program and excellent Internet access.
5. What Financial Aid options are available to students? – The College's Financial Aid Office assists students in seeking out available funding sources. We are part of the state's Community College Opportunity Grant (CCOG) program for people with an adjusted gross income of up to $65,000. CCOG money covers all costs not covered by other funding sources. Roughly half our students qualify for CCOG assistance. ECC's Educational Opportunity Fund (EOF), the largest of all two-year colleges in the state, provides scholarships as well as additional tutoring when needed. Our expansive work study program provides part-time employment to students throughout the campus.
6.What are the construction projects on campus? – Our major project is the construction of a brand new facility at our West Essex campus. The campus in West Caldwell started out in an old elementary school which we expanded But the time came to build a new, modern campus. By the fall of 2023, we will have a beautiful, 51,700-square-foot building that will allow us to expand our academic programs for degree students and provide more Workforce Development training opportunities for interested residents. The project's $30 million funding includes school construction grants, a grant from the state's Securing Our Children's Future Bond Act and the Essex County Capital Budget.
We are finishing up a number of construction projects on our Newark campus as well. Our handicapped access exterior doors and bathrooms are just about complete. Work outside the Clara Dasher Student Center bridge repair is almost done. Completed projects include our IT Department and the Center for Learning and Teaching Excellence.
7.You will be inaugurated as the College's 9th President on May 5. That evening there will be a Presidential Scholarship Gala. What is the goal of the Gala? – Both our – The goal is to raise money in support of our students as they pursue their dreams. Even with our existing financial support programs, students still need assistance. Financial assistance allows students more time to concentrate on pursuing their degrees, rather than also having to work, sometimes long hours. Let me say; come to the Gala and support student success!
8. How are the athletic teams at ECC performing? – I'm always glad to promote our student-athletes. ECC has a long tradition of athletic excellence. Just this past year, one of our women's basketball players, Jakira Coar, led the nation in scoring. Our men's 4×400 meter relay team won at the prestigious Millrose Games in January. Both our men's and women's track teams placed at the National Junior College Athletic Association Indoor Championships. Our men's and women's soccer teams, and men's basketball team all have had outstanding seasons over the years.
9. Recently the College Physical Education Building was named in honor of Cleo Hill, Sr. Talk a little about the naming – Cleo Hill, Sr. was our former legendary basketball coach and athletic director. He grew up in Newark, attended Winston-Salem Teachers College (now Winston-Salem University) and was the first player ever selected in the first round of the NBA draft from an Historically Black Colleges and Universities institution. In addition, we are preparing an Athletic Hall of Fame in the Gym to recognize so many of our student-athletes over the years, including many Olympians.
10. How has the College dealt with the Covid-19 pandemic? – From the beginning of the unprecedented pandemic over two years ago to today, we learned how to be more resilient. We started by utilizing our resources in the most efficient ways possible and reorganized our student services. Those services and classes were conducted remotely. This academic year we have been offering more classes in-person, while still providing online options. We now have in place solid resources to offer continued academic excellence, whether classes are held in-person or online.
Inauguration on Thursday, May 5, 2022
Essex County College Information on the Inauguration ceremony and the Presidential Scholarship Gala available here: https:/ /www.essex.edu/inauguration2022/