National Grid's Rudy Wynter
By Sandra Black
Brooklyn native Randolph "Rudy" Wynter, president of National Grid's New York business, is responsible for the financial, operational, and customer-focused performance of the company. Also in his purview are relationships with regulators, government officials, and its four million customers. National Grid provides electricity and natural gas service from Niagara Falls to the forks of Long Island. With more than 30 years of tenure at National Grid and its legacy companies, Wynter became president in April 2021.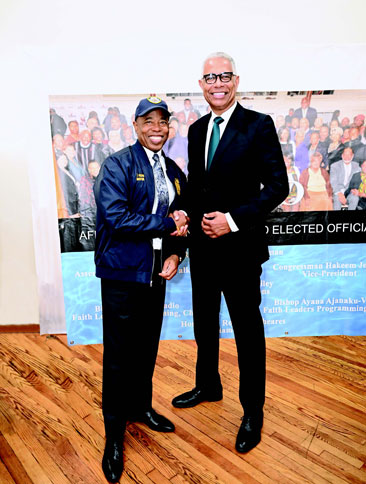 The charismatic corporate leader gives full credit to his parents, the values they instilled in him, and the impact they had on his life. "My father was born in Cuba, my mother in Jamaica, where they met. My parents emigrated to the United States, raised three children, and taught all of them the importance of being part of the community, giving back, and helping others. When I think back on that now, I marvel at how brave it was for them to start a whole, new life and family here."
It follows that young Rudy wanted to make a difference in people's lives and aspired to the attainment of a good education leading to a career as an engineer. He earned a BS in Mechanical Engineering from Pratt Institute in Brooklyn, an MBA from Fordham University, and completed an executive development program at Harvard University. Wynter liked solving complex problems and armed with these degrees, he grew as a leader, making a difference in New York by finding needed solutions. He further exemplifies his commitment to community by serving on the boards of the United Way of New York City, the Downtown Brooklyn Partnership, and the American Association of Blacks in Energy. In fact, in 2015, he was named by the news organization City and State New York to "The Responsible 100," an annual list of New York's most outstanding corporate citizens.
A proponent of giving back, his work has resulted in National Grid's Project C initiative, which marked its first anniversary in September. Wynter describes it best: "The 'Day of Service' is really a microcosm of our yearround efforts. I am very proud of my workforce."
On this year's Day of Service, more than 2,000 employees made positive impacts by donating their time at more than 200 volunteer events in communities across the company's 26,000-square-mile New York service area. Focused on strengthening communities and making a difference on that and every day, volunteer efforts took place at food banks, senior centers, and veterans' service facilities. National Grid employees build homes through Habitat for Humanity and work with Sleep in Heavenly Peace affiliated chapters, actually building beds for children who may be sleeping on floors and couches. Employees also volunteer to clean up and landscape neighborhoods and parks, provide various levels of assistance at nonprofits, and more. In addition to volunteering, Project C focuses on four key areas: clean energy and sustainability, workforce development, neighborhood investment and community engagement, and environmental justice and social equity.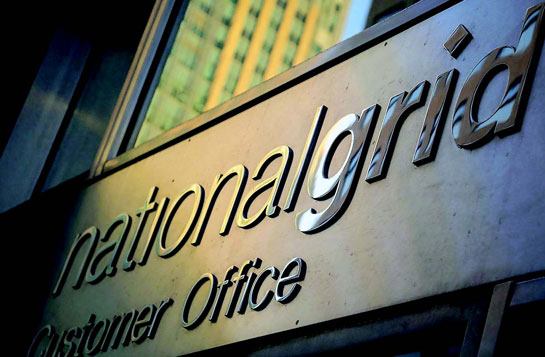 The last book Wynter read was a mind-expanding, cheerfully dystopian, fiction novel,Scattered All Over the Earth, by Yoko Tawada. The book, recommended by a friend, imagines a future in which the climate crisis has eroded borders and cultural identities.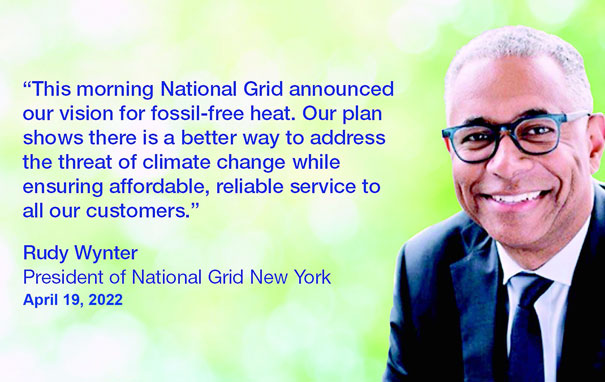 It is no surprise this book would interest him. National Grid has a Clean Energy Vision for the future. "We announced in April 2022 that we will seek to eliminate fossil fuel from our gas networks by 2050, replacing it with renewable natural gas and green hydrogen, while also maximizing energy efficiency and helping customers electrify their heat in targeted areas. We are investing in renewables like wind and solar. When I reflect on National Grid's historic fossil-free plan, Project C, and the hundreds of other projects our employees commit to throughout the year, I know we are on the right path." What does this busy leader do to relax or de-stress? Wynter enjoys spending time with family and friends, cycling, and playing tennis. He tries to ride or play often to avoid burnout.
Reflecting, he spoke of essential life lessons."This is a much-quoted line, but to me it is also a life lesson. 'Be careful what you are thinking because your thoughts control your life.' The lesson there is to spend your time thinking about positive possibilities and how you can move things forward. The second lesson is always to have a plan but continue to work on a better one."
Under Wynter's compassionate leadership, National Grid works to find solutions to the challenges of its customers in New York and deliver a bright energy future.
About the Author: Sandra Black's background is in public relations, marketing, editing, and branding. She currently provides consulting services to a select number of clients in Georgia and New York, her home state.