Berkeley College Celebrates more than 1,100 Graduates during 2023 Commencement Ceremony at Prudential Center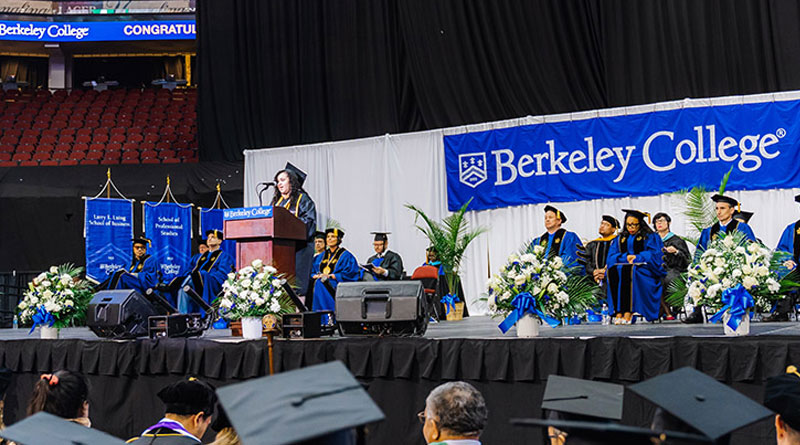 Berkeley College celebrated the perseverance and achievements of more than 1,100 graduates during a Commencement ceremony on Thursday, May 11, 2023, at Prudential Center in Newark, NJ. The graduating class included 69 military and veteran graduates, 57 international students from 22 countries, future healthcare heroes, and many first-generation college graduates.
Who are This Year's Berkeley College Graduates? Click here to see the infographic.
"There will never be more possibilities for your future than what lies in front of you at this very moment," said Diane Recinos, EdD, President of Berkeley College. "Face what is next with the same grit, strength of character, and unwavering faith in yourselves and your talents that has brought you here to the finish line. Be fearless."
The average age of this year's Berkeley College graduate is 31 years old, with 70 percent of the graduates age 25 or older. More than 80 percent of the graduates who identified their ethnicity in a survey identify as Black or Hispanic. The graduates join the ranks of 65,000 Berkeley College alumni from around the world.
"As an alumnus of Berkeley College, your story continues. There is much more to be written," said Kevin L. Luing, Berkeley College Board Chairman. "As your career progresses, we will always be there to support you in your professional development and career advancement. You are the future leaders in the workforce and in the community. Be proud."
U.S. Senators Robert Menendez and Cory Booker, Miss New Jersey USA Derby Chukwudi, and New York State Assembly Member Monique Chandler-Waterman, a Berkeley College alumna, also shared congratulatory videos with the graduates.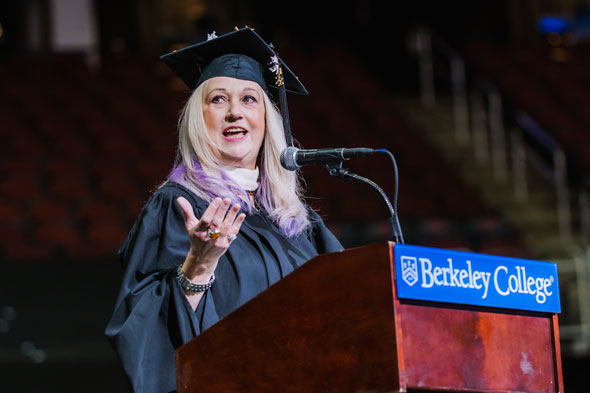 About Berkeley College
Berkeley College, founded in 1931, is a career-focused institution accredited by the Middle States Commission on Higher Education that offers students Master's, Bachelor's, and Associate's degree and Certificate programs in more than 20 career fields. The College also offers Continuing Education programs to enhance career credentials.
Berkeley College has campuses in New York City and in Newark, Woodbridge, and Woodland Park, NJ, with more than 3,600 students enrolled. In addition, Berkeley College Online® serves a global population. U.S. News & World Report has named Berkeley College among the Best Colleges for Online Bachelor's Programs and among the Best Online Bachelor's Programs for Veterans, for 10 consecutive years. U.S. News & World Report named Berkeley College (NJ) one of the Best Regional Colleges in the North in its 2023 edition of the Best Colleges Survey. Berkeley College (NJ) was recognized among the Best Colleges in the region for social mobility for three consecutive years. The website address is http://www.BerkeleyCollege.edu.