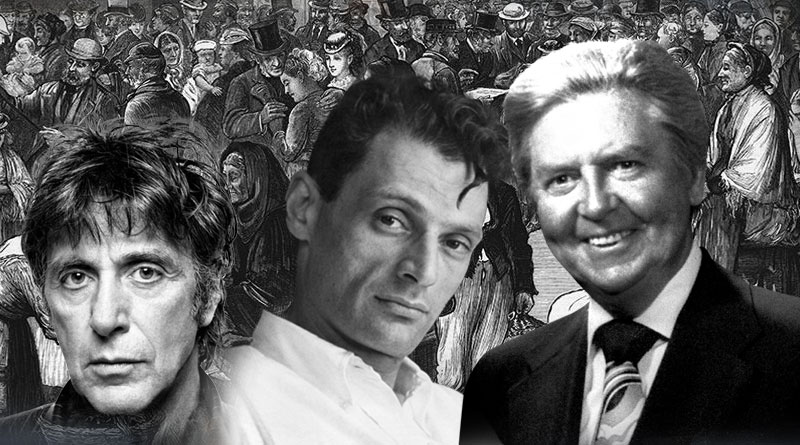 BY Jared McCallister
In East Harlem, after 115 years, they still come to joyously carry a weighty 80-foot-tall tower, securely holding the structure with sheer muscle and a traditional religious gusto birthed in faraway Southern Italy. Yes, Italian- Americans return to the Harlem neighborhood every August for the Dance of the Giglio Festival, echoing a bygone era when the neighborhood was known as "Italian Harlem," and the greater Harlem area, from river to river, was crowded with European immigrants.
The Greater Harlem Chamber of Commerce— founded as the Harlem Board of Commerce in 1896—has witnessed major happenings uptown, such as the glorious, Black-fueled Harlem Renaissance of the 1920s, and an amazing second Renaissance that began in the 1970s and featured political advancement, economic development, and diversity. In recent decades, the neighborhood has undergone gentrification. But no stranger to diversity, Harlem has had new residents before. The area witnessed the mass migration of white immigrants from Germany, Ireland, Italy, Greece, and Jews from Central and Eastern Europe. The newcomers made the greater Harlem area home and left lasting impressions on the area.
First occupied by Native Americans, the small, agricultural Dutch village of Nieuw Haarlem (named after the city of Haarlem in the Netherlands) was established in the mid-1600s. The name was anglicized to Harlem during British rule, and the area of farms and homes remained rural throughout the early 19th century. Immediately after the Civil War, uptown was a place of estates, summer homes, and leisure for wealthy New Yorkers. Well-to-do city residents would get away to Harlem in their free time. But an economic downturn in the greater Harlem area made less expensive housing available to the "huddled masses"— new arrivals from overseas who would eventually fill the area's tenements and flats for generations to come.
Luck of the Irish
As early as the 1820s, Irish immigrants were Americabound, leaving their homeland to escape poor economic conditions. And later, the devastating Irish Potato Famine (1845–1849) increased the migration to America. While parts of Harlem still appealed to the wealthy, growing portions of greater Harlem began attracting the poor, who were lured by low real estate prices. New York Landmarks Conservancy's 1997 Touring Historic Harlem: Four Walks in Northern Manhattan publication, by Andrew S. Dolkart and Gretchen S. Sorin, painted a squalid picture of life and death for early Irish arrivals and other immigrants who settled in the neighborhood during the 19th century. "By the 1860s, many of the streets to the east of the railroad were heavily built up, while wooden suburban homes were scattered elsewhere in the area," Dolkart wrote in the Touring Historic Harlem introduction.
A few shantytowns appeared in the western part of Harlem by the mid-19th century. "The shantytown residents were largely Irish, with a smaller number of Germans and members of other groups," wrote Dolkart, quoting an 1866 health inspector's sad assessment that "only a Third Avenue railroad car was more densely packed than the Harlem shantytowns of the day."
In frightening detail, the health inspector also noted that "men, women, children, dogs, cows, pigs, goats, geese, ducks, and chickens are almost promiscuously mixed together. The street is rank with filth and stench, and the consequence is that mortality holds a high carnival there."
In the decades following the Civil War, the shantytowns continued to grow, but uptown's rural areas remained sought-after, getaway destinations for downtown city dwellers.
With the advent of elevated train service from lower Manhattan to Harlem starting in 1878, uptown began to urbanize and investors increased Harlem's housing stock. However, seesawing economies left the area's housing greatly overdeveloped, which attracted the Irish and Jews from Europe, in addition to Italian immigrants seeking relief from the overcrowded Lower East Side of Manhattan, and Blacks looking for low-cost housing. As the immigrant population swelled, the Harlem Board of Commerce was founded in 1869. During this time, the concerns of the newlyfounded Board were varied, but always Harlem-focused. The Board supported the expansion of the city's first subway line north into Harlem, and the diversion of some of New York's brisk downtown maritime business uptown — measures that would provide more economic opportunities for the area's growing immigrant populations.
Today, as Harlem moves through its current second Renaissance, historic vestiges and memories of famous individuals keep the greater Harlem area connected to its early immigrant residents.
One Irish descendant was Burt Lancaster (1913– 1994), the popular and versatile Academy Award-winning actor, who was born on E. 106th St. in East Harlem. World Wrestling Entertainment (WWE) founder Vince J. McMahon Sr. (1914–1984), the promoter who helped catapult professional wrestling to its worldwide popularity, was born in Harlem, according to author Brian Solomon's 2006 book WWE Legends. And newspaper columnist-turnedperennial TV host, Ed Sullivan (1901–1974), was also of Irish descent and born in Harlem.
Jewish Uptown
There were Jewish immigrant contributions uptown in the areas of religion, education, and entertainment. Remnants of the Jewish immigrant experience remain, while some former synagogues have been repurposed. The Old Broadway Synagogue on Old Broadway in West Harlem's Manhattanville section was incorporated in 1911 and still serves Jewish worshipers today, while the building now housing Mt. Olivet Baptist Church on Malcolm X Blvd. at W. 120th St., was the former site of Temple Israel, reportedly Harlem's first synagogue, built in 1869. The Harlem building is one of many Jewish religious sites that have become Black churches.
When free education was being offered by the City College of New York (CCNY), Jewish immigrants and other disadvantaged Harlem residents took advantage of the opportunity. CCNY—the first free public institution of higher education in the nation to serve the poor and immigrants— had moved from its original Manhattan location at E. 23rd St. and Lexington Ave. in Gramercy Park to a sprawling Manhatanville campus in West Harlem in 1907, just when uptown's Jewish population was growing.
According to Harlem: The Four Hundred Year History from Dutch Village to Capital of Black America author Jonathan Gill, 90% of CCNY students were Jewish after CCNY relocated uptown.
Over the decades, Harlem also gave birth to luminaries of Jewish descent who became standouts in the arts and entertainment fields. Lorenz Hart (1895–1943), lyricist of the famous Broadway songwriting team of (Richard) Rodgers and Hart, was born in Harlem; his parents were Jewish immigrants. Comedian and entertainer Milton Berle(1908-2002)—host of the pioneering Texaco Star Theater television show during his 80-years-plus entertainment career—was born into a Jewish family living on W. 118th St. in Harlem. And Death of a Salesman playwright Arthur Miller (1915–2005), was also born in Harlem to Jewish parents.
Italy Leaves Its Mark
The Italian Harlem era of East Harlem lives on today through several institutions—one being the Giglio Society of East Harlem, which holds its traditional Dance of the Giglio Festival with its towering statue every summer in the streets around Our Lady of Mount Carmel Church on E.115th St. And remnants of old Italian Harlem also exist at Rao's restaurant on E. 114th St. With locations in Las Vegas and Los Angeles today, the Southern Italian restaurant's East Harlem location is small and exclusive —with coveted tables "owned by regulars," Rao's owner, Frank Pellegrino, told Town and Country magazine in 2020. Patsy's Pizzeria, which opened its "first modest shop in Harlem in 1933" when the neighborhood was predominantly Italian, is still in operation today. "Synonymous with authentic, Sicilian, coal oven-pizza," according to the company website, Patsy's East Harlem shop is on First Ave. between E. 117th and E. 118th Sts. Personalities linked to the old neighborhood include reputed Genovese crime family boss Anthony "Fat Tony" Salerno (1911-1992). Born in Italian Harlem, he never ventured far from the East Harlem neighborhood— perfecting loansharking, gambling, the numbers racket, and other activities from the Palma Boy Social Club on E. 115th St.
Before becoming mayor of New York City in 1934, Italianrooted East Harlem Congressman Fiorello LaGuardia lived in an East Harlem apartment building at Fifth Ave. and E. 109th St. according to The Real Deal real estate news outlet, which reported the 2018 sale of apartment building for $44.1 million.
After winning the mayoralty, LaGuardia (1882-1947) reportedly remained in the Fifth Ave. apartment for eight years before eventually moving to Gracie Mansion, the New York City mayor's official residence, according to The Real Deal. Italian contributions to the entertainment world include pop music sensation Bobby Darin (1936- 1973), who was known for hit songs such as "Splish Splash," "Dream Lover," and "Mack the Knife." He got his start in East Harlem. His birth name was Walden Robert Cassotto. And award-winning actor Al Pacino was born in 1940 in East Harlem to Italian-American parents.
Migrants from Greece were also part of the Harlem immigrant mix, and one of the last groups to arrive in the great migration from Europe. Billionaire John Catsimatidis, owner of the Gristedes Food Inc. supermarket chain and a 2009 candidate for New York City mayor, was born in Greece in 1948. When he came to America, his family first settled in West Harlem.
All Together Now
Over the decades of its rebirth, the Harlem Board of Commerce, the Uptown Chamber of Commerce, and the Greater Harlem Chamber of Commerce have witnessed the flood of European immigrants, the glorious, Black-inspired Harlem Renaissance—created by the Great Migration of Black folks from Southern states and Caribbean immigrants—and an amazing second Renaissance that began in the 1970s. And along with the political advancements and economic development of the second Renaissance, diversity returns—with this latest immigration iteration attracting new residents from Latin America, the Middle East, Africa, and Asia, as well as Americans of all hues, witnessing the latest rebirth of Harlem.
Jared McCallister is a former New York Daily News editor who continues to author the paper's 40-year- old Caribbeat column, edit special supplements for the newspaper, and work on freelance projects.