A Conversation with Rev. Dr. Ronald Slaughter
The Life of a Pastor
By R.L. Witter
Pastors are people, too. Sure, it sounds like a no-brainer, but have you ever really thought about what your pastor's day actually looks like? Most pastors work a daily nine-to-five job, have a family, and hobbies or interests in addition to their church duties. The Positive Community turned to Rev. Ronald Slaughter, to inquire about how he spends his days in an effort to shed some light on the subject. Slaughter pastors St James AME with campuses in Newark and South Orange.
Originally from Florida and educated in Georgia, Slaughter always knew there was a spiritual calling on his life. While at times he seemed hesitant to answer, he heard the call. By his junior year in college, he was already pastoring at Hickman Tabernacle A.M.E. Church and the following year was at Butler Creek A.M.E., both in August, GA.
The spiritual calling is also highlighted in Slaughter's day-to-day life as his Christian values inform his opinions and decisions as vice chairman of the New Jersey State Parole Board. "I think I'm well-qualified for the position," he said. "I believe in second chances; I'm kind of in the redemption business." Nominated to the board in 2018 and sworn in for a six-year term at St. James A.M.E. in 2019, he was appointed vice-chairman in September 2023. New Jersey Governor Phil Murphy said of Slaughter in a statement, "Since his nomination to the New Jersey State Parole Board in 2019, Rev. Ron Slaughter has demonstrated a sincere commitment to serving the people of New Jersey while working to transform and modernize our parole practices."
"Especially these days, it's important to have someone who looks like and understands the majority of candidates up for parole having input on these decisions," Slaughter explained. In addition to his duties on the parole board, his commitment to the community is also shown in his service as deputy director of Community Relations for the City of Newark, NJ. Appointed to this position by Mayor Ras J. Baraka, his primary focus is improving and fostering community relations between the Police Division and Newark residents. Slaughter is also tasked with implementing initiatives to effectuate better community engagement and transparency, which includes hosting meetings and discussions on local policing and the progress of implementing Consent Decree. The Consent Decree addresses bias in policing, stop and frisk policy, use of force, officer misconduct, and the complaint process—among other issues.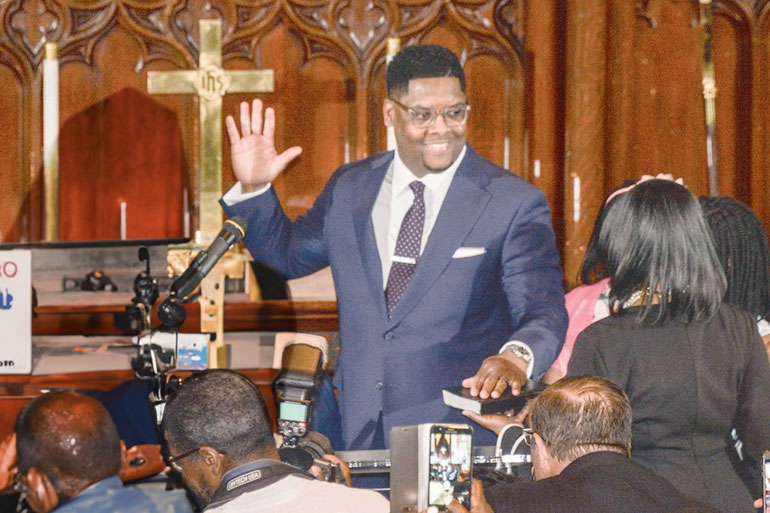 Slaughter's conflict resolution and negotiation skills are key in his positions with the Parole Board and the City of Newark. His direct, effective, firm yet polite communication and demeanor make him the ideal for both of these positions. His commitment to learning the law and its application add to his value. "I sometimes feel like I went to law school without attending law school," he joked. But his dedication is no joke and is proved by the seriousness with which he takes his duties. "I have to consider what is best for both the individual and the community," he said. "I cannot in good conscience deny a deserving person a second chance at life outside of the correctional system, nor can I jeopardize the safety and sanctity of the community." With the tensions between police and citizens and the COVID-19 pandemic, the last two or three years have been even more taxing than usual for Pastor Slaughter. He and his staff had to arrange for virtual bible study and worship, as well tend to the fear and devastation his flock was experiencing. "That was a tough time," he said referring to comforting and praying with and for congregants, friends, and family who suffered from COVID-19 or lost a friend or family member to it. The cheerful days of performing grand weddings, baptisms, and dedications were replaced by somber days of comforting people during loss and assuaging their fears and worries.
In addition to his work and church commitments, Slaughter is equally dedicated to his brothers of the Omega Psi Phi Fraternity, Inc. A proud member of the local Eta Pi chapter, Slaughter takes part in community involvement, fundraising, and fellowshipping with other community-minded Black men committed to "providing services that empower and transform the lives in our community."
So, what do Slaughter's days look like now, in 2023? They're still hectic. While the pandemic allowed many meetings to be conducted virtually and remove commute time, things have mostly returned to normal, which means Slaughter has to add commuting time and traffic back into his daily schedule. But somehow, he makes it seem easy and does it with a smile. His friendly, laid-back demeanor belies the energy and stamina required to face his days. In discussing his schedule, I am reminded of an old U.S. Army commercial where the tagline was: "Army. We do more before 9:00 am than most people do all day."
While his duties, schedule, and whereabouts vary from day to day throughout the week, Sundays are a bit more structured. "I'm up at 6:00 am meditating and preparing for the two experiences," Slaughter explained. "My officer picks me up at 8:30 am to head to our South Orange Campus for 9:00 am worship. Once worship ends there, we head to Newark for the 11:00 am experience. I usually arrive back at home between 1:00pm and 2:00 pm and enjoy football and family time for the rest of the day."
As much as Pastor Slaughter has accomplished and his continued determination to be the best pastor, servant, husband, and father possible, he knows he doesn't walk this path alone. In addition to the blessings of his Almighty Father, he is blessed with his wife, Kyla Trinette Brown Slaughter, and their children: Kellyn Skyla, Kylynn Rona, and Ronald "R2" Levant.