They are Fit to be First Responders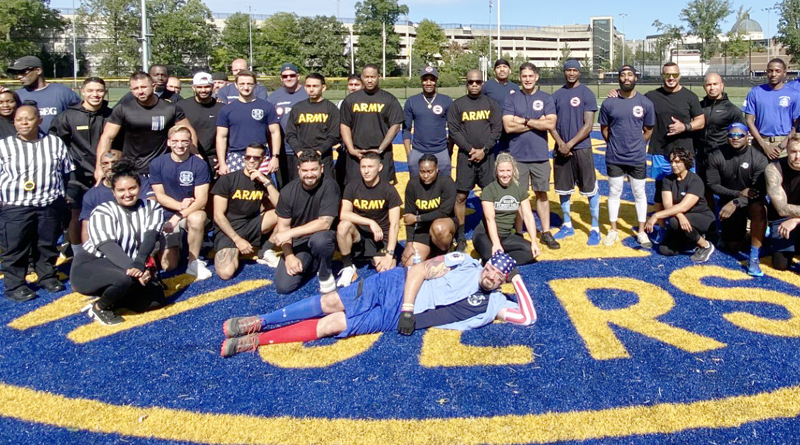 By Barry Carter
In a spirited competition among first responders, Newark and Essex County police officers, firefighters, and other first responders crawled on their hands and knees; carried two, 30-pound fire extinguishers in each hand; then dragged a 180-pound dummy, making their legs feel like jelly.
The second year for this event, which builds camaraderie and fosters networking among the agencies, took place on the football field at Newark's Ivy Hill Park. Eight teams competed: Newark police officers and firefighters, Essex County sheriff's officers, emergency medical technicians from University Hospital Emergency Medical Services, Seton Hall Army ROTC cadets, the U.S. Army, and PSE&G utility workers.
The rigors of an obstacle course at Newark's Ivy Hill football field tested their stamina simulating emergencies they might face in their work. They performed chest compressions, then pulled a mannequin patient to safety. Wielding a sledgehammer to pound a five-ton truck tire was draining and pushing a 150-pound weighted sled had them gasping for air. Still, they had enough left in the tank to gut out 15 push-ups and sit ups.
The competition was stiff with each team separated by minutes on overall time. Newark firefighters did their best to repeat last year's championship performance at the inaugural contest, but came up short. "We tried, but that's alright,'' said Firefighter Edil Irizarry, who helped coordinate the event with Police Officer Mapletine Burney and Firefighter Taywan Jones.
Clocking in an overall time of 11.25 minutes, Essex County Sheriff's officers took championship honors this year. Seton Hall Army ROTC came in second, finishing at 11.93, with Newark Police showing up third at 12.15. "Although we were in competition,'' said Police Officer Edris Khawaja. "We were working toward one goal. I'm ready to go again.''
So, were they fit to be first responders? Jackie Jay, a Newark resident, gave everyone a thumbs up after she put herself through the same grueling workout. "It's an interesting and exciting snapshot of what these guys go through on a day-to-day basis," said Jay, president of the Forest Hill Community Association. "It's taxing." And challenging, and rewarding, too. "I loved it," said Essex County Sheriff's Officer Odilio Say. "Even though we're competing against each other, you feel the love. You feel the camaraderie.''