Movies To See During The Holidays

HIDDEN FIGURES
Henson, Spencer, and Monáe's stellar performances propel this feel-good biographical drama that teaches audiences about a little-known aspect of NASA's history. Many Civil Rights-era stories are understandably upsetting, showing the unflinchingly ugly institutional racism that African Americans had to endure. But Hidden Figures remains a crowd-pleaser because the main characters, while faced with insidious day-to-day discrimination (segregated bathrooms, offices, libraries, schools), don't endure the kind of horrific violence depicted in Selma. The three stars are all fantastic, with Henson clearly enjoying playing genius, widowed mother Katherine. Spencer is, as usual, spot on as the focused Dorothy, who's determined to make sure her team doesn't lose their jobs once the real computers arrive. And Monae impresses with another memorable supporting turn (she also shines in Moonlight). The movie's minor antagonists include Kirsten Dunst as Mrs. Michael, the head of all the human computers, who acts condescendingly toward Dorothy and the other colored computers, and Jim Parsons as task force supervisor Paul Stafford, who's unhappy that his boss wants all his figures checked by a black woman.
The friendship between the three leads is the heart of the story, but the action favors Katherine, who's working directly with the team that launches Glenn into orbit. Her extraordinary abilities as a mathematician earn her Al Harrison's trust, top-secret clearance, and a chance to be there when key decisions are made. Audiences may wonder what was fictionalized for the adaptation and whether Glenn was really as open-minded, gracious, and flirtatious as he's portrayed in the movie. Regardless of which details might be the result of a little creative license, the pre-credits tribute picturing the real Johnson, Vaughan, and Jackson make it clear that Hidden Figures is a story that needed to be told — and it's told in a triumphant manner.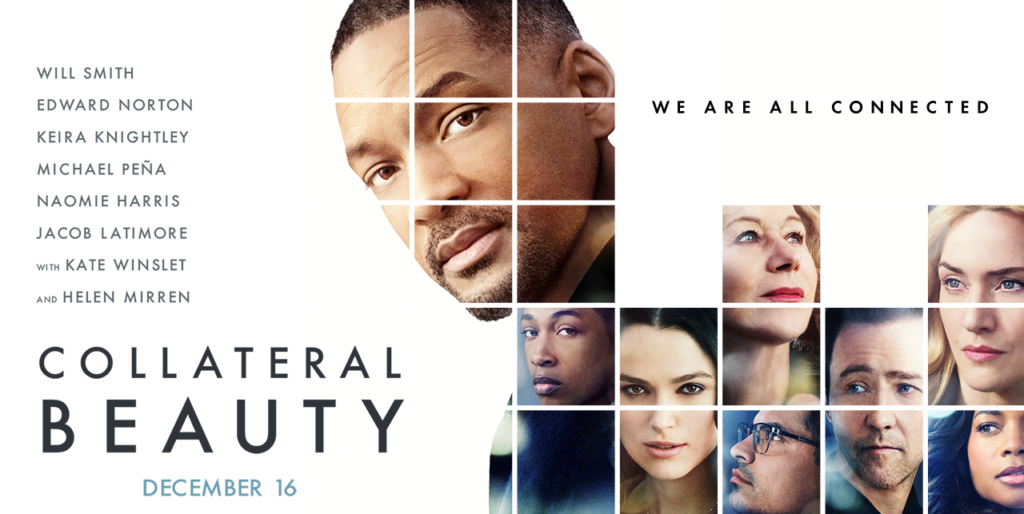 COLLATERAL BEAUTY
Howard, you will be visited by three spirits. Howard (Will Smith, in serious mode) was a happy, successful New York adman until the death of his little daughter, and the grief is crushing him. In David Frankel's drama about human connection, colleagues (Kate Winslet, Edward Norton and Michael Peña) come to his aid. And Howard's letters addressed to existential concepts (love, death and time) prove therapeutic in strange ways. Death visits him as Helen Mirren in a blue beret and matching boa, Love looks just like Keira Knightley, and Time is personified by Jacob Latimore with an earring. The glittery setting: New York City during the holidays.

FENCES
If you saw the 2010 revival of August Wilson's Pulitzer Prize-winning "Fences" on Broadway, here it is again, in a lot of the important ways. In the 1950s, a Pittsburgh sanitation worker (Denzel Washington) reflects on the limitations of his life and remembers his glory days as a baseball star in the Negro Leagues. Viola Davis plays his strong, dutiful wife, and Jovan Adepo is his son, who thinks there must be more to fatherly love than food, shelter and clothing. Mr. Washington also directed the film; he and Ms. Davis both won Tony Awards for these roles onstage.