Fitness Expert Jillian Wright Inspires a High Energy Lifestyle
Jillian Wright, one of the country's most formidable group fitness experts, is the creator of high-intensity cycling class, Cyclesanity. She is living proof that hard work and passion beget substantial rewards. A budding "brand" herself, Wright is positioned to take her exercise method to it's highest level over the next 18 months.
Wright, a former telecommunications professional of a leading national provider , left her career 10 years ago, in favor of teaching fitness, and leading others to soaring heights. Through her transformational cycling sessions, Wright instills confidence and independence, while assisting class attendees in meeting their weight loss goals.
A former athlete who mastered track and field as a youth, Wright began as a complete novice to studio cycling. After the birth of her daughter and periods of unhappiness with her weight, she sought change through exercise. She'd lost 65 lbs even before starting to teach, eventually falling into a life changing groove that became her lifeblood, saving grace, and ultimately her brand.
Wright's motivating and result-oriented cycling has been requested by several Fortune 500 companies, and has led to her conducting dozens of private group fitness sessions over the years, which has been quite a lucrative endeavor. Currently, Wright averages 20 classes per week as an instructor at Equinox, the luxury fitness club known for its hiring of internationally refinished experts. While not exclusive to Equinox, her Cyclesanity classes are her staple at the chain, because of how her philosophy and Equinox's principles have merged. As the face of her own trademarked classes, she has built a loyal following and achieved undeniable success.
After being in demand for several years, her Cyclesanity class has grown to include elite actors, models, and major NFL pros. The only person she is willing to share the name of is that of is U.S. Attorney General Loretta Lynch—does it get more distinguished than that? Read on….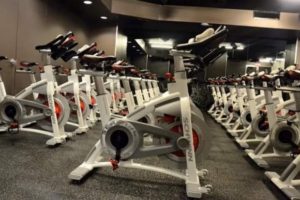 What does the word "Cyclesanity" refer to?
Wright: Cycle is the body, sanity is the mind. I've been able to connect with people, and help people connect with each other. Group fitness really helps to connect you. If you use it the right way, you will get that energy. I was able to to do that. So, I said to myself, "I want to do this!" I want to give to people what it (cycling) gave to me.
You've achieved a lot in just under 10 years. Do you consider yourself a celebrity instructor?
Wright: I'm well known, not just within this country, but across the world. Let's be real, I have an accent. I am West Indian born. I am female. I am not the petite female. When some of my fellow instructors say, "Oh my God, you're a hustler baby," I say, "No, I'm a professional—a 'fitness professional.'" I try to take away all the stereotypes. I don't want them attached to my name, because I work really hard in its many, many different facets.
 Any real competition? Ever worry about others gaining ground?
Wright: There are many other women with their own brands. I'm the only one in New York City that's a black female who has created a well known brand. You can't really go around and stop people from copying you. It all boils down to me, Jillian Wright, and I am the owner of Cyclesanity. The whole energy was created from me.
 In terms of growth, at what point did you realize this all could be monetized?
Wright: This was never about money; it's about give and take. Everything is about giving back, without telling all the secrets. I do want to share with other instructors, I want to other people to say, "I teach Cyclesanity."
Charity—I'd love to start a charity* geared to helping people fight mental illness. This is something I know about firsthand. I want to grow my "brand" worldwide. I'm just finding different avenues to grow it in the right way.
*Jillian truly gives back. She has previously volunteered her coaching to the recruits and families at the Fort Hamilton United States Army Base, for a period of six months. Additionally, she has volunteers her time delivering health and wellness lectures to teenagers and other local organizations.