Michelle Obama surprised 12 'fierce and promising' girls on International Women's Day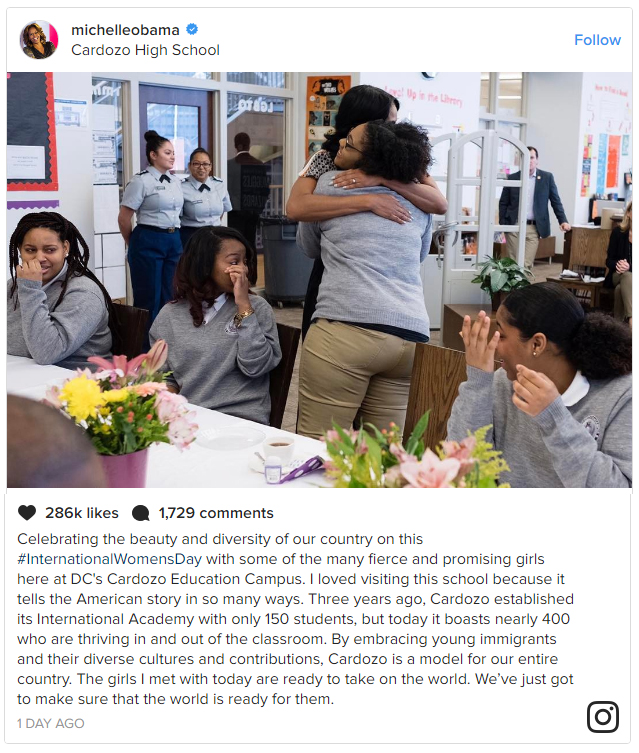 Former first lady Michelle Obama visited her second D.C. public high school in two weeks, surprising 12 teenage girls in their classroom on International Women's Day.
Obama stopped by Cardozo Education Campus in Washington's Columbia Heights neighborhood Wednesday and met with students for nearly two hours to talk about their life goals and future.
"Celebrating the beauty and diversity of our country on this #internationalWomensDay with some of the many fierce and promising girls here at DC's Cardozo Education Campus," Obama wrote in an Instagram post about her visit. "I loved visiting this school because it tells the American story in so many ways.
The school says it received no notice that Obama would be coming to speak with students. Principal Tanya Roane said the school district told her that D.C. Public Schools Chancellor Antwan Wilson would be sitting down to talk to students, and asked her to pick 12 girls who were representative of the student body. The school has an international academy for recently arrived immigrants and another more traditional academic academy. The principal chose students from both academies.
The students, wearing their Cardozo V-neck sweaters, were having tea with the chancellor in the media center when Obama walked in.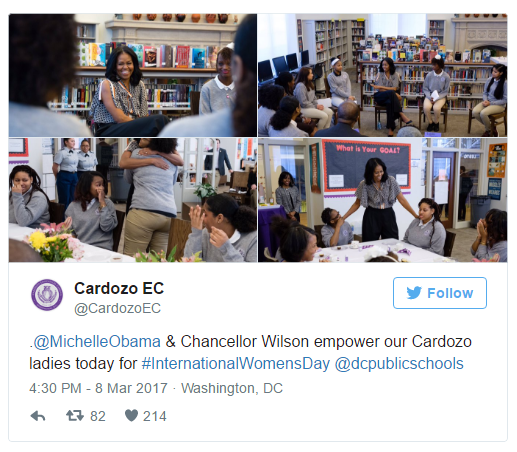 "We just happened to look up and in walked this tall, incredibly beautiful woman who certainly looked like Michelle Obama but couldn't have been Michelle Obama because Michelle Obama wouldn't be in our school," Roane said. "We were simply elated and overwhelmed."
Upon seeing the former first lady, most of the students broke into tears. Ayanna Morgan, 16, said she couldn't believe it was real. Obama touched Morgan and told her to give her a hug. The students sat in a circle and Obama mostly had one-on-one conversations with them about their life ambitions.
Morgan told her that she wanted to go to community college and cosmetology school at the same time, and ultimately transfer to Duke University. Obama told her she could do that, and said not to let other people's opinions affect who she is as a person.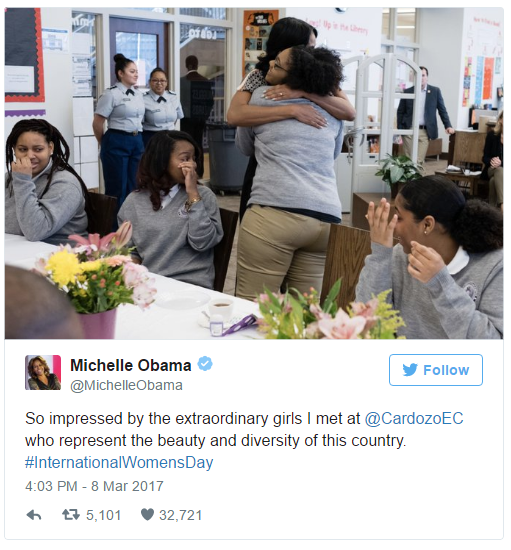 "It meant a lot for the most important person in my life to come here and say that," Ayanna said. "I have always looked up to her. It was crazy."
Marisol Rodriguez, 15, moved from El Salvador three years ago and told the first lady that hers would be the first generation in her family to go to college. She said she ultimately wanted to join the FBI. Obama told her to fight for her dreams and never give up.
"She talked about who we are, and what we are capable of doing," Marisol said. "It was advice I already knew, but coming from her it was different."
As Obama left, she went around and took a picture with each student and staff member.
"We are still smiling over here from ear to ear; we are still basking in the fact that we had the first lady in our building," Roane said. "When you meet the former first lady and she is in your school, it will be a memory that will be etched in your hearts and mind for the rest of their life."
Obama surprised 14 students at Ballou STAY high school last week, and similarly talked about students' future goals and aspirations.
"Mrs. Obama had an emotional and heartfelt discussion with the students," Caroline Adler Morales, a spokeswoman for the former first lady, wrote in an email last week after the Ballou visit. "There were tears, laughs and lots of hugs."
While the Obamas shared a close rapport with D.C. Public Schools, the relationship with the Trump administration has had a rocky start. Protesters greeted Education Secretary Betsy DeVos when she visited a D.C. school last month. DeVos later criticized teachers, prompting the school to send 11 tweets defending itself.
The previous White House occupants are still D.C. residents, renting a house in the Kalorama neighborhood at least while their youngest daughter finishes high school.
Obama has no publicly scheduled visits to a D.C. school in the future. If she stops by another school, students will get another surprise.