Newark-Based Entrepreneur Makes Impact with Afrocentric Accessories
Melissa Parker is CEO of Emish Company, a company that creates handmade accessories sourced from countries in Africa. She is a Brooklyn native, now residing in Newark, NJ. As a student of Berkeley College, Mrs. Parker was selected for an internship with The Institute for Entrepreneurial Leadership, a Newark-based nonprofit that supports economic development through entrepreneurship. After graduating in 2019 with a degree in Fashion Merchandising and Management, Mrs. Parker became the organization's Program Coordinator. She recently answered some questions about work as an entrepreneur and her professional goals.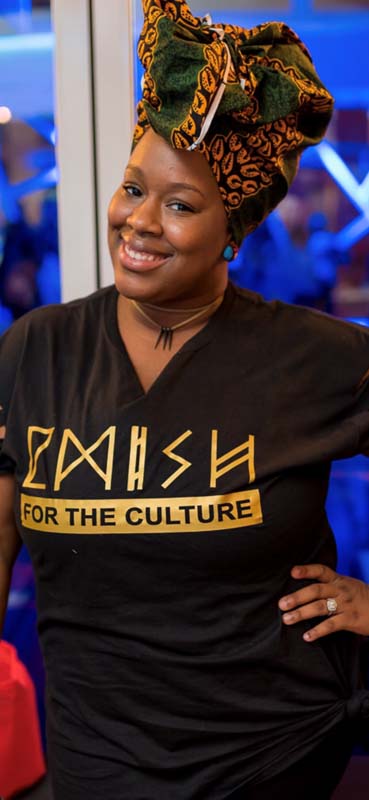 Q: Describe your journey into entrepreneurship and why you are passionate about your business.
I am the CEO and Accessory Designer for Emish Company. I create hand-made, Afrocentric accessories, from fanny packs and matching visors to head wraps and earrings. All of my fabrics are sourced from different countries in Africa, making them 100 percent authentic.
Growing up in a family with two sisters and one brother, my mom would dress my sisters and I like triplets. Needless to say, I hated it. I would think of ways to express myself and stand out, which created my passion for making accessories.
Attending Berkeley College for my degree in Fashion Merchandising and Management, I learned the fundamentals of what is needed in my profession. I have implemented the lessons I learned into my daily routines as a business owner.
The "M" in the beginning of my name evolved into "Emish," to signify that what my customers purchase from me is exclusive to my personality. It is a clever way of letting everyone know how passionate I am about the one-of-a-kind pieces I create.
Q: What is one professional lesson you would like to impart to aspiring entrepreneurs?
The biggest takeaway I have learned since starting my business in 2016 is to never stop learning. It is so easy to become complacent in this world, but when your mind keeps moving, no goal is unachievable.
Q: March is Women's History Month. Share your thoughts on what it means to be a woman leader.
Through an internship opportunity arranged through Berkeley College, I was offered a position as Program Coordinator with The Institute for Entrepreneurial Leadership. I work side-by-side with Co-Founder and CEO Jill Johnson, where I witness greatness every day.
I have learned that being a woman in a leadership position is amazing. We are such powerful beings and when we have a purpose, we are driven, knowledgeable and we get things done.
Jill Johnson is my role model. The mission of our Women of Color Connecting initiative is to bridge the relationship divide between Women of Color entrepreneurs, small business owners, and those in positions to facilitate opportunities for business growth. We believe that having a seat at the table starts with an invitation to the room.
Learn More
Learn more about Emish Company at www.emishcompany.com or on Instagram or Twitter: @emishcompany.