School Named for Civil Rights Activist and Local Living Legend Theodora Smiley Lacey
By R.L. Witter
"I was home for my mother's 88th birthday, driving on Teaneck Road," Nanette Lacey began. "My mom says, 'Nanette, they're naming the Board of Education building after me,' and I'm thinking, 'This is weird.'" She chuckled as she recalled how they went back and forth over whether it was the board of education building or an actual school being named for the longtime Teaneck resident and local legend. "I said, 'I've been telling everyone they're naming the Board of Ed building after you. It's a lie, it's wrong, and I feel crazy!"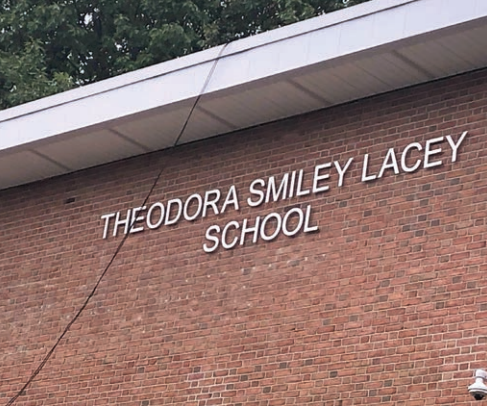 Once it was clear a Teaneck, New Jersey public school was being named for Mrs. Theodora Smiley Lacey, Nanette was in awe. "This is wonderful! How did this come about?" she asked. Several colleagues, friends, and board members had been discussing renaming the school and they came up with all sorts of names including Maya Angelou. Teaneck teachers Mary Joyce Laqui and Inez Khan nominated Mrs. Lacey as a notable, longtime resident of the township. "Don't get excited," she was told, "but your name was put in for renaming Eugene Field School." Mary Joyce Laqui felt otherwise, telling Nanette, "Oh no, it's going to be named after your mother if it's the last thing we do."
"I'm thinking to myself, 'We still have a school named for Thomas Jefferson so we might want to be thinking about renaming that,'" Nanette recalled. "They called me and said the Teaneck Board of Education unanimously voted to rename Eugene Field School the Theodora Smiley Lacey School and I said, 'This is beyond my comprehension.'"
So that's the how of naming a school after a Black woman in Teaneck, NJ. Now for the why. Theodora Lacey is nothing short of a legend in both the Teaneck Public School system and the township itself. She and her late husband, Archie, moved to Teaneck in the late 1950s with their oldest child, Archie, Jr. Theodora had taught school in Louisiana and Archie, Sr. was a professor at Hunter College. I am proud to say I was raised and educated in Teaneck, NJ and attended Longfellow, the elementary school where Mrs. Lacey taught in the 1980s. A beautiful woman, we all knew who Mrs. Lacey was as a teacher. She was kind, but she had expectations of her students. She was fair, and she demanded that you work to your potential.
I recall the day I found out about Mrs. Lacey's life outside of teaching. I was in sixth grade and we were having Black History Month assembly. Prepared for a slide show or filmstrip featuring Harriet Tubman; Martin Luther King, Jr.; and George Washington Carver, I was confused when there was nary a projector to be found. After taking our seats, a few students performed a five-minute re-enactment of Rosa Parks refusing to give up her seat on a Montgomery, Alabama bus in 1955. At the end of their production, Mrs. Lacey took the stage, three chairs were placed, and she introduced Rosa Parks and Coretta Scott King to a stunned group of 11- and 12-year-old children.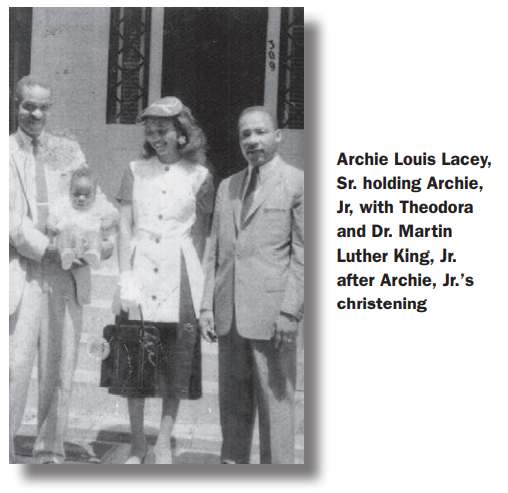 Theodora Smiley was born in Montgomery, Alabama and into the civil rights movement. Her mother was a childhood friend of Rosa Parks. Her father was president of the board of directors at Dexter Avenue Baptist Church when they selected Martin Luther King, Jr. as their new pastor. As Mrs. Parks and Mrs. King spoke, worn photos were passed around the room. They were photos of younger, familiar faces. Mrs. Parks and Mrs. King were easily recognizable, as was Dr. King. And a younger, even more beautiful Mrs. Lacey was with them.
Theodora Smiley Lacey was not only a Teaneck teacher, wife, and mother. She and her husband were integral in Teaneck's claim to fame and what put it on the national map. The Laceys founded the North East Community Organization, hosting meetings in their home. The group feared white flight would cause resources to diminish in neighborhoods where Black families resided and took action. They first centralized one middle school for the township's children, and later realized the impact integration could have on younger children, centralizing kindergarten instead. Teaneck, NJ was the first town in the United States to voluntarily integrate its public schools in 1964.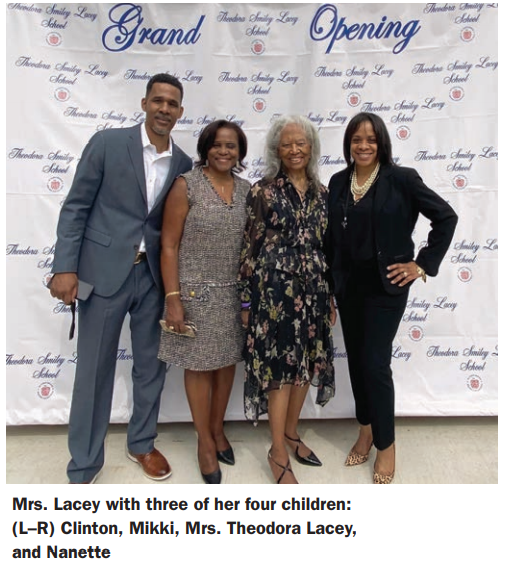 On September 17, 2020 Mrs. Lacey cut the ribbon on the Theodora Smiley Lacey School, the new home of Teaneck's kindergarten students, who are currently learning remotely. Due to COVID-19, guests were limited to a minimal number, but the people of Teaneck and the Laceys' friends and family wanted to be part of the celebration and organized a car parade to mark the occasion. As Mrs. Lacey made her way to the school, Teaneck police provided an escort and she waved like the Teaneck royalty she is. The Lacey children: Archie Louis Lacey, Jr./Onaje Salim; Mary (Mikki) Lacey Murphy, Clinton Lacey, III; and Theodora Nanette Lacey are beyond proud of the honor bestowed upon their mother. Nanette exclaimed, "It's wild! I still can't believe it!"
Theodora Smiley Lacey is the first Black woman to have a school named for her in Teaneck, Bergen County, and possibly the state of New Jersey. She has spent more than 60 years fighting for civil rights and is still impacting and improving lives. Congratulations, Mrs. Lacey!