Berkeley College Student Provides Compassionate After-Life Care as Mortuary Technician at Queens Hospital
"All we can do is be prepared and stay strong."
– Nicole Decarmine of Far Rockaway, Queens
Nicole Decarmine is rarely in the spotlight, but that does not make her role at Queens Hospital Center any less important. The 31-year-old Berkeley College student joined the hospital team as a mortuary technician earlier this year.
Her responsibilities include recording identifying information, preparing deceased patients for autopsy, and releasing the bodies to family members or authorized parties. In recent months, she has managed up to 100 intakes a day, due to COVID-19.
"I never thought I would live through anything like this," Decarmine said about the pandemic. "Even though I deal with it on a different spectrum than the doctors and nurses, the mortuary team also risks exposure of contracting the virus. This job is not for the weak – we are strong, and together we make a difference."
Decarmine, who completed her mortuary training at American Academy McAllister Institute, is pursuing an Associate in Applied Science degree in Justice Studies – Criminal Justice at Berkeley College, which she expects to complete in December 2020. She may apply her new skills within the medical field or to forensic work.
A resident of Far Rockaway in Queens, she is committed to providing compassionate after-life care to the families of the deceased.
"It is always important to show professionalism and compassion to the families," Decarmine said. "It is a trying time for them – they are emotional, scared and sometimes angry. I try to give the families peace and security that their loved ones are in the best hands."
Decarmine said she also worries about her own family – a 13-year-old daughter and 10-year-old son, who are living separately from her for their health and safety under the care of their grandmother, Crystal.
"For me, my greatest challenge is working long hours and not being able to see my children," Decarmine said. "But they are real troopers and I know they are proud of me."
At Berkeley College, she serves as Vice President for the Women's Empowerment Club at the Midtown Manhattan campus, and has been nominated to the National Society for Leadership and Success.
Decarmine's supervisor at Queens Hospital Center, Jennifer Coard, said Decarmine has a bright future.
"Nicole has displayed integrity, compassion and professionalism during these trying times at Queens Hospital," Coard said. "We are proud to have her on board – she is an asset to the mortuary department."
Decarmine said she will continue to deliver the best after-life care possible and take the situation with COVID-19 one day at a time.
"No one knows what the future holds," she said. "All we can do is be prepared and stay strong."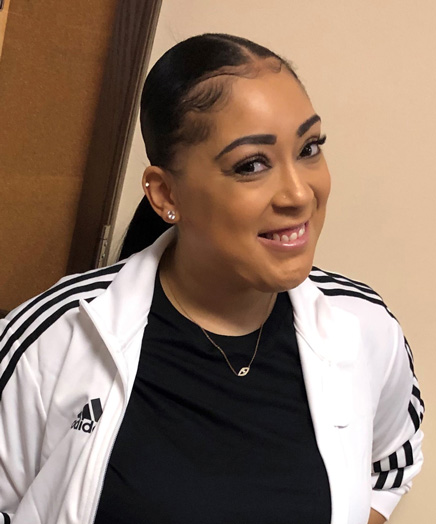 Read More about Berkeley College Efforts to Fight COVID-19
Berkeley College is responding to community needs during the coronavirus COVID-19 crisis, both as healthcare workers in the trenches and by donating vital supplies to area hospitals and emergency management efforts.
In April, Berkeley College, donated more than 50,000 medical supplies from its School of Health Studies toward emergency response efforts to fight COVID-19.
Berkeley College faculty, students and alumni are currently serving on the frontlines in the fight against COVID-19, at medical centers including New York-Presbyterian Hospital; Mount Sinai Health System; Columbia University Irving Medical Center and others. Click here to read a story about Surgical Technology graduate Niurka Pelaez, CST, a member of the healthcare team at Hackensack University Medical Center.
About Berkeley College
Berkeley College, founded in 1931, is a career-focused institution accredited by the Middle States Commission on Higher Education that offers students Master's, Bachelor's, and Associate's degree and Certificate programs in more than 20 career fields. The College has campuses in Midtown Manhattan and White Plains, NY, as well as in Newark, Paramus, Woodbridge and Woodland Park, NJ, with more than 5,700 students enrolled. In addition, Berkeley College Online® serves a global population. U.S. News & World Report has named Berkeley College among the Best Colleges for Online Bachelor's Programs and among the Best Online Bachelor's Programs for Veterans, for seven consecutive years. The website address is www.BerkeleyCollege.edu
The mission of Berkeley College is to empower students to achieve lifelong success in dynamic careers.