Berkeley College School of Health Studies return to Classroom Instruction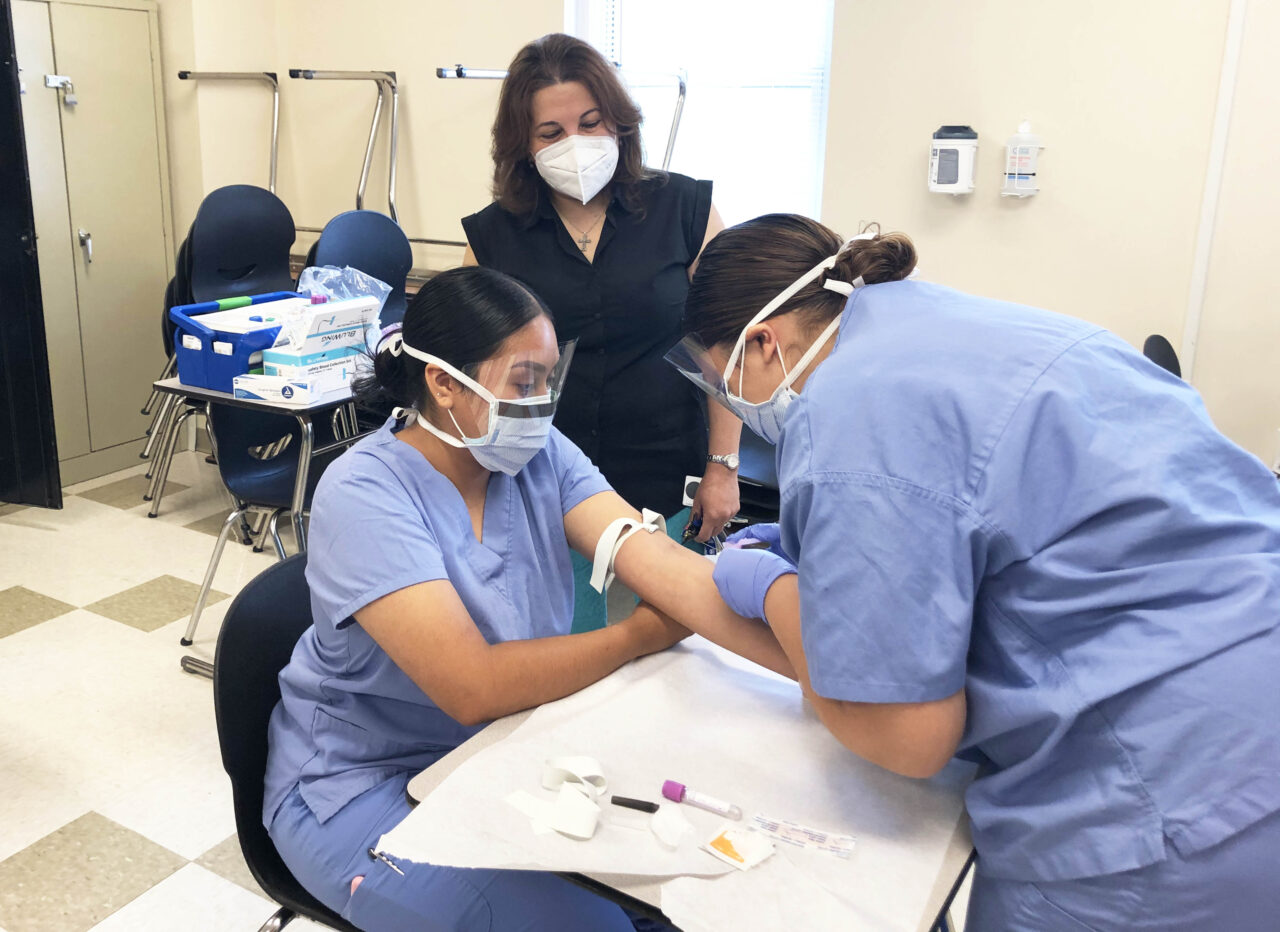 "I tell my students that this is harvest time. You put in the time. You put in the effort. Now is the time to gather the success you have been preparing for."
– Suzan Melik, MD, RMA, CCMA, CBCS
Associate Chair, Medical Assistant and Medical Insurance, Billing and Coding programs,
Berkeley College School of Health Studies
Faculty from the Berkeley College School of Health Studies are excited to be back on campus in Woodland Park, NJ, as they guide students through completion of their hands-on lab training this summer.
"I love being in the classroom," said Suzan Melik, MD, RMA, CCMA, CBCS, Associate Chair, Medical Assistant and Medical Insurance, Billing and Coding programs. "I missed seeing my students face to face. These past months we have been using Zoom to meet weekly with our students, but it's not the same."
Students are learning to administer electrocardiograms, draw blood, take vital signs and respond to medical emergencies such as seizures and shock – hands-on experiences that must be completed in the classroom. Practical Nurse students recently completed a Basic Life Support course, adhering to new regulations by the American Heart Association focused on COVID-19 protocol.
Melik said some students were apprehensive about returning to campus, until they understood the protocols and procedures put in place by Berkeley to ensure the health and wellness of the College community.
"Once the students saw how Berkeley was handling the situation they became much more comfortable," Melik said. "We met virtually with any student who had a concern, to address their questions."
Angelli Manjarrez, a student in the Patient Care Technician program, said she is glad to be back in the classroom, gaining the hands-on experience that will prepare her to enter her field. "It's fun to be back," said Manjarrez during a phlebotomy course. Manjarrez, a resident of Passaic, NJ, added, "All the precautions in place are identical to what we would be doing in a healthcare setting at a time like this."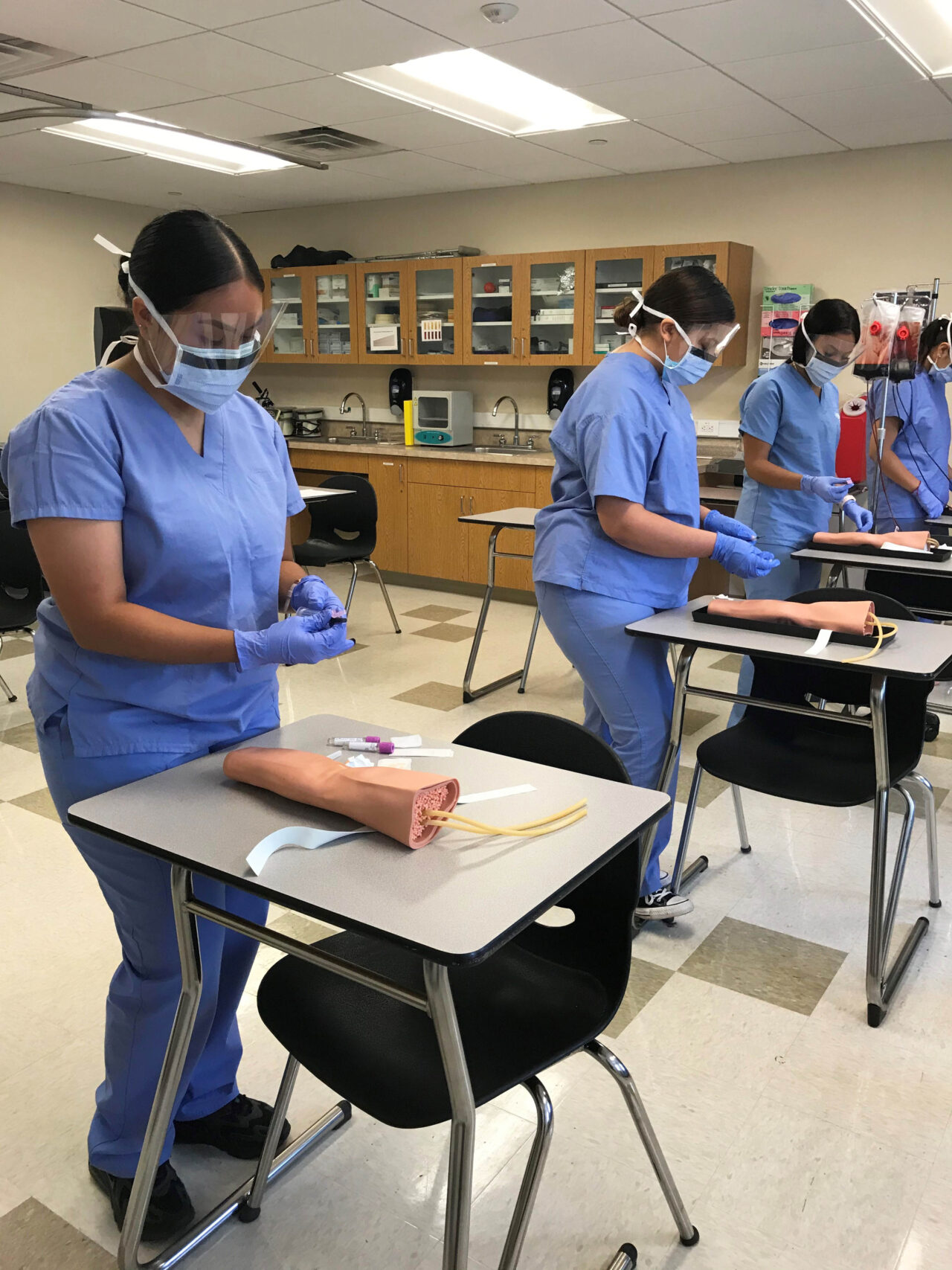 Students in the School of Health Studies are provided with face masks and face shields, and classrooms are sanitized after each use. Lab capacities are significantly reduced to meet social distancing requirements. Prior to returning to campus, students completed COVID-19 Return to Campus training, and each day students, faculty and staff must verify their wellness through a digital health screening assessment through the Berkeley College app before they are cleared to enter campus buildings.
"The College has taken many steps to ensure our safety," said Kimberly Diaz of Paterson, NJ, a student in the Patient Care Technician program. "Our teacher makes us use hand sanitizer frequently and ensures sure that surfaces are cleaned before and after each session."
In addition to the hands-on classroom experiences, students are preparing for certification exams to become Certified Clinical Medical Assistants and Certified Patient Care Technicians. A small cohort of students also began internships this month with local medical offices, working toward their required 165 hours of practicum.
Melik said students have been well prepared, and are confident to enter the workforce as healthcare professionals, even during the COVID-19 pandemic.
"I tell my students that this is harvest time," Melik said. "You put in the time. You put in the effort. Now is the time to gather the success you have been preparing for."

About Berkeley College
Berkeley College, founded in 1931, is a career-focused institution accredited by the Middle States Commission on Higher Education that offers students Master's, Bachelor's, and Associate's degree and Certificate programs in more than 20 career fields. The College has campuses in Midtown Manhattan and White Plains, NY, as well as in Newark, Paramus, Woodbridge and Woodland Park, NJ, with more than 5,700 students enrolled. In addition, Berkeley College Online® serves a global population. U.S. News & World Report has named Berkeley College among the Best Colleges for Online Bachelor's Programs and among the Best Online Bachelor's Programs for Veterans, for seven consecutive years. The website address is www.BerkeleyCollege.edu
The mission of Berkeley College is to empower students to achieve lifelong success in dynamic careers