DEI Mini-Series: Impact of, and Strategies to Combat, Systemic Racism in Education
Wednesday, October 7, 2020 2:00 PM – 3:00 PM ESTWebinar
NRBP Diversity, Equity and Inclusion Mini-Series: Engaging the Business Community in Addressing Racial and Economic Disparities
As NRBP continues its Diversity, Equity and Inclusion Initiative, we have launched new series to focus on the narrative around racial and economic disparities and to engage the business community in driving meaningful change. The COVID-19 pandemic and recent national incidents of police misconduct have exposed "cracks" and heightened awareness of the continued deep economic, racial, disability status, and healthcare disparities throughout our country.
In order to forge a truly equitable path forward, leaders should seek to understand the circumstances and needs of the diverse groups that make up our workforce and communities.
A quality education has long been understood to be necessary for career, and life, success. Historically, Black communities in the United States have been denied access to quality education via economic exclusion and overall systemic racism. While much has improved in this country since the 1954 Brown v. Board of Education decision, the COVID-19 pandemic has shown us that the long-standing foundational barriers to educational attainment continue to exist for students across all levels of education.
Impact of, and Strategies to Combat, Systemic Racism in Education is the fifth program in the DEI Mini-Series. Join us to learn how systemic racism has contributed to the educational and economic disenfranchisement Black and other communities of color and how educators, nonprofits, and corporations are combating these issues by being intentionally anti-racist, implementing creative recruitment initiatives, partnering on pipeline to employment programs, and more.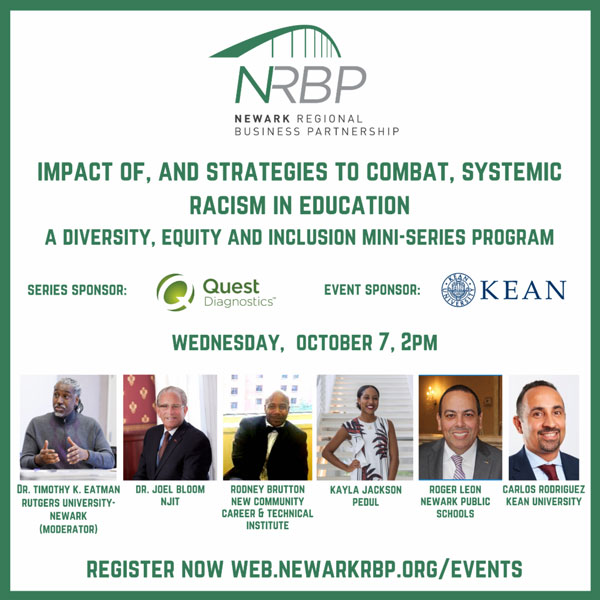 Speakers
Timothy K. Eatman, Dean – Honors Living-Learning Community and Associate Professor – Urban Education, Rutgers University-Newark (Moderator)
Dr. Joel Bloom, President, NJIT
Rodney Brutton, Director of Workforce Development, New Community Career & Technical Institute
Kayla Jackson, Co-Founder, PeduL
Roger Leon, Superintendent, Newark Public Schools
Carlos Rodriguez, Associate Vice President of Student Success and Retention, Kean University