Don't Miss This!! Tomorrow at 6:30pm (Free Raffle for $25 Target Gift Card!) Invite a friend
The coronavirus will be in our communities longer than we anticipated. It is important that we do not put off health maintenance and important screenings like mammography. Doing so can lead to more advanced disease due to delay in diagnosis. Breast cancer is the second leading cause of cancer death in women. Breast cancer is the most common cancer among Black American women. Black women in the U.S. are about 40% more likely to die from breast cancer than white women and they are more likely to get breast cancer at a younger age. Research finds that Black women often have delays in follow-up care after mammograms due to lack of access.
Join us as we discuss breast cancer facts, myths, and resources available to women in Camden, NJ and Brooklyn, NY.
Register here to join and for event Zoom details. Just for registering you'll be entered into a raffle to win one of two $25 Target gift cards!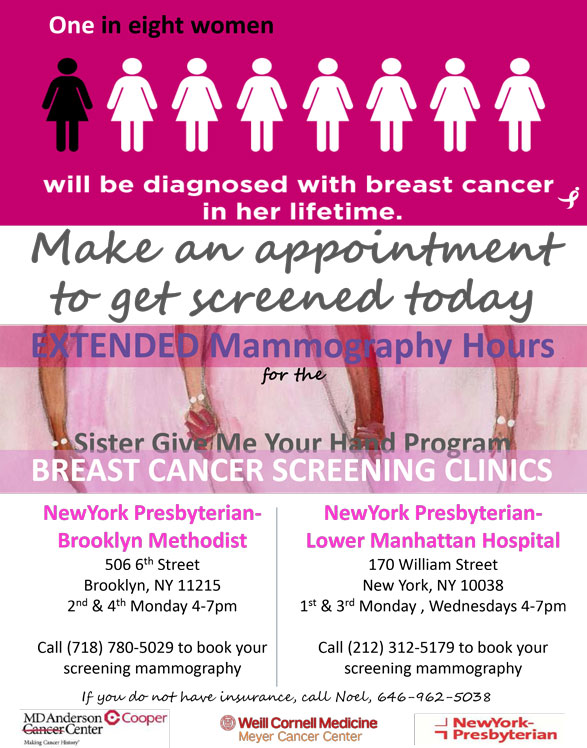 This event is brought to you by the Sister 'Give Me Your Hand Program' at MD Anderson Cancer Center at Cooper and the Sandra and Edward Meyer Cancer Center at Weill Cornell Medicine.
If you or someone you know is interested in making an appointment for a mammogram/breast screening, please see the attached flyer for extended hours at two locations.
Stay safe and be well!