Pillar College Offers Scholarship for Black Men Pursuing Elementary Education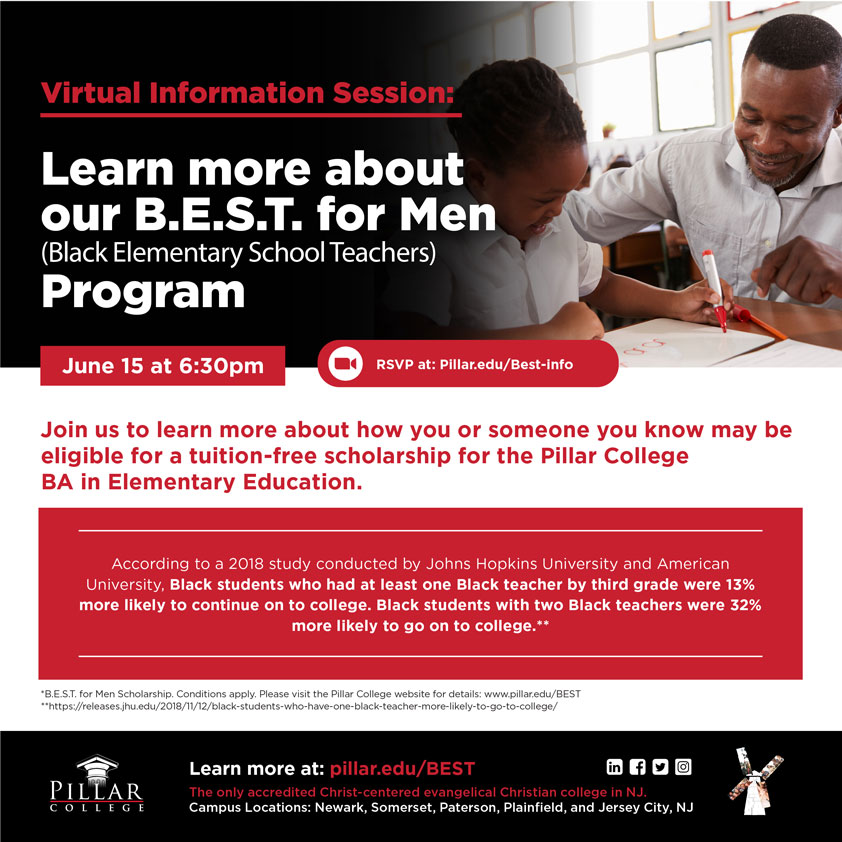 By Candace Waller
"Across the country, about 20% of teachers are people of color, and Black men make up a mere 2% of all U.S. teachers," said Sharon Harden, Pillar College Program Chair of Elementary Education. "In Newark, that percentage is slightly higher, around 8%". That is still too low, and that is why Pillar College is on a mission to provide eligible Black men with tuition-free* scholarships to their BA in Elementary Education degree program, through its B.E.S.T. (Black Elementary School Teachers) for Men Scholarship.
According to Professor Harden, The B.E.S.T. for Men initiative was "developed earlier this year in response to a program proposal submitted by Dr. Ralph T. Grant, VP of Academic Advancement." She went on to say that, "the current initiative grew out of a collaboration of cross-functional team members representing the leadership and administration of the college including President, Dr. Rupert A. Hayles, Jr., Chancellor, Dr. David Schroeder, Dr. Wayne Dyer, Erica Oliver, Sharon Harden, Dan Reeve, Amy Huber, Giselle Llerena, Michaele Clayborne-Crosby, and Elena Marin."
One of the College's goals is to increase the number of Black male elementary school teachers. As the only four-year institution in Newark to offer a bachelor's degree in Elementary Education (kindergarten through sixth grade), the school believes this program will make an impact in the community it serves and beyond. The institution anticipates that this scholarship will make it easier for Black men who want to be become teachers attain this goal.
Due to retirement and teachers leaving the profession, there is a shortage of teachers, with districts looking for innovative ways to get more people interested in the profession. According to the U.S. Bureau of Labor Statistics, the average salary of an elementary school teacher is $61,350. It was reported in the Newark Patch June 2, the Newark Board of Education will start new teacher salaries at $62,000. It will also provide increases up to $62,000 to all teachers who make less than the new starting salary and have $1,000 salary increases over two years in hopes of retaining educators.
"The teacher shortage is rampant throughout New Jersey and across the country," said Pillar College President Dr. Rupert A. Hayles, Jr. "Further, in the urban areas, the prospect is worse. Pillar College wants to be at the forefront of addressing this issue and spearhead new initiatives and efforts to address the shortage of teachers, not just the need for teachers, but a shortage of black male teachers within the education industry."
Though the numbers of Black male elementary teachers are small, the impact they have is big. Studies have found that all students benefit from having a Black male teacher, particularly Black students. In 2018, Johns Hopkins University and American University researchers released their findings that having at least one Black teacher in elementary school not only makes Black children more likely to graduate high school, it also makes them more likely to enroll in college. It's called The Role Model Effect.
Interest in the Pillar College B.E.S.T for Men program has been high. The next information session is scheduled for Wednesday, June 15 at 6:30 p.m. To register for this session, go to pillar.edu/events.
Those interested in becoming a mentor to a B.E.S.T. candidate may reach out to Prof. Sharon Harden directly at [email protected]. Harden says, "your donations and support will help the inaugural and future cohorts of the Pillar College B.E.S.T. for men program to make a difference in our communities.
To make a donation, contact Dan Reeve at [email protected].
*B.E.S.T. for Men Scholarship. Conditions Apply. Details on www.pillar.edu/best
About Pillar College
Pillar College is a comprehensive institution of higher learning, providing a Christ-centered education. Pillar College is accredited by the Middle States Commission on Higher Education (MSCHE) and licensed by the New Jersey Commission on Higher Education and the Association for Biblical Higher Education (ABHE). Pillar College offers Associate's, Bachelor's and Master's Degree programs. Pillar College educates, inspires and equips students for excellent scholarship, service and leadership. Rooted in and committed to Christian faith and love, Pillar College fosters intellectual, spiritual and social development among its diverse student population. Pillar College has locations in Newark, Somerset, Paterson, Plainfield and Jersey City, New Jersey. Founded in 1908. For more information about Pillar College, visit https://pillar.edu