Imagenation's Cocktails & Cinema: Black Life Matters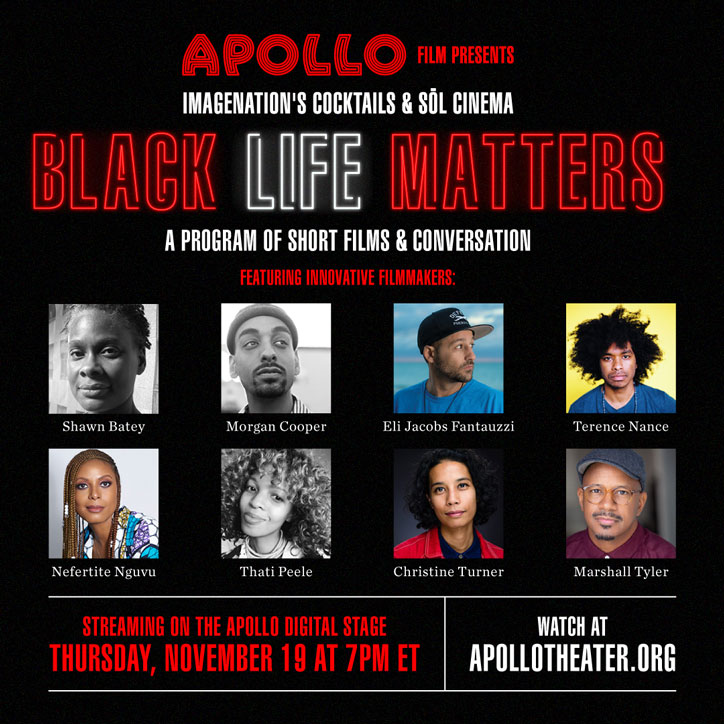 7 pm ET – Film Screenings
8:15 pm ET – Virtual Panel
Admission: Free – RSVP for the film to access the Q&A
Apollo Digital Stage
This year has been explosive in many ways. People across the world embraced the mantra Black Lives Matter, collectively mourned senseless state-sanctioned deaths, and are marching toward change. Black Life Matters is a deeply introspective celebration of Black life, a grappling with our challenges, and a declaration of a brand new day.
This collection of eight short films will be followed by a spirited discussion on cinema, filmmaking and the future of Black film. After the screening, stay for an in-depth conversation with several of the evening's filmmakers who are some of today's brightest and innovative artists on the scene.
Black Life Matters, 68 min compilation, International
ImageNation, an innovative Harlem-based company, partners with the Apollo to present quarterly socials featuring premier and advance screenings of Pan-African films, preceded by a reception with a live DJ/performance, followed by a talkback. The series will feature soul cinema—smart films, primarily directed by people of color, that explore the history, examine social issues, and highlight the humanity of Pan-African people in the genres of drama, science fiction, animation, comedy, documentary, experimental, and emerging media.
Post film discussion immediately the film featuring the following panelists :
Nefertite Nguvu
Thati Peele
Eli Jacobs-Fantauzzi
Marshall Tyler
Christine Turner
Shawn Batey
WHERE TO WATCH: