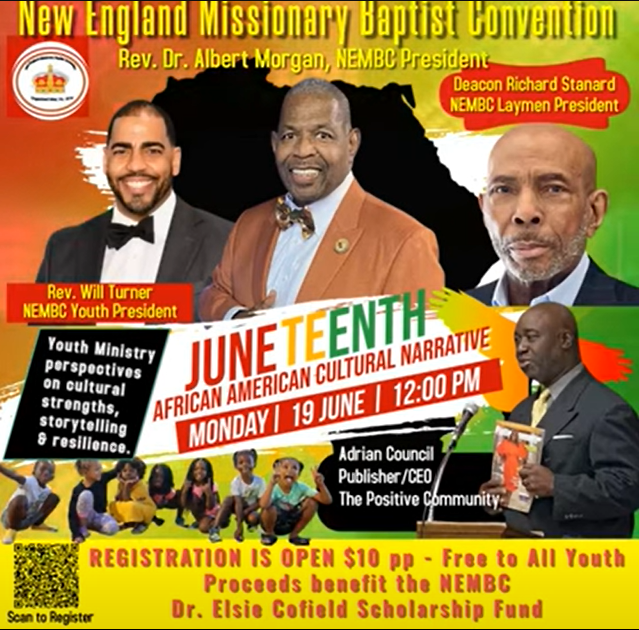 NEMBC is on the MOVE!! We are gearing up for our Juneteenth Celebration! Our President Rev. Dr. Albert Morgan invites you to join the celebration. Deacon Richard Stanard, NEMBC Laymen Ministry's President will host the Juneteenth Celebration featuring the "African American Narrative" presented by Adrian Council, Publisher/CEO of The Positive Community Magazine. Partnered with Rev. Will Turner, President of NEMBC Youth & Young Adult Department presenting youth perspectives on cultural strengths, strategies, storytelling and resilience.
Registration is only $10. The proceeds will benefit the NEMBC Dr. Elsie Cofield Scholarship Fund. If you aren't able to attend, PLEASE consider making a $10 or more donation to the Scholarship Fund.
Send your donations to: NEMBC CashApp: $NEWENGB or mail your check to: Bishop Vincent P. Oliver, mailing address: 12 Kinsey Way, New Castle, DE 10720.
All Youth attend FREE, please register your Youth & check box for Youth on registration form.
We look forward to seeing you VIRTUALLY, make the most of your experience with us on our Zoom platform for another NEMBC session that will Inform, Inspire and Influence change!
NEMBC Juneteenth Celebration Registration
Event Date: Monday, June 19, 2023 at 12:00 PM
The NEMBC Juneteenth "The African American Cultural Narrative" will be held VIRTUALLY on Zoom
The Laymen's Ministry, along with the Youth & Young Adult Department are hosting the NEMBC Juneteenth Celebration. Adrian Council Publisher/CEO of The Positive Community presents
"The African American Cultural Narrative"
For additional information please contact:
Sandra Wilson, NEMBC Recording Secretary
email: [email protected]
cell: (980) 297-6834
Cheri Wells, NEMBC Executive Secretary
NEMBC email address: [email protected]
Phone: (856) 451-6054 Select option 4