An Examination of Leadership in a Time of Crisis
City of Newark, Policy and Communications
Leadership is bold and daring in the face of uncertainty. It is decisive and calls for action, despite the unknown path ahead. It relies on principle and values and stands fast in the face of unpopularity or controversy. Mostly, it is grounded in the concept that those who have put their trust in the leader must be served first and foremost. Tried and tested, Ras J. Baraka, mayor of Newark, exemplifies that principle.
Historically, it's in Newark's DNA to overcome challenges. Look back to the 1967 Rebellion when rumors surfaced that 4th Precinct police had beaten cab driver John Smith, resulting in days of violence that left hundreds of millions of dollars in damage and 26 people dead. Newark is still on a long journey to recover physically and emotionally, but times and leadership have changed. The precinct that sparked the Newark Rebellion will soon house the City's Office of Violence Prevention and Trauma Recovery, funded by a five percent portion of the Newark Police Department budget, thanks to a law recently signed by Mayor Baraka. The once ignominious building will be a place where residents can visit to heal from their own trauma, where the coordination for all organizations contributing to the alternative violence reduction initiatives will take place, and will be the home to a new museum full of the city's rich history.
Since Mayor Baraka took office in 2014, the reduction in crime is undeniable. In 2019, statistics show crime reduction in every category and the lowest murder rate since 1961. Department heads throughout the administration work on progressive initiatives and reaching data driven results. Baraka handpicked an administration of experts who can execute to help implement his mission and vision.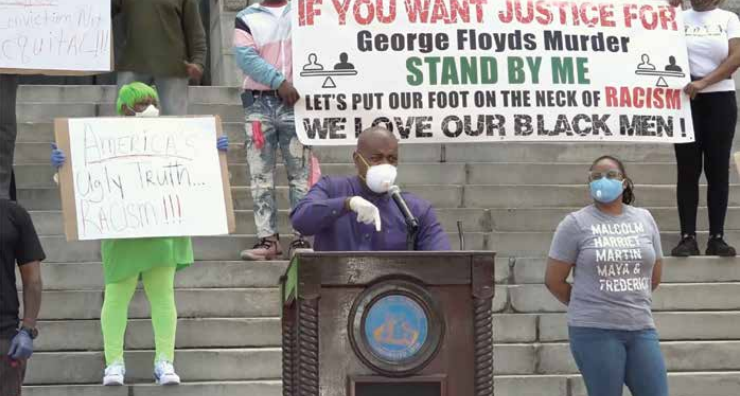 The Mayor's Newark Forward values denote the specific goals he seeks to achieve for the City working collectively with the people: an empowered, safer, more equitable, more collaborative and more educated city. These values undergird every initiative, policy, and program. They represent the pillars of light and hope on which residents, non-profits, corporations, and institutions can focus to move Newark Forward.
In 2019, the city faced what many deemed a "water crisis." News stories led viewers to believe Newark had become "the next Flint." What the media should have known was what Newark residents already knew: the City of Newark has historically been committed to delivering the purest water possible. Mayor Baraka's swift actions and bold steps to replace every lead service line with no cost to residents made Newark a model city for how to deal with lead issues. Mayor Baraka's achievement not only helped Newark residents, but sent a clear message to State and Federal officials that investment in infrastructure leads to the protection of residents' health.
Fast forward to what can only be defined as the time the earth stood still while the world sheltered in place. The intersection of the COVID-19 global pandemic and the murder of George Floyd were our humanity's defining moments of 2020— both of which led to a presidential election that would define the future of this country and this city. Rather than stand back, the Mayor leaned into this as only a true leader could. His administration has met twice a day since March to report and strategize on how to respond to the pandemic.
In the midst of facing every mayor's toughest challenge, Mayor Baraka wrote a poignant piece titled "Why We Cannot Go Back to Normal" If you have not read it, you should. The Mayor's take on the juxtaposition of the COVID-19 pandemic and systemic racism shows how he clearly sees the future of his city and his commitment to residents' futures. "At this time, America is fighting two pandemics; one we have been fighting for a few months and the other we have been enduring for over 400 years. We have shown the world the ugliness of two Americas the same way Bull Connor showed the viciousness of Jim Crow; and when we get past the COVID-19 pandemic, we have to have the courage and fortitude to deal with the one that plagued us long before the first case we saw in Newark on March 14th."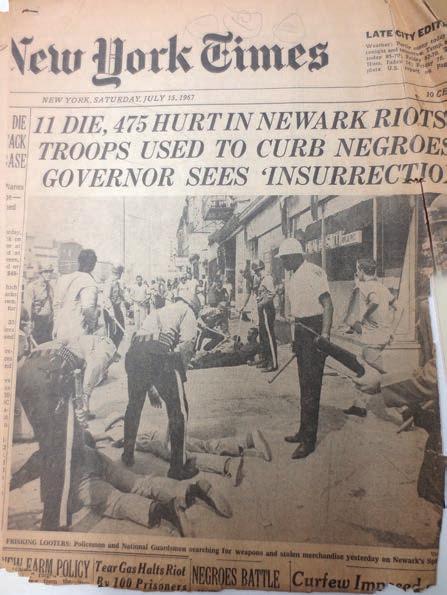 It is no surprise he found innovative approaches and funds at every level of government to fill in gaps for those experiencing economic insecurity. On Facebook Live, Mayor Baraka updated Newark residents daily with New Jersey residents and folks out of state tuned in to hear what was really happening. The disproportionate impact of the virus on Black and Brown lives led to a response to the pandemic that can only be described as crisis leadership.
Newark was the first city in the country to offer walk-up testing. It may have been the only city to feed and provide 24-hour shelter to the homeless to cut down transmission between homeless citizens and the general population. Baraka described his own shelter-in-place rules and enforcement as draconian, but created food programs that, with Newark Public Schools, served more than three million meals to date so people could stay indoors.
The food program along with curfews; closures; "mask-up" campaigns; quarantine arrangements; strict sanitization of senior buildings; and $6 million in programs for homeowners, renters, small businesses, landlords, and the arts; saved untold lives and alleviated the fear for Newark residents. He recently created a $100 million economic justice fund to help Black and Latinx business owners, most of whom would not be able to recover from the pandemic. In addition, the City did not furlough staff and Moody's maintained the City's positive outlook. The City recently refinanced its $100 million obligation bonds and managed to save $14 million over a two-year period, which will help a faster recovery and keep the delivery of services to residents.
Exciting plans are afoot for a walkway similar to the famous New York City Highline, connecting the Prudential Center, Newark's restaurant-rich Ironbound section, and Penn Station. Funding includes a 100-bed shelter and 100 units of permanent housing for the homeless. It is yet another example of how Mayor Baraka makes sure that as the city grows and develops, no one is left behind.
With the addition of nearly 2,000 market-rate and luxury apartments downtown, the Mayor demanded 20 percent be set aside for affordable housing. Instead of poorer residents being pushed out, they were invited in and as a result, several tenants from the recently razed James Baxter Terrace Housing Project are now living at One Theater Square, a brand new, luxury highrise across from the New Jersey Performing Arts Center.
In addition, under the Mayor's plan for equitable growth, the City recently put $5.2 million toward considerable new development in the outlying wards ranging from major developments to encouragement of women and minority builders to rehab city-owned homes or build affordable housing on vacant lots.
Reverend Jesse Jackson famously stated, "Leadership must meet the moral challenge of the day." The conscience and soul of our people rest upon our 2020 moral challenge and the decisions we make. While the pandemic, social injustice, and our collective future have yet to be defined, we can be sure Mayor Ras J. Baraka will continue to bring his constituents through tough times. Love, compassion, and pride in the City have driven him to lead this city into a new era of growth and prosperity. The accomplishments in the challenging year of 2020 are proof and 2021 shows even greater promise. As spoken during the October 7, 2020 State of the City address "It is my responsibility to not just those who came before, but for millions who will come after me. Newark must remain strong and by the grace of God get stronger. We, in this time, on this day, will continue to lead the way now, and many years after we are gone! God bless this state and God bless the great city of Newark!"