UFT Scores Big with Virtual Fundraiser
By Austin Fenner
Over $300K raised to help Needy New Yorkers
Like so many New Yorkers, Michael Mulgrew felt a crushing concern for the multitudes of fellow citizens undergoing the ravages of the COVID-19 pandemic. As president of the United Federation of Teachers, Mulgrew understood the day-to-day impact of the pandemic on families. Contending with the deaths of loved ones, severe illness, remote learning, unemployment, and underemployment leading to lack of food and other basic needs has become a new way of living during this global health crisis.
On his travels throughout the city visiting schools, Mulgrew saw the lines outside food pantries growing longer and longer. He knew he had to do something and he knew just who to call to get something done, his trusted, true, and tremendously able Chief of Staff Anthony Harmon. The Sunday morning call went something like this:
Muldrew: "We need an action plan."
Harmon: "When do you need it?"
Muldrew: "Monday."
Harmon: "No problem."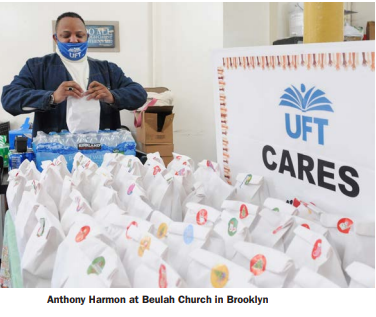 Once Mulgrew tossed the project into his hands, the selfeffacing Harmon put his heart and soul into the project. In no time, the action plan mushroomed into an exciting four-hour online We Feed NYC virtual event with the goal of raising $250,000. Students, teachers, paraprofessionals, and more loaned their varied talents in what turned out to be an enjoyable event. Kids from 22 New York City schools from elementary to high school took part. President Mulgrew opened the program with stirring remarks. Harmon took on the job of hosting the show and enlisted the help of the legendary WBLS Radio Host Dr. Bob Lee to co-host the event with him.
The campaign exceeded all expectations as teachers, parents, students, community activists, and everyday New Yorkers rose to the occasion donating funds to feed others and give unemployed restaurant workers a job, at least temporarily. Much of the funding came in small amounts and bolstered by corporate donors the most recent count reached over $300.000, with every dollar going to support people in need.
"We had 1,000 meals prepared for each borough for four weeks," said Harmon. "They made $6 dollar meals and we had them delivered to churches and food pantries."
Among the participating churches and community groups were First Corinthians Baptist Church in Harlem, Beulah Church in Bedford Stuyvesant, Project Hospitality in Staten Island, North Bronx Islamic Center, and The Agape Church of God in Queens. "We gave these institutions money to keep the doors open," explained Harmon. "They were so appreciative of us giving them a check. This is what it's all about. We were in a position to help."
Even during the dark hours of the pandemic and social distancing, students were able to showcase their talents and contribute to a good cause. " It showed how resilient they are, how strong our kids are," said Harmon. "They are succeeding against all odds."
Although he keeps busy with his many duties at UFT, Harmon serves in many other organizations including the New York branch of the NAACP, where he is president. "I'm a proud union member," remarked Harmon. Anthony Harmon at Beulah Church in Brooklyn "I share in the values of the union movement."