State funeral for New Jersey Lt. Gov. Sheila Oliver held at Cathedral Basilica of the Sacred Heart in Newark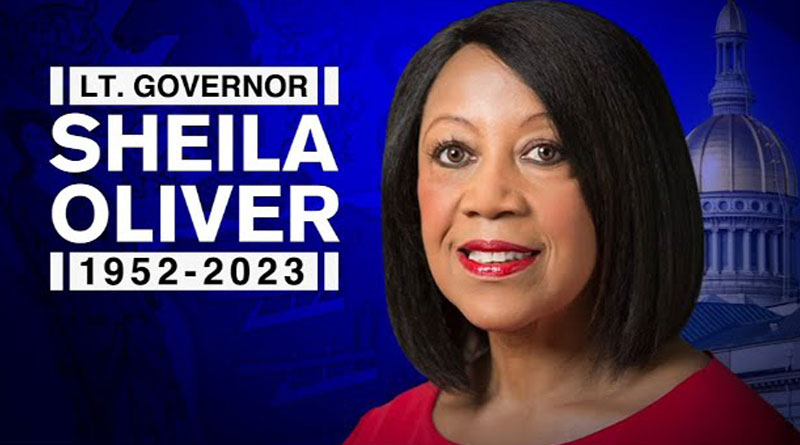 Sheila Oliver's place in history might have been much different before she read Charles Dickens and John Steinbeck.
She had originally planned to be an archaeologist, thinking it would be fun to travel to places like Greece, Egypt and Rome and dig up the past. But, as she said in a past video interview played at her funeral Saturday, she then read Dickens' "A Tale of Two Cities" and Steinbeck's "The Grapes of Wrath," two classic novels exploring themes of class, hardship and renewal.
And growing up in Newark during the race riots of 1967, Oliver witnessed the Civil Rights movement and, she said, "I began to have a heightened consciousness" about being Black in America.
Oliver's journey away from digging up history to making it then began.
Over four hours on Saturday at the Cathedral Basilica of the Sacred Heart in Oliver's hometown, hundreds of mourners bid their final farewell to New Jersey's first Black woman to hold statewide office and, before that, first Black female speaker of the Assembly.
Her funeral capped a three-day tribute to Oliver that began Thursday with her body lying in state at the Capitol building in Trenton and again at the Essex County courthouse on Friday.
Oliver died earlier this month at age 71, one day after being hospitalized for undisclosed reasons. She had been serving as acting governor at the time because Gov. Phil Murphy was on an overseas vacation, but she transferred those duties to Senate President Nick Scutari until Murphy returned. Murphy and the Oliver family have not publicly disclosed her cause of death.
On Saturday, the majestic French Gothic cathedral in Newark — North America's fifth largest — filled with mourners that included her family; the legendary performer Dionne Warwick; members of New Jersey's congressional delegation and the state Legislature; four former governors; and her predecessor, the state's first lieutenant governor, Kim Guadagno. Rev. Al Sharpton delivered the eulogy.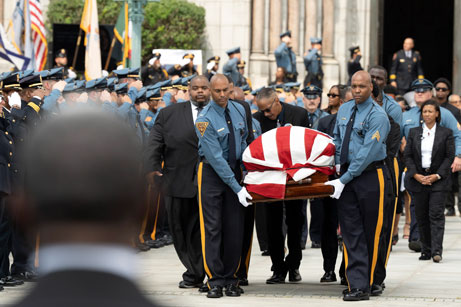 Murphy, who wore a large button with Oliver's image on it, recalled in a speech how days of fires during the riots — known as the Newark Rebellion — "lit a fire in Sheila's heart" as a teenager. It inspired her to become a "champion" of her community, he said.
"And in the decades since, Sheila rolled up her sleeves — again and again — and dedicated herself to extinguishing the embers of inequality, injustice and indigence," Murphy said.
Oliver's political career began in the 1990s with the school board in East Orange, the town outside Newark she lived in until her death. She then rose to become elected an Essex County freeholder and then a member of the state Assembly.
Oliver also worked for Essex County, whose executive, Joe DiVincenzo, said during a speech he plans to rename the county's family assistance and benefits building after her and commission a bust of Oliver to be displayed at the county courthouse. Oliver already had a school in East Orange named after her, and Murphy said he intends to commission an official portrait of her (and Guadagno) to hang in the Statehouse along with those of the state's past governors.
In 2010, Oliver became speaker, the first Black woman in the country to lead a legislative chamber.
Oliver held enormous influence in that position, determining what legislation made it to a vote and how the state spent taxpayer money. She was one of the state's most powerful officials alongside two white men — Governor Chris Christie and Senate President Steve Sweeney.
Multiple speakers said Oliver felt duty-bound to advocate for the interests of her community, which was mostly people of color, disadvantaged and, as Murphy said, "the forgotten families of our state."
That advocacy included fighting for same-sex marriage and raising the hourly minimum wage as speaker even if those efforts failed, and it continued as lieutenant governor by championing affordable housing, investing in schools and combating gun violence, Murphy said. She was described by speakers as a calm "warrior" who led with compassion and didn't posture for political gain, and who always remembered why she went into public service.
"She never forgot and she never let the folks in the room forget why she was in the room," Sharpton said. "She came not for a season, she came for a reason, and that's the reason we're here."
In one of the lighter moments of the funeral, Warwick, a native of East Orange, recalled that she nicknamed Oliver "my hat lady" for how well she wore one, and that Oliver "loved to laugh — and she loved a good piece of gossip, too." Warwick called Oliver a "dear friend" she considered family, and said when she heard Oliver had died, she could hardly breathe.
"We're all going to miss her because we're very selfish. But that's OK," Warwick said.
"God said you're going to grieve, you're going to cry, you're going moan and do all the things that affect you now. But then all of a sudden all of those wonderful, laughing memories are going to flood your hearts, and all that moaning, groaning, crying and grieving will fly out the window. Only the good, warm, loving memories will you continue to have, as I will. God rest, God bless you, Sheila Y. Oliver."
The state funeral for New Jersey Lt. Gov. Sheila Oliver was held Saturday in Newark, bringing an end to the three-day celebration of her life and legacy.
Oliver, 71, died in office on Aug. 1 after being admitted into the hospital for an undisclosed medical condition.
A political trailblazer, Oliver was the first woman of color elected to statewide office in New Jersey and the first Black woman serving as the state's lieutenant governor.
Her body lied in state at the New Jersey State House in Trenton, then at the Essex County Courthouse in Newark, where she grew up.
Hundreds came together at the Cathedral Basilica of the Sacred Heart to say goodbye. Pallbearers, including Oliver's nephew, carried the flag-draped casket as state police saluted her one last time.
Inside, her niece and nephew calling Oliver the greatest role model ever.
"My godmother, my surrogate mother, my mentor, my life coach, a real-life superwoman," nephew Charles E. Oliver said.
A superwoman, they say, always giving wise advice.
"I stand and represent everything that my auntie fought and advocated for," Renee Oliver said.
In her own words, Oliver's once explained why she lifted others up, especially Black women and girls.
In a video, she said, "I hope that little girls that were watching TV that night could see me standing on that stage and could know that they too could aspire to become a lieutenant governor or a governor."
Newark's mayor and the Rev. Al Sharpton also paid tribute during the service.
"Every time we saw you, we were proud. We felt good. We felt elevated because when people talked about us, we pointed at you," Mayor Ras J. Baraka said.
"She never backed down. She never sold out. She never turned her back on the people that made her," Sharpton said.
"We were elected and re-elected to finish this job together, and it breaks my heart to say that's no longer possible, so New Jersey, I need you. We need you to finish the job together," Gov. Phil Murphy said.