Saint Peter's Healthcare System Welcomes New Chief Human Resources Officer
Saint Peter's Healthcare System, the parent company of Saint Peter's University Hospital, is proud to announce the appointment of Harry Dieuveuil, PhD, SPHR, SHRM-SCP, as Vice President and Chief Human Resources Officer (CHRO), effective June 28, 2021.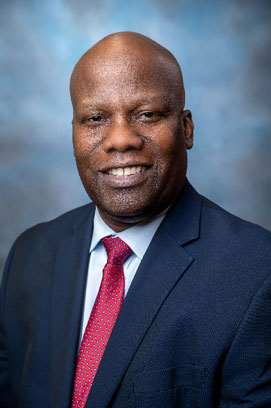 According to Leslie D. Hirsch, FACHE, President and CEO of Saint Peter's Healthcare System, "Harry was selected after a rigorous national search that yielded a competitive slate of final candidates. He brings extensive experience to the position after more than twenty years of human resources leadership and management. Harry presents a unique blend of assets to the role of Chief Human Resources Officer including a combination of stellar communication skills, administrative expertise and the ability to engage and motivate employees at all levels."
Dieuveuil joins Saint Peter's after several years at WellSpan Health, a healthcare system comprised of eight hospitals, a network of more than 200 outpatient locations and physician offices, and over 20,000 employees located in central Pennsylvania. While there, he held positions as Vice President-Talent Management, Vice President-Human Resources and most recently, Regional Vice President-Human Resources & System Labor Relations. Prior to his tenure at WellSpan, Dieuveuil spent more than fifteen years at Northern Light Healthcare System where he held a series of progressively responsible human resources leadership roles. A compassionate leader, Dieuveuil is well-versed in all aspects of human resources management, especially employee relations and engagement.
Before commencing his career in human resources management, Dieuveuil was a social worker, working in a variety of related positions at community-based organizations in New Jersey and Maine. He has had an active role for many years as a youth soccer coach.
Dieuveuil attended the University of Maine, Orono, where he completed Bachelor of Science (BS) Degrees in Agriculture and Education, a Master of Social Work (MSW) and a Doctor of Philosophy (Ph.D.) in History with a concentration in Labor Relations. He is certified as a Senior Professional in Human Resources (SPHR) by the Human Resource Certification Institute and as a Senior Certified Professional (SCP) by the Society for Human Resources Management (SHRM).
Dieuveuil and his wife Jennifer are the proud parents of four sons. The family recently moved to Central New Jersey.
About Saint Peter's Healthcare System
Saint Peter's Healthcare System Inc., parent company of the Saint Peter's healthcare delivery system, is comprised of Saint Peter's University Hospital, a 478-bed acute-care teaching hospital and state-designated children's hospital and regional perinatal center; Saint Peter's Foundation, the fundraising arm of the hospital; Saint Peter's Health and Management Services Corp., which oversees outpatient facilities, including  the CARES Surgicenter; and Saint Peter's Physician Associates, a network of primary and specialty care physician practices. Saint Peter's Healthcare System is sponsored by the Roman Catholic Diocese of Metuchen and is a major clinical affiliate of Rutgers Biomedical Health and Sciences. For more information about Saint Peter's Healthcare System, please visit www.saintpetershcs.com or call 732-745-8600.