Know Justice, Know Peace Black Lives Matter New York City Protest Photos 2020
By Bob Gore
Design by Alan Hicks
Book Review by Jean Nash Wells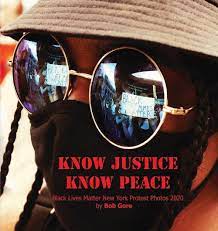 In May 2020, much of America was on lockdown. Streets were barren and businesses were shuttered. During the year, national COVID-19 deaths had exceeded 100,000 and in New York City, 100 people were dying daily from the disease.
Those sheltered in place were watching repeats of the graphic video of Minneapolis police officer Derek Chauvin's murder of George Floyd. The shocking images revealed the brutality African Americans continued to endure and spurred protests against police misconduct worldwide.
For weeks, photographer Bob Gore followed marches that encircled the city and rallies from Brooklyn and Lower Manhattan to Midtown. The result is an engaging, 102- page photographic journal of images that take you to the epicenter of the action. Gore's photographs transport the reader into the heart of New York's protests. Noted photography scholar and historian Professor Deborah Willis, Ph.D. offered this critique: "What we experience in this book is that social protest is a complex visual story to photograph, and through the lens of Bob Gore, we experience instantly respect in a time of turmoil."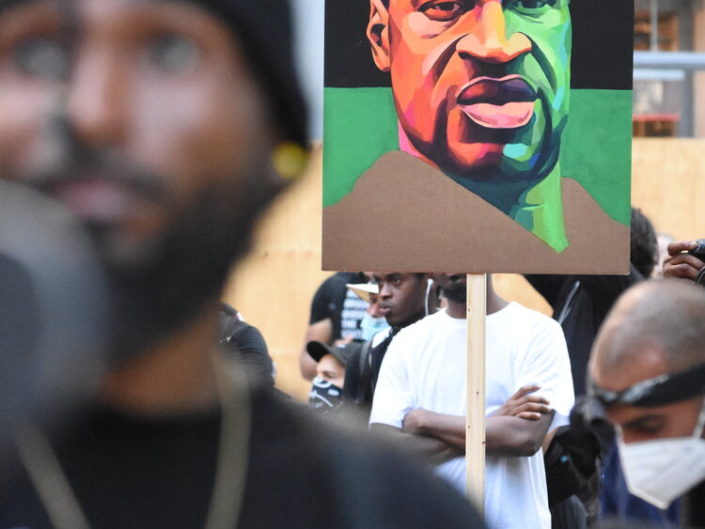 The book includes essays that relate Gore's personal reflections on his own long activist career that began when he served as a volunteer in The Chicago Freedom Movement led by the Rev. Dr. Martin Luther King Jr. In one piece, one of the two "talks" refers to the conversation Black parents had with their sons about the dos and don'ts of interacting with police. His "Emmett Till" essay also points to another widespread concern during the Jim Crow era (the second "talk"): how to prepare northern boys for safe southern travel during the 1955 summer of Till's heinous murder. It was an act of terrorism, committed to instill fear in Blacks, especially those visiting from the north who might run afoul of "southern customs" by race-mixing—especially those who might dare attempt to talk to white women.
For Gore, the protests were sometimes jubilant, sometimes a bittersweet experience. Nevertheless, the massive turnout of multiracial, multicultural, and multigenerational marchers suggests a new era of racial justice. New York City Public Advocate Jumanne D. Williams, who participated in some of the protests observed, "These images capture a moment in a movement, an energy, a collective demand for justice and equity of a scope unlike we've seen in decades that swept the country and was palpably present here in New York."
For more information go to
bobgorephotography.com