Newark Congressman Calls For Legislation Improving Access to Cancer Screenings
L-R: Marilyn M. Harris, VP of Ambulatory Care, Newark Beth Israel;, Johanny M. Garcia, MD, Director, NBIMC CRCS Taskforce and Director, Division of General Internal Medicine & Primary Care, Newark Beth Israel;, Congressman Donald M. Payne, Jr. and Sari Jacoby, MD, Director, Frederick B. Cohen, MD, Comprehensive Cancer and Blood Disorders Center at Newark Beth Israel; and CRCS Taskforce member.
Rep. Donald M. Payne Jr. (D-Newark) visited Newark Beth Israel Medical Center on Monday to send a message to Congress to pass legislation aimed to improve access to lifesaving cancer screenings.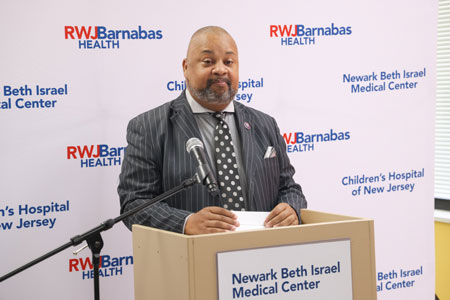 Standing alongside healthcare leaders at Newark Beth Israel, Payne urged lawmakers to pass the "Donald Payne Sr. Colorectal Cancer Detection Act," named for his father, Rep. Donald Payne Sr., who died in 2012 from colon cancer. The bill would provide coverage under the Medicare program for FDA-approved qualifying colorectal cancer screening blood-based tests and increase participation in colorectal cancer screening in underserved communities of color.
"Colorectal cancer is a disease that affects hundreds of thousands of Americans each year, and it's something that hits incredibly close to home for me," Payne said. "One of my top priorities is addressing the health care disparities that lead to colorectal cancer being such a devastating disease."
In areas like Newark where people of color represent more than half the total population, steep costs associated with medical screenings and appointments bar many low-income residents from receiving proper care.
Between 2013 and 2018, cancer mortality rates declined across all racial and ethnic groups, with the largest decrease among Black people, but Black people continued to have the highest cancer mortality rate in 2018, according to a study by the Kaiser Family Foundation (KFF), a nonprofit organization that publishes analysis, polling and journalism about healthcare issues. The study also found Black people have the highest mortality rate for most leading cancer types, including female breast, prostate, and colon and rectum cancer.
Payne noted research shows the overall rate of cancer screening is lower among Black, Hispanic, Asian, and American Indian and Alaska Native Resources populations compared to their white counterparts. Screening patterns vary across screening types, and people of color are more likely than white people to receive certain types of cancer screening, he said.
Disparities in cancer screenings were also exacerbated during the coronavirus pandemic, which contributed to decreases or delays in screenings, the congressman noted.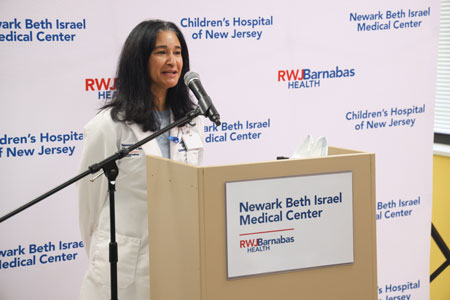 Payne's new legislation comes off the heels of actions he has already taken to address the issue. He sponsored the "Removing Barriers to Colorectal Cancer Screening Act" for Medicare beneficiaries to receive polyp, or cancerous growth, removals coverage during routine colorectal cancer screenings. He also advocated for the Patient Protection Act, which recently became law, saving families more than $1,000 per year and certain senior citizens more than $8,000 per year.
"I'm proud that I was able to join my House colleagues recently to vote to cap the cost of insulin at $35 per month, another measure that would address these kinds of long-standing health disparities, and I will always fight for people to get access to the healthcare they need," he said.
With healthcare officials and state dignitaries joining Payne in Newark, they backed the congressman's call for passage of the Donald Payne Sr. Colorectal Cancer Detection Act.
"Health disparities in our community is an issue that is near and dear to my heart," Newark Beth Israel Director Colorectal Cancer Screening Taskforce Johanny Garcia. "Our team at Newark Beth Israel is dedicated to providing the highest and most compassionate level of care, and our task force is committed to continuing to expand healthcare access and reducing the racial and economic disparities to receiving critical treatments."