Pillar College Inaugurates New President: Dr. Rupert A. Hayles Jr.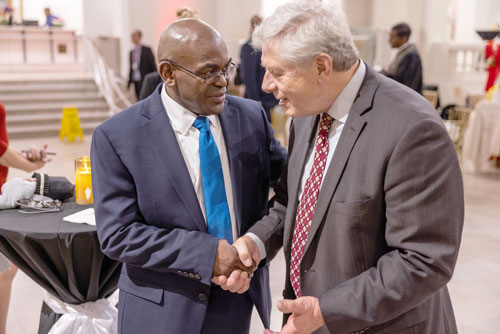 Surrounded by history at the beautiful Newark Museum, hundreds of well wishers were on hand to witness another historic moment, the inauguration of Dr. Rupert A. Hayles Jr. as president of Pillar College. He is the college's first African American president, succeeding Dr. David E. Schroeder, who currently serves as chancellor.
A wide range of speakers including New Jersey Secretary of State Tahesha Way; Seton Hall University Assistant Provost for Faculty Affairs Amy Newcombe; and Dr. Hayles' brother, Fitz Hayles, praised Dr. Hayles' leadership skills and his ability to personally connect to others. Many speakers reflected on the inspiration Dr. Hayles provided for them over the years through his integrity and persistence.
New Jersey Secretary of State Tahesha Way spoke about the partnership between her office and Pillar College students, who work with her staff to help residents register to vote in the New Jersey Annual Ballot Bowl. "Dr. Hayles, transformational leader," she said. "It is an honor and a blessing just to be in your presence."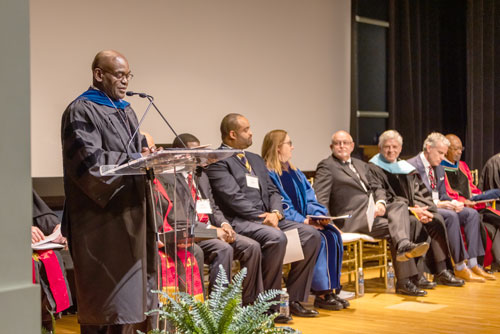 Professor Amy Newcombe attended the ceremony to represent Seton Hall University in their congratulations to their alumnus. "As a student at Stillman Business School, President Hayles demonstrated exceptional ability and commitment to his studies that are still remembered by his professors. I checked!" quipped Professor Newcombe. He has a Bachelor of Science degree in Accounting and Information Systems from Seton Hall University and an MBA from The Wharton School of the University of Pennsylvania and a PhD in Change Strategy, School of Leadership, Regent University. Dr. Hayles served in the United States Airforce as an officer, and then for several private sector companies such as Merck and Prudential Financial, before pivoting into academia. Dr. Hayles' proud family including his wife, Maryann, and his two children witnessed the important event.
Pillar College has the distinction of being New Jersey's only fully-accredited evangelical four-year college, and has been offering a Christ-centered education for over 100 years.