NYC Schools Chancellor Meisha Porter
By Glenda Cadogan | Photos: Regina Fleming
Despite her eminent qualifications and experienced background for the job as schools chancellor of the New York City Department of Education, Meisha Porter comes with her own added layer of protection and guidance. It's the daily self-application of the 91st Psalm of David. "Every night before I go to bed, I cover myself in the words of the Psalm," Porter told The Positive Community. Thus every day she is reminded that: "She who dwells in the secret place of the Most High shall abide under the shadow of the Almighty." Porter made history when she accepted the position of schools chancellor in March, 2021 as the first African American woman to lead the nation's largest public school system. A graduate of Queens Vocational and Technical High School, Porter comes from a long line of educators; however, she has uniquely worked at every level in the New York City Public School system having held positions as teacher, assistant principal, principal, district superintendent, and executive superintendent. She brings all of those voices to the table in a moment when the city needs it the most.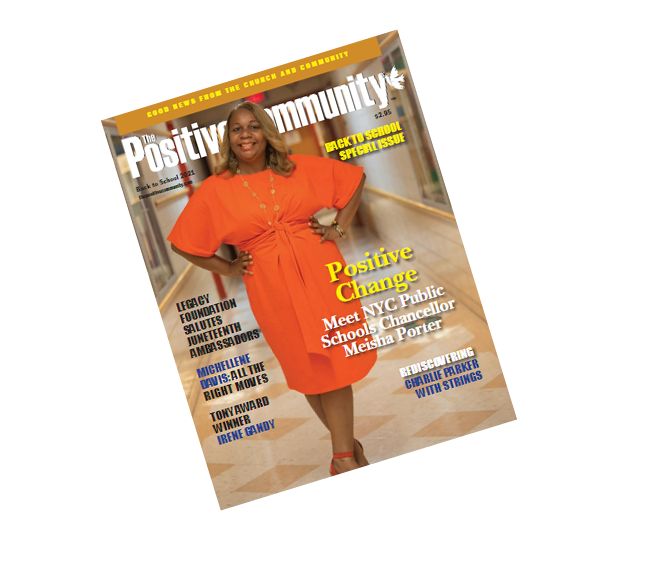 However, she believes that among her greatest assets for the top job is being the parent of a New York City Public School student. "When I am grappling and thinking about decisions to be made, I am doing so both as a parent and a chancellor," she said. "I would not open a school system for my own child that I would not want to open for the 1.1 million students we serve. And if I did not believe our schools were safe, I would not be sending my 16-year-old daughter— who has been back since we reopened in March."
Married with one biological child, Porter is also an "honor mother" of three other girl children, one of whom is the daughter of her best friend who succumbed to cancer 10 years ago. Born and raised in Far Rockaway and Jamaica, Queens, Porter described her school experience as: "that of every New York City public school kid. I did not have a lot of privilege and, in fact, was eligible to be on every list from free school lunch to housing. That's why it's such an honor and a privilege for me to land in this role at this moment in time." Though Porter "landed" safely in the position on March 15, the fact is she has a very short runway with the approaching departure of Mayor Bill DeBlasio, who appointed her to the position. That aside, she is composed by her vision of greatness for the New York City Public School system. "My vision is not about four months," said Porter, adding, "It's about what our school system needs and what our children deserve."
Porter's repute as a visionary is unquestionable. She helped to conceptualize and launch the creation of the Bronx School for Law, Government, and Justice, the first Urban Assembly School. While at the helm as executive superintendent, graduation rates in the Bronx increased and outperformed all other boroughs. "That was a great opportunity for us to imagine and create what we wanted for our children," she said. It's this legacy that Porter takes into Tweed with her. "People say to me what a crazy time it is to become schools chancellor. I counter that with, what an important moment to become chancellor; a moment when New York City really needed someone to step up. Moreover, someone who understands these experiences from the perspective of a student, a parent, and an educator. We need to be wrapping ourselves around our children both academically and emotionally," she said. "This pandemic has been hard on children and their families. So though we have to assess their learning, we also must make sure they are emotionally and mentally ready to be in learning spaces."
Asked to give her professional assessment of academic performance during the pandemic, Porter responded with a "glass half full" approach. "I operate things from an asset based position," she explained. "I think about what our children have gained and learned during their time away from the classroom and how we can build on that. Our students have learned how to leverage technology extraordinarily well. Our teachers have learned individualized learning and support for students. So to me, the idea is that the best way to approach this moment is to lean into what our students have learned and complement academics with social and emotional support and enrichment activities."
With a bold leadership style she calls uniquely "Meisha," Chancellor Porter is awed by the beauty of her huge, blended family of 13 brothers and sisters. "I always lead as my authentic self," she revealed, adding, "In all aspects of my life I am always Meisha. I believe people appreciate that authenticity."
She also has a collaborative style that has served her well throughout her 25-year career as an educator. "I don't think we always have to agree, but we do need to understand the why of the decisions we make. The aim is to do our best so that even with the varying perspectives, we understand how different constituencies experience those decisions we make. In that way, we can make the best ones."
Porter described her first day on the job back in the spring as being "absolutely overwhelmed by the enormity of the position. The first challenge facing me was what summer was going to look like for our students. I knew that it could not be like any other summer. So I jumped right in knowing that we had to open our schools. That has been my focus since I sat in the seat as chancellor."
And so it will be on September 13 when all 1,800 New York City public schools fully reopen for the first time in about 18 months.
On the hot button issue of vaccinations, Chancellor Porter said her office is taking a multi-layered approach to safety. "We have been encouraging vaccinations for both students and teachers, getting the word out and making our vaccine buses available in every community. But we are also ensuring that all schools have a 30-day supply of PPE and filters, air purifiers, and hand sanitizers are available. Thankfully, we are not asking schools to take this out of their budgets, but as a system we are supplying them with the resources they need to keep our students safe."
According to Porter, in her varying roles in the school system she has always experienced an excitement about the first day of school. "Since my elementary school days I would experience those kinds of emotional butterflies when school is about to reopen. And I still do. I can only imagine what it's going to be like this year. This is going to be the most exciting first day of school I will ever have and I am so looking forward to it."
So, here's something we can expect will be happening on the night of September 12, 2021. After Chancellor Porter has snuggled under her comforter, she will pull another covering for herself and the millions of children and teachers she leads and hopefully sleep well with the promise that: "He will give angels charge over you to keep you in all your ways."—NKJV Psalms 91:11–12