Meet Delaware State University: A Legacy in Servant Leadership
By Kaylyn Kendall Dines, MBA – Delaware State University Alumna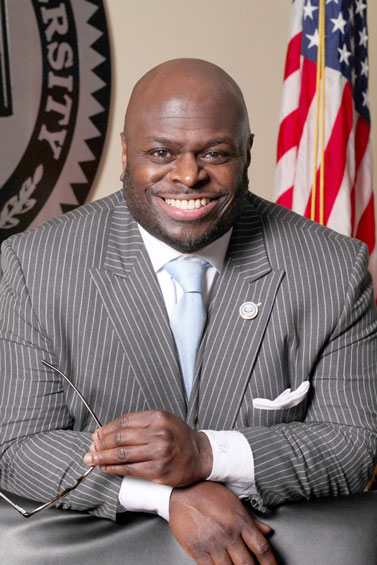 Students and alumni from Delaware State University take the motto of their historically Black institution seriously: Enter to Learn, Go Forth to Serve. That academic ideal remains affixed to a 10-foot high, black, iron archway in front of historic Loockerman Hall. The late Felmon Motley, a devoted 1948 graduate of then Delaware State College, originally crafted and placed a sign at the main campus entrance that read: May All Who Enter Here, Enter to Learn, and Go Forth to Serve.
The 70-year-old school credo continues as a road map for academic excellence and servant leadership. Dr. Tony Allen, the university's 12th president, is committed to making Delaware State the most diverse HBCU. Allen's values and corporate experience are woven into the fabric of that motto. He came to the university with a pedigree that prepared him for the post. A former speechwriter to then US Senator Joseph Biden, the Newark (NJ)-born native led Biden's Presidential Inaugural Committee and served on the Advisory Board of the President's transition team. According to Allen, DSU made history last summer becoming the first HBCU to acquire another college or university. Through the Wesley College acquisition, DSU inherited 50 acres of land, 21 buildings, and 14 academic programs. Now, with nearly 6,000 students and a $30 million research portfolio, DSU officials cite the economic impact to the State of Delaware as over $350 million. Approximately $160 million of that amount enhances the quality of life for residents in the city of Dover and Kent County.


Four DSU colleges confer degrees from undergraduate to doctoral. An aviation program offers a bachelor of science degree with two concentrations: Professional Pilot and Aviation Management; and features a fleet of university-owned airplanes. The director, retired US Army Lieutenant Colonel Michael Hales, the son of a flight instructor, recalls how his father "would take us up (flying)" when he was six years old. As an adult, Hales enlisted in the US Army Reserves, became passionate about security assistance, led training sessions for foreign militaries, and started flight schools overseas."I loved working with international partners and allied nations," Hales said. His leadership roles took him to Saudi Arabia; Iraq; Kuwait; and Columbia, South America. "When the US government sells weapons systems, they always send a team of folks to train the trainers and help them incorporate the new technology and weapon systems into their formations and military."


After retiring from a distinguished military career in 2016, Hales joined DSU, where the aviation history dates back more than 80 years. Back in 1939, the winds of war were heating up in Germany and US President Franklin Roosevelt realized this country was "woefully short" of pilots. Congress passed the Civilian Pilot Training Act of 1939 to establish flight training programs at about 150 colleges and universities. Hales said the Black press rallied to give Blacks an opportunity to become pilots and contribute to the war effort. Roosevelt changed language in the act and began six flight training programs for "colored" students, one at Delaware. A year later, the War Department closed the programs. Existing students could enroll in a consolidated Moton Field program in Tuskegee, Alabama which developed the distinguished and honored Tuskegee Airmen.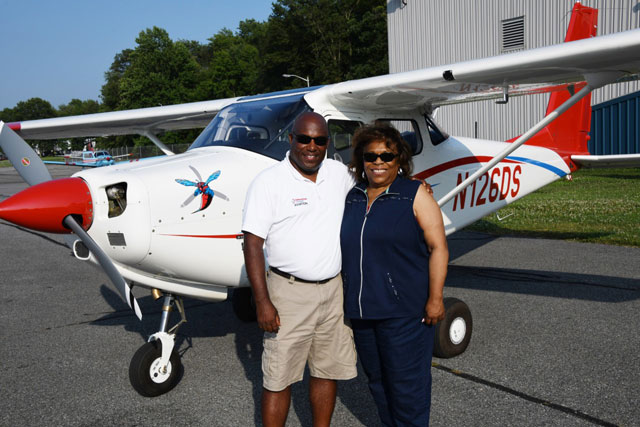 It turns out that Delaware State's seventh president, late Dr. Luna I. Mishoe, a first lieutenant in the Tuskegee Airmen's 99thArmy Air Force Squadron, had a secret. According to Hales, Mishoe's family was surprised to find out he served as a military intelligence officer during World War II. Currently, pilot program alumni are hired within 12 months, said Hales, acknowledging the support of partnerships with United Airlines, Republic Airways, and Alaska Airlines.
Abdulwahab Kalejaiye, whose love for aviation began in childhood, remembers flying with his family from New York's JFK to his birthplace, Nigeria. Then, when his friend's dad walked into his third-grade class in Brooklyn on career day wearing a pilot's uniform, Kalejaiye's dream career was born. In 2016 after completing the pilot program, Kalejaiye became a DSU flight instructor. Now a captain with Republic Airways, he wears his uniform when visiting schools and sharing his journey. Kalejaiye remains part of DSU's student support system. "My mentors and past instructors were always coming back, giving back, talking to us, and checking on us. I knew when I got into that position, it would be the same." Kalejaiye sees DSU alumni and students connected like a family. They stick together, pushing each other forward with the university motto leading them to go forth and serve.