Working, Living & Creating in the Coast
Lincoln Park Is A Hub of Creativity
By Kim J. Ford
Four blocks that comprise Brunswick Street in Lincoln Park, Newark, NJ have existed since at least 1859, according to a map of Newark surveyed by Stephen Dod and published for B.T. Pierson's Directory of the City of Newark. It is where Newark's "Sassy" Sarah Vaughn was raised. A short walk from Brunswick Street, south of Pennington, Tichenor, and South Streets was 186 Thomas Street, where a young Sarah sang in the choir at New Mount Zion Baptist Church.
Until the global pandemic years, Brunswick Street was also home to Hooferz Club, owned by Tony Award® winning American tap dancer, actor, and choreographer Savion Glover, a native Newarker. The Arts High School graduate and grandson of legendary New Hope Baptist church pianist, Anna Mae Lundy Lewis, opened Hooferz Club on Brunswick Street in Lincoln Park in a forgotten about structure that once housed one of the locations of Newark School of the Arts.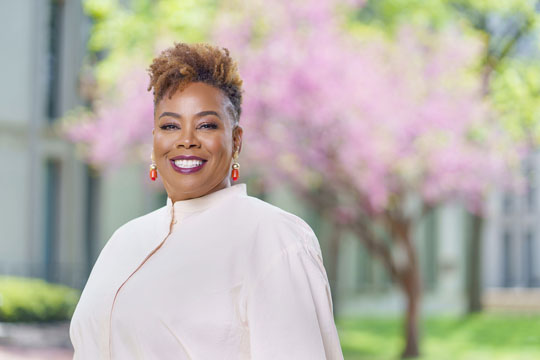 Newark School of the Arts was founded post-1967 uprising by two educators, Stella Lass and Saunders Davis, with a grant from Prudential. They purchased the Lincoln Park building in the 1970s and it has been one of the community's anchor arts institutions ever since. In its current site on Lincoln Park Place overlooking the park, students from around the city come to the neighborhood to study sequential education in music, dance, drama, and visual arts.
The hallowed history of the Lincoln Park neighborhood and the arts typically hearkens back to its heyday of juke joints, jazz dives, radio stations, and record labels, yet there is a more current story to be told. A new generation of residents–native and new Newarkers alike–are creating and living in "The Coast." Take power broker Kimberlee Williams, whose FEMWORKS agency is firmly entrenched in Lincoln Park and even operated for a time out of the historic Dryden Mansion. Kimberlee is founder of the first-ever TEDX Broad Street and Newark Global Shapers. "I was introduced to LPCCD's (Lincoln Park Coast Cultural District) founder, Baye Adofo-Wilson by my mentor, African Globe Theater Founder Kabu Okai- Davies, back in 2003. When FEMWORKS was established in 2004, I knew Lincoln Park was where we needed to be and by 2007 it was our headquarters. Now, I am a proud homeowner of an LPCCD development too." She's doing the most in the best way–even growing her own veggies in the community garden in her beloved Lincoln Park neighborhood.
Lincoln Park resident Citi Medina's imprint can be felt all over Newark and New Jersey. Holding court in what may be one of the most stylish duplexes in the city, hisMedina Citi Design Haus was tapped to lead the creative vision for the historic YES! Newark Amazon HQ2 campaign. This powerhouse has chosen Lincoln Park as home. "Lincoln Park has an energy around it, the history and richness can be felt. My creative agency, Medina Citi, began in this neighborhood," says Medina. He continued, "Lincoln Park allowed me to do the work we love most in a neighborhood that surrounded me and supported my vision. My sharespace and incubator, = SPACE, which is for makers in our city, is something I hope to grow in our neighborhood."
Humble giant and native Newarker Jeff Billingsley is CEO of Cobblestone Multimedia. An expert multitasker, Jeff helms his music, film & television production, and professional audio recording empire right in Lincoln Park, over breakfast I'd imagine. Jeff is executive producer of The Birth of Def, Who is Bob Sumner? documentary; and producer and music consultant for the award-winning feature film, Gimme Shelter starring Vanessa Hudgens.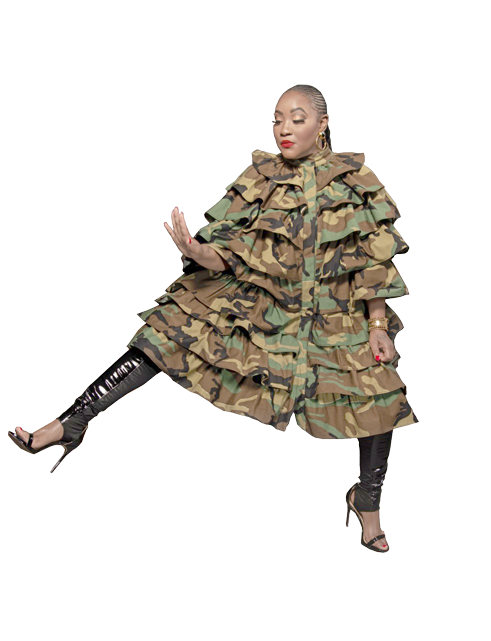 Fashionista, entrepreneur, and founder of Off The Hanger Boutique Lynette LaShawn is a "daughter of Lincoln Park" having grown up on the historic High Street, now Dr. Rev. Martin Luther King, Jr. Blvd. Lynette remembers, "As a child I enjoyed the landscape of Lincoln Park. The openness gave me a sense of freedom that I never knew I needed growing up. My fondest memory growing up in Lincoln Park was engaging with my friends and organizing activities for fun after school." Her latest vision, High Street Original, is an upscale luxury cape line, named after her beloved, childhood neighborhood. "High Street Original is my tribute to my biggest inspiration and motivation. It's an ode to my childhood and my late grandma, Daisy, who migrated from Georgia in the 60s with my mom and uncle to Newark."
Lincoln Park is not only the birthplace of a fashion diva and where the "Mural King" Rodney M. Gilbert gave birth to his beloved Yendor legacy, it is the home of Cement Gallery (in the former City Without Walls Gallery space) and arts education program Mighty Writers, which celebrates Newark and spreads the love of writing.
Since 1983, the Lincoln Park neighborhood has been registered with the U.S. Department of the Interior's National Park Service Register of Historic Places. The work that Lincoln Park Coast Cultural District has done over the past 20 years to shift the perception foreshadows a future that sounds amazing in this storied music and arts neighborhood and worthy of its national designation.
Kim J. Ford is a published journalist/content creator, producer of the annual Lincoln Park Music Festival; founder of BRND Marketing Group LLC and proud Lincoln Park resident.