Morehouse College: Makes Men of Consequence
By Fern Gillespie
A "Morehouse Man" is a brand. Since its establishment in 1867, the HBCU has garnered a reputation for producing extraordinary leaders and visionaries. Morehouse is the only historically Black college dedicated to educating men. Morehouse Men impact their communities, the nation, and the world. Politicians, educators, lawyers and judges, businessmen, medical doctors, scientists, realtors, entertainers, military, media, data scientists, software engineers, and spiritual leaders—each proudly represent Morehouse ideals. The Atlanta based institution is the top producer of Black men who receive doctorates, the top producer of Rhodes Scholars among HBCUs, and one of the leading U.S. institutions that produced the most Fulbright Scholars in 2019-2020.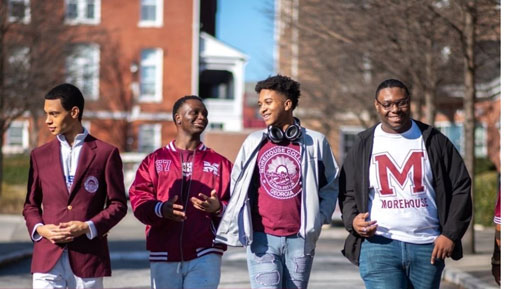 In other nationwide academic rankings, Morehouse College ranks as the number one Small College in Georgia, the number one Liberal Arts College in Georgia, number one Online HBCU, and the 28th Liberal Arts College nationwide.
There currently are more than 18,000 Morehouse alumni in 14 countries. Morehouse College educates 2,300 students annually. Approximately 60 percent of rising Morehouse men come from families with a household income of $40,000 or less. They want to be Morehouse Men.
"Morehouse College is the only institution of higher learning in the nation that produces Black male excellence at scale and is well-known for producing outcomes of excellence," said Morehouse President David A. Thomas, Ph.D. "Our alumni have become leaders of influence in every field and industry, making an impact that has changed the status quo for people around the world."
"Making Men of Consequence" is the theme of Morehouse College's $500 million capital campaign. The campaign's goal will allow Morehouse College to expand its legacy of producing innovators who address diversity, equity, and inclusion across industries to address disparities in public health, K12 education, and racial injustice. The capital campaign will fund scholarships for top students nationally, support faculty research, expand innovative academic programs and access to global learning experiences, and construct world-class, technologically-advanced learning and living facilities on the college's historic, 66-acre campus. Already, Morehouse has raised $200 million in contributions for the campaign. "It is a monumental investment in the development of leaders of color who will reshape society as we know it," announced Dr. Thomas.
Morehouse College has been pivotal as a leader on civil rights and its commitment to addressing the inequities caused by institutional racism, which has created social and economic disparities for people of African descent. Prominent Morehouse alumni include: Nobel Peace Prize Laureate Rev. Dr. Martin Luther King Jr., former U.S. Surgeon General Dr. David Satcher, Award-Winning American filmmaker Spike Lee, the first African American Mayor of Atlanta Maynard H. Jackson, former U.S. Secretary of Homeland Security Jeh Johnson, former U.S. Department of Health and Human Services Secretary and Founding Dean of the Morehouse School of Medicine Louis W. Sullivan, Attorney and CNN Political Analyst Bakari Sellers; youngest elected Birmingham Mayor in 120 years Randall Woodfin, and Georgia Senator Raphael Warnock. Celebrity alums also include actors Samuel L. Jackson and John David Washington, who co-starred in the recent Broadway hit revival of August Wilson's The Piano Lesson.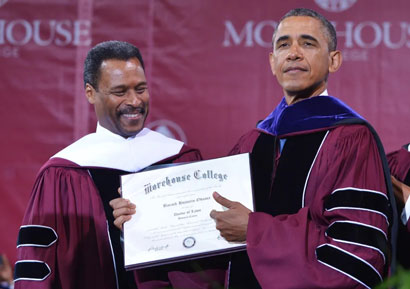 While Morehouse College positions itself for another 155 years of producing leaders, it continues innovative program initiatives. The program Morehouse in the Metaverse, led by Dr. Muhsinah Morris, creates a nextlevel college experience by providing a digital replica of the campus so students can use virtual reality to transform learning when the student is on campus or learning remotely. The Black Men's Research Institute, headed by two-time former HBCU President Dr. Walter Kimbrough, is the first research institute of its kind focusing on the cultural, economic, personal, and social outcomes of issues affecting Black men. The Ida B. Wells Society for Investigative Journalism,has relocated from UNC-Chapel Hill to Morehouse College after the controversial tenure denial of one of its founders, Pulitzer Prize-Winning Journalist Nikole Hannah-Jones. "This partnership helps our young organization settle more deeply into our mission, which is to increase the number of investigative reporters of color," announced Hannah-Jones, who directed the 1619 Project at The New York Times. "Coming to Morehouse just as it gets its journalism major off the ground provides a tremendous opportunity for us to increase our impact on the field and society."
No wonder Morehouse ranks number one HBCU for First-Year Experiences. "The heart of a college is the faculty and their ability to engage students. One of the important ways in which faculty engages students is with the vibrant work they do both teaching and through their scholarship," said Provost Kendrick Brown, Ph.D. "Scholarship drives the best teaching. It benefits the students because they can engage with faculty doing interesting and important work. This collaboration and care extends beyond graduation as our students become leaders in their fields." For more information, contact https://morehouse.edu.