Tributes to Rev. Dr. Calvin O. Butts III
I am sure I speak the sentiments of all the daughters and sons of Abyssinian when I simply say, "Thank you." Thank you, Dr. Butts! Thank you, Mrs. Patricia Butts, The Butts Family, Abyssinian family for sharing him. Thank God for Calvin Butts! For his ministry, his mentorship and model. For his preaching and teaching. For his vision and for being a voice crying out in the wilderness, making straight the way of the Lord, building a highway in the desert for our God. None other quite like him. Dr. Calvin Otis Butts III.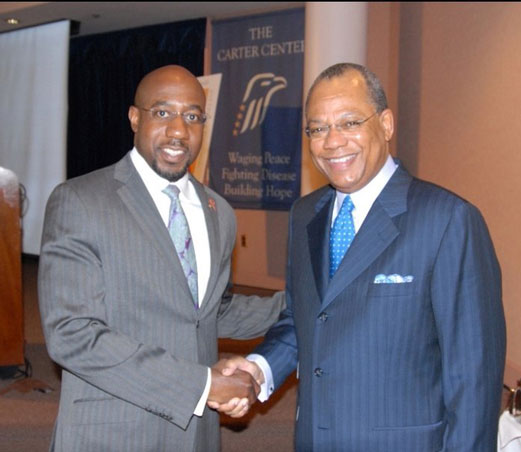 Calvin Butts taught me how to take my ministry to the streets because he understood the church's work does not end at the church door. That's where it starts. He preached here on Sunday, but his actual pulpit was the public square. So whether the issue was affordable housing or the inordinate amount of cigarette and alcohol advertising on billboards in poor, Black and Brown communities or educational equity or police brutality, he knew how to raise the issue and put it in a moral and ethical frame. His pulpit was the public square.
What a clear and courageous voice for justice. In the words of James Weldon Johnson he was one of "God's Trombones." Climbing up on billboards and painting over them. Marching on City Hall. Getting arrested while getting in good trouble. And when preachers were too scared and too confused and too homophobic to say the words HIV and AIDS, Calvin Butts was confronting the issue, organizing clergy and other leaders to start the National Black Leadership Commission on AIDS. His pulpit was the public square.
He was a prophet with the heart of a priest. Prophets afflict the comfortable. Priests comfort the afflicted. Good pastors know how to do both. He visited the sick, married and counseled couples, comforted the bereaved, rejoiced with those who rejoiced, wept with those who wept. Cheered us on! He shepherded his flock. And I am blessed to have been among them.
Let me tell you about my pastor. Last fall, I was in New York raising money for my campaign and my pastor pulled himself up out of his sick bed to come and introduce me at a fundraiser in Harlem. On September 29. 2022, he sent me his last text message. He said "I see that Ian (the storm) is maybe headed to Savannah! [Your] hometown. Thinking about you; praying for you, always! Just know we love you! PEACE."
Sometimes I am tossed and driven, Lord, Sometimes I don't know where to roam, I've heard of a city called heaven,I've started to make it my home.
— Traditional Hymn
— U.S. Senator Raphael Warnock
---
Our community, Abyssinian Baptist Church and the country have lost a great leader. I have lost a dear friend, Rev. Dr. Calvin Butts III. I join with the Abyssinian family, friends, and all of Harlem, in mourning and paying tribute to him—not only in his leadership as senior pastor at Abyssinian, but also as president of SUNY College at Old Westbrook.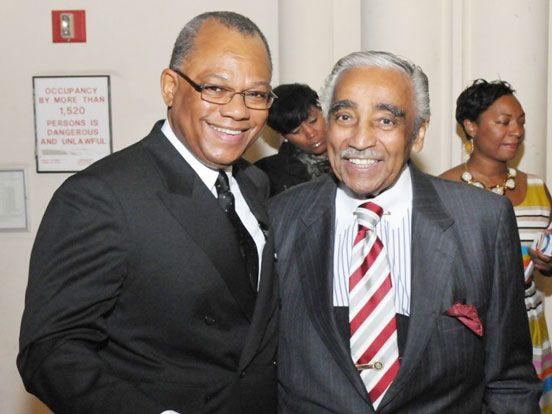 As a true trailblazer, he was always a beacon of hope and spiritual light for the village of Harlem. He preached against hate and bigotry, and for our voices to be heard.
He grew up in public housing in Manhattan, and later a house in Queens; and graduated from the predominantly white Flushing High School. After graduating from Morehouse College in 1972, where he joined the Pi chapter of Kappa Alpha Psi Fraternity, Inc., with a degree in philosophy, he went on to earn a Master of Divinity in church history from Union Theological Seminary and a Doctor of Ministry in church and public policy from Drew University. During his fifty years of service to Abyssinian Baptist Church, his church became the prototype for investments in the community, channeling $1 billion in housing and commercial development into Harlem neighborhoods through the Abyssinian Development Corporation.
At the same time, he was blazing an historic trail of higher education impact at the State University of New York College at Old Westbury over more than twenty years, as the college experienced historic enrollment, its first graduate programs, and $150 million in capital projects during his tenure. A highly respected and influential leader in the National Baptist Convention, Inc., he also served as president of Africare NYC, which worked to improve the life of people in rural Africa. After coming to Abyssinian at the young age of twenty-two, he spent decades advocating, promoting, and advancing housing initiatives in Harlem that helped shield residents in danger of being pushed out by gentrification.
Even beyond his work for the masses, Rev. Dr. Butts took the time to mentor the next generation of pastors and theologians. Many have gone on to positions of leadership in the clergy and the country. His life of leadership and service has been the personification of the Abyssinian mission and the Black social gospel social justice tradition. He will be missed and never forgotten.
My heart goes out to his wife and family. May God Bless him for the tremendous work he has done his parishioners, students, community, and mankind.
— Congressman Charles B. Rangel
---
O, how blessed have been both the people of the historic Abyssinian Baptist Church of New York City and New York City itself, not to leave out SUNY with the divine placement and vision of one Calvin O. Butts III.
He was indeed what Martin Luther called "rara avis " (rare bird). He was unique in his demeanor, preaching, and casting a vision. He fit into the rich history of leadership at Abyssinian, further proving the fact that God has a "miracle" to fit your need without mass production.
He will be missed but never matched—our son, our brother—Dr. Calvin O. Butts III. God be praised for your presence and impact.
— Bishop Johnny Ray Youngblood
Senior Pastor, Mount Pisgah Baptist Church, Brooklyn
---
Rev. Dr. Calvin O. Butts III, a man of faith, deeply believed in his community, his beloved. His broad social impact is one for the history books. Rev. Butts stabilized a broken Harlem that the country had turned its back on: shoring up its infrastructure through the development; preserving affordable housing to provide homes to low-income black and brown families; providing vital advocacy and social services at a time when no one was taking action; sponsoring the construction of the first new high school to be built in over 50 years, Thurgood Marshall Academy for Learning and Social Change; building an educational pipeline from kindergarten to college through the Thurgood Marshall Academies; spearheading the development of Abyssinian Towers for low-income seniors and people with disabilities; revitalizing businesses on the 125th Street economic corridor and throughout Harlem. Rev. Butts' indelible footprint is everywhere.
These broad strokes came together to embrace the Harlem community at a critical time. Through Rev. Butts' vision people knew they mattered and dared to dream they could do anything. His moral compass was a beacon of light that led Harlem through economic challenges and social neglect to the Harlem you see today—a vibrant community that attracts people the world over. Though Rev. Butts' physical light may have dimmed, his spiritual light lives on in every family who can still call this community home, and every young child who dares to dream of one day being President.
— Abyssinian Development Corporation
---
Have you ever received an invitation that caused you to wonder if it was meant for you? I have had quite a few of those and even long after having had the experience, it's hard to believe they happened. One such experience was being asked to be a guest lecturer for a college course taught by my late mentor Dr. Samuel DeWitt Proctor. The second was being invited to be the year 2000 speaker for the Martin Luther King Commemorative by Mrs. Coretta Scott King. But still among the most humbling and surprising was the occasion of celebrating the 20th pastoral anniversary of Rev. Dr. Calvin Butts as senior pastor of the Historic Abyssinian Baptist Church of Harlem. When I got the message that I was being asked to speak at this incredibly distinguished banquet to be held at a five-star hotel in midtown Manhattan, I was confused and honored.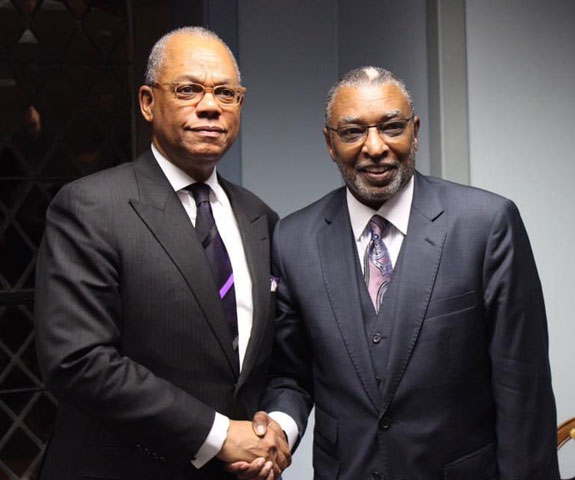 I was confused because Dr. Butts certainly had access to any speaker he would want to participate in his celebration. As a Morehouse College alum, he certainly could tap into the collegiality of the global Morehouse network that included some of the most famous names in African American religion, politics, and business. All of them knew and respected Calvin Butts. And many of them attended the event. It seemed strange to me that I would be speaking rather than one of these prestigious HBCU luminaries.
I was also honored because Dr. Butts was highly admired and respected beyond his Morehouse College network. As a college president, he had credentials and credibility in the higher education community nationally. His academic leadership achieved such noteworthy results that future generations of higher education leaders will embrace his style and strategy of faculty engagement and student empowerment that turned his campus into what Martin Luther King, Jr. would describe as a "beloved community." In that sense, Butts treated his college campus as an extension of his pastoral ministry.
And it seemed to me that Calvin Butts knew everyone, and everyone seemed to know him. He garnered much respect from both Republicans and Democrats. He was as admired at the National Baptist Convention, USA Inc. as he was at the New York Stock Exchange. As I sat in my seat awaiting my time to speak at his banquet, I was seated between former New York City Mayor Michael Bloomberg and actress Cicely Tyson! Butts was a giant in the community, the culture, and the church.
So I was surprised to be his choice for speaker. But we had been friends since the mid-seventies, and we believed in the same principles. While we were not friends who spoke every week, when we spoke it was always about something serious. No gossip. No dirty jokes. No negative news. Always focused on something that we thought would improve life for Black people—in Harlem, New Jersey, and everywhere else. When I was asked to serve as New Jersey Secretary of State, Calvin Butts was one of the people I called for advice. He was a reliable, rational, and realistic voice.
I will never forget that day when we celebrated the leadership of Calvin Butts. And I will always count it as one of the highlights of my life to have been the speaker for such a significant leader and influence in our community. "Job well done my brother and friend. I'll see you in the morning."
— Rev. Dr. DeForest B. Soaries Jr.
Founder, Dfree Financial Freedom Movement
Pastor Emeritus First Baptist Church of Lincoln Gardens
---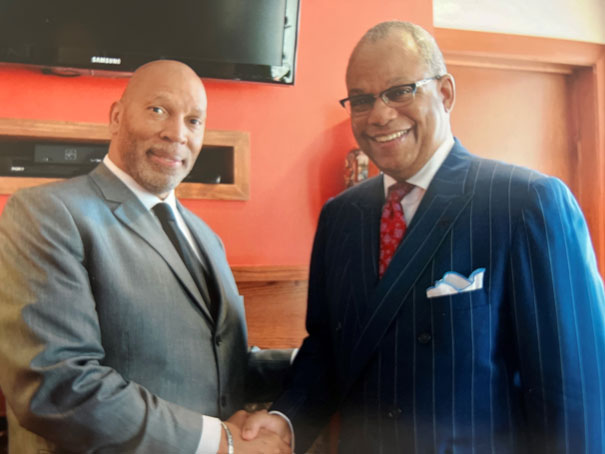 Dr. Calvin O. Butts III was one of my first sources of inspiration when I came to this area. On Sunday mornings preparing for worship, I searched the radio looking for something inspirational.. I came across Dr. Calvin Butts on 98.7 FM where he shared his ministry "Direct From the Pulpit." Thereafter, driving to church on Sunday morning I listen to Dr. Butts teach and preach relevant, challenging, and encouraging messages. His voice became my Sunday morning stimulus.
As time progressed, I was blessed to be in his presence. His demeanor Dignified, cultured, a man of class, impeccable taste, but a man centered, humble, and gracious. He preached for my 22nd pastoral anniversary. and the Community Baptist Church of Englewood was packed at an 8 a.m. service anticipating the message from his voice that would come directly from our pulpit!
— Dr. Lester W. Taylor, Jr.
Northeast Region Vice President,
National Baptist Convention , USA, Inc.
Community Baptist Church of Englewood
---
Many historical giants have captured and mastered the landscape of Harlem over the past century. Rev. Calvin O. Butts III is unquestionably at the top of that list. Dr. Butts partnered on many initiatives and events with The Greater Harlem Chamber of Commerce and HARLEM WEEK, Inc. Over that time, we worked collectively on educational and public safety initiatives, senior citizens events, arts and culture programs, and on political and community forums. It is important for the chamber to acknowledge, thank, and recognize the beautiful wife of Dr. Butts, and Patricia, for her warm spirit, bright vision, and leadership.
Calvin Butts will remain in our minds, our hearts, our thoughts, and our planning as we move forward to elevate Harlem.

— Lloyd Williams
President, Greater Harlem Chamber of Commerce
---
Calvin O. Butts III was a diamond among men. He will be greatly missed by his beloved family, the Abyssinian Baptist Church, and by me. He was my brother, friend, and ultimately my pastor. For many years we were colleagues in Harlem. I met him just a few years before he assumed the pastorate of Abyssinian; he was especially close to those of us in the Movement. We had a fellowship then—Sharpton, Butts, myself, Mayor Adams, Carl Redding, Maddox, Mason, etc. New York was a hotbed of racism and we were coming into our own leadership, under the veterans of that day. Jesse Jackson, Louis Farrakhan, Percy Sutton, William Augustus Jones, Wyatt Tee Walker, and Samuel Dewitt Proctor. I was about 10 years behind Sharpton, and 15 years younger than Pastor Butts, so they were like big brothers to me.
He had a keen interest in the Movement and was fully committed. That's what I loved about his ministry. We'd talk at the 5th Ave parlor where Mr. Henry Stalling cut our hair (when I couldn't get to brother Yusef or Hassan at the Shabazz Barber shop), and we both sat there to allow the best shoeshine man in Harlem, Mr. Charley, to shine our shoes. I liked him; he seemed unlike many preachers of that era—a real brother. When he steam rolled rap albums, and the rappers were furious with him, I knew he was morally correct, and while I was more popular with the hip-hop crowd than he was, I stood with him! At a pivotal moment in my life during a crisis of faith, he returned the favor and welcomed me home to the church—nurtured, helped me heal, licensed, and ordained me to preach the Gospel! I honor him. I will forever be grateful for his friendship. SIP.
Grace and Peace,
— Rev. Conrad B. Tillard Sr.,
M.Div., Th.M., radio host, activist, politician, and author
---
Rev. Dr. Calvin Butts, the preacher, the professor, and the politician. Although these are accurate descriptors of my friend, Rev. Dr. Calvin Butts, he readily called himself "a minister, one called to serve." Rev. Butts was the quintessence of a servant leader! As a dedicated community leader, distinguished pastor, and college president, he wholeheartedly served the people. This year I celebrate 40 years of pastoring and one of the highlights etched in my memory was the invitation by Rev. Butts to speak at Abyssinian Baptist Church. And when Rev. Butts preached at The Cathedral, we heard from a true servant leader who challenged us to go and serve as Christ served.
God bless the memory and service of Rev. Calvin Butts.
— Bishop Donald Hilliard Jr.
Senior Pastor of Cathedral International, Perth Amboy, NJ
---
Rev. Dr. Calvin O. Butts III's life's work, legacy, and activism leave distinguished marks in many areas of our lives, including health, education, housing, economic development, and social justice. Through his years of service, leadership, and participation we experienced the depth of his commitment and dedication to his beloved community. When many leaders and voices of influence in our community turned a blind eye, he led with courage and compassion. He was my spiritual leader, mentor, political supporter, and confidant. Memories are far too numerous to express and will be forever cherished.
— C. Virginia Fields
President/CEO Black Health Inc.
---
As dean of the Martin Luther King Jr. International Chapel at Morehouse College, one of the honors I have is participating in the intellectual and spiritual development of Morehouse students who have been called or are exploring a call to the ministry. Through our Chapel Assistants Program, we help students learn and practice what it means to foster and lead effective, ecumenical ministries.
Over the years, the Chapel Assistants Program has earned a reputation as one of the nation's leading undergraduate programs, sending young men to premier seminaries and university-based theology or divinity schools. Among the institutions to which we send our students is Union Theological Seminary in the City of New York. For more than three decades, those we sent to Union, we also sent to Rev. Calvin Butts and Abyssinian Baptist Church. This relationship between the Chapel and Abyssinian was so strong that Butts and I were often jokingly referred to as co-conductors of the Union Seminary Underground Railroad. I determined who got on. He determined who got off.
Under Rev. Butts' watchful eye, some Morehouse students served as pastoral interns or in the music ministry; others were active members of the congregation. All of them benefitted from Butts' example of leading a full guidance ministry—one that is committed to working for economic, educational, political, and social equity for Black people, as well as for the salvation of their souls. Butts' ministry was a modern-day example of the Morehouse College Prophetic Social Gospel Justice tradition in action—a legacy embodied by Martin Luther King Jr., Howard Thurman, Benjamin Elijah Mays, Mordecai Wyatt Johnson, and others who have, for decades, used the Gospel to manifest Christ's teachings in the contemporary world as moral cosmopolitans.
Thanks to Rev. Butts, the Morehouse Men who were blessed to serve and worship with him had their educations greatly enhanced by learning from one of the nation's most influential religious leaders. This honored son of Morehouse was a loyal friend and supporter of the Chapel's mission to empower transformational, nonviolent ambassadors of peace who work to reveal and create the "Beloved" cosmic, spiritual, economic, and cultural community as a reflection of the healing social justice of Jesus Christ.
While we miss Rev. Butts' physical presence, we are ever grateful that his spiritual light still shines with, for, and through us.
— Rev. Dr. Lawrence E. Carter Sr.
Dean, Martin Luther King Jr.
International Chapel, Morehouse College
---
It often seemed to me Dr. Calvin O. Butts III was ordained at birth to be the pastor of the Abyssinian Baptist Church. He embodied the elements of the Black social gospel, a liberation theology nurtured and passed along from the Abyssinian pulpit by Adam Powell Sr., Adam Powell Jr., and Dr. Samuel Proctor. Like them, his vision went well beyond the pulpit. Calvin Butts refused to rest behind the safe security of stained glass windows. Recognizing that his gospel of redemption had a strong social component, he was deeply engaged in struggles for equity, justice, and righteousness wherever those efforts took him.
They took him into the streets. We marched challenging the economic injustice of major corporations; we exposed the inequities of the criminal justice system, and the racist violence of the police. We marched against the self-inflicted gang violence within the Black community. Calvin stood firmly with individuals and organizations fighting against the ravages of racism and racial abuse on its various levels, from health care to public education, from the distortion and weaponization of hip-op, to the selling of toxic food and toxic ideas to Black children. In those battles Dr. Butts was a constant ally.
In this era of prosperity preachers with their "name it and claim it" theologies, Calvin Butts stood above and apart. He chose, instead, to remain committed to Dr. King's mandate to be a drum major for justice. Calvin Butts' life and career were distinguished by his faith in God, his commitment to righteousness, and his uncompromising integrity. He was one of the dearest friends I ever had.
— Bob Law,
Radio Personality, Film Maker, Activist
---
Calvin O. Butts III was entrusted with one of the most treasured institutions ever built by African Americans, and his stewardship was all anyone could have hoped for. He became pastor of the Abyssinian Baptist Church in Harlem, NY after working alongside a man of extraordinary achievement and distinction, and for the half-century he served in different capacities in that institution—youth minister, executive minister and senior pastor—every action he took was intended to preserve the best of the church's heritage and reputation as a vital agent for social transformation and community improvement.
We know that Harlem, like all places human beings inhabit, is subject to change (It is changing now). But it is certain Dr. Butts' legacy as a leader in Central Harlem, in so many aspects of life, is indelible. And while just considering his role in Harlem says plenty about his passion and resolve to make a difference, he wasn't content to stop there. Higher education in the State of New York was a beneficiary of his tireless pursuits, in a role he had seen filled by men whom he admired, like Benjamin Elijah Mays, the legendary president of Morehouse College; and Samuel DeWitt Proctor, his predecessor as senior pastor of Abyssinian. Both Mays and Proctor were revered college presidents and ordained Baptist preachers.
At times, Butts was controversial. He bucked the tide to do things others would advise him against, but as time passed, one could always see a laudable motive—positioning himself to serve in the best tradition he would claim for himself. He was my friend; we are both sons of Morehouse. And for readers who know something of that institution, you know it produces men who are not so inclined to go along to get along. We met after he came back to New York to attend Union Seminary; I had graduated the spring before he arrived in Atlanta. And almost from the day we met, I knew he was determined not to be ordinary. We talked often about what differences we wanted to make, what our contributions would be.
More than his highly visible public persona, he was a man who loved his family. His home was his refuge, and the nurture he received from his relationship with his wife, Patricia, the children and the grands, goes a long way to explain his energy, the will to just keep going even as his health was failing. So many younger leaders of consequence in the church and elsewhere around the country drew from his example or were directly mentored by him at Abyssinian. His approach to community ministries and the way he carried himself as a leader remain their Polaris, and in that sense, he lives through them in the service and model they still provide. He and I embraced for the last time May 22nd at the pulpit in the church he loved, as he hosted the ordination of Dr. Raschaad Hoggard, one of the many well-prepared and committed bearers of the torch as we face the future. It is brighter because he walked this way.
— Rev. Dr. M.W. (Bill) Howard, Pastor Emeritus
Bethany Baptist Church, Newark NJ
---
It is an honor and privilege to reflect on the life and legacy of Rev. Dr. Calvin O. Butts III.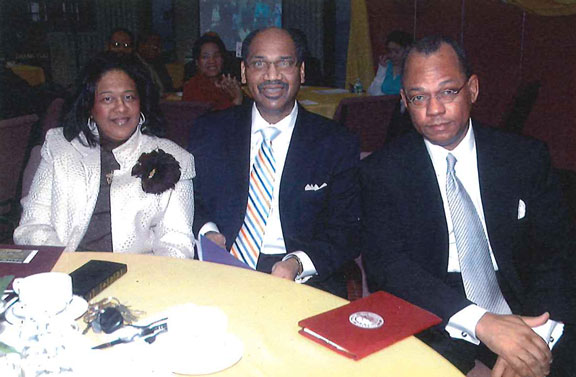 Beyond our ecclesiastical connection, Calvin Butts was my friend! He never got caught up in the loftiness of his title, the list of his accomplishments, nor his pedigree. The notion that he pastored one of the most historic churches in the nation while standing on the shoulders of giants before him like Rev. Adam Clayton Powell Sr., Rev. Adam Clayton Powell Jr., and Rev. Dr. Samuel Dewitt Proctor was always a humbling honor and not a platform of selfish pride. The sacred time he spent in his "secret place" sculpted within him a heart to serve the people of God. With dignity and grace and without ever compromising his integrity, he served well.
Although he sometimes appeared very formal, he was personable and friendly. Dr. Butts and I were close. Our families spent time together. I remember during the 1996 Olympics in Atlanta, Linda and I spent an entire week with Calvin and Pat. My God did we have fun! Dr. Butts was with me when I launched my ministry here at Metropolitan BC in Newark. He always accepted my invitations to preach or speak. When Mayor Ras Baraka proclaimed Newark as the nation's first "Choose Healthy Life City," I invited Dr. Butts. Although he was strained by significant health issues he said, "For you Jeff I'll be there." In the twilight of his suffering, I invited him to preach; I was deeply touched when he said, "Jeff, you know if I could, I would, but I just can't stand." Calvin was a giant among men who recognized there was nothing greater than God's grace. And all who enjoyed the pleasure of his company were made the better because of God's grace. There will never be another like him…because God only made one, Dr. Calvin O. Butts III.
—Rev. Dr. David Jefferson Sr., Esq.,
Pastor Metropolitan Baptist Church, Newark, NJ
---
From the very beginning of my time in New York City to begin my theological studies at Union Seminary, I have been acquainted with Abyssinian. I was only in the city two weeks when I was invited to assist with spiritual programming there. Within weeks, Rev. Butts invited me to "hang out" at the church as one of the Intern ministers. I did not know what opportunities this would open up for my ministry, even to become a part of the history of Abyssinian in significant ways. It was because Rev. Butts was willing to share a part of the Abyssinian ministry that I was allowed to become the church's first female Assistant Pastor; the first woman to preside over the ordinances: Baptism by water immersion and Holy Communion. As time went on, I would marry my husband there while serving as Assistant Pastor and our first child would be Blessed from that very pulpit. I continue to be amazed to this day, at all the wonderful experiences and ministerial training I received while serving at Abyssinian.
I can remember standing at the lectern saying how I appreciated the leadership, mentorship, and friendship of Rev. Butts, many times over. A titan of the gospel of Jesus Christ has gone to be with the Lord and now we move forward in faith, celebrating God's unconditional love.
—Rev. Violet L. D. Lee, Ph.D.
Executive Program Minister,
Christ Church United Methodist of New York
---
As a teenager growing up in Bedford-Stuyvesant, I first heard Rev. Butts' voice on 98.7 KISS on Sunday mornings. No subject was off limits in his preaching, from tackling sex and drugs to demanding academic excellence from the students at Old Westbury. I was so inspired by his preaching that I downloaded his sermons and listened to them on my way to school, a practice I continued throughout college. I went from listening to his voice on the radio to sitting next to him for eight years as an assistant minister. Even in death, I still hear his voice calling us to walk taller, think higher, and love more.
— Rev. Rashad Raymond Moore
Senior Pastor, First Baptist Church of Crown Heights
---
As we celebrate African American History Month, it is fitting we pay tribute to Reverend Dr. Calvin O. Butts III, one of our heroes. I am honored to share my memories of our strategy meetings and implementation that served our beloved Harlem community. Reverend Butts was a visionary. He worked to make his visions, ideas, and thoughts become reality—the Abyssinian Development Corporation, opening the first high school in District 5 (Thurgood Marshall Academy); day care facilities, food pantries, and so much more to serve the community. All of his accomplishments centered on the teaching of Jesus. He made the scripture plain by doing the work. We are all better that Reverend Dr. Butts touched our lives in so many ways and left a legacy for us to carry on the work for equality and justice.
— Dr. Hazel N. Dukes, President
New York State Conference NAACP
---
The Rev. Dr. Calvin Butts was a strong tower of wisdom, Christian spirituality, and Black culture in Harlem and beyond. He cried aloud for adequate housing, healthcare, and quality education; and used his powerful position as senior pastor of the Abyssinian Baptist Church to speak truth to power on our behalf.
At his recent funeral, a clergy member said of Rev. Butts, "He was our everything." When I was a community organizer, I worked with him on combating police brutality. For decades since then I have valued his leadership, benefitted from his mentoring in ministry, and have treasured his friendship.
— Rev Diane Lacey, Pastor
The Church of Gethsemane
Park Slope, Brooklyn
Ministering to men and women in prison and those persons returning to the community.
---
"So to bind each son the other. Into ties more brotherly."
I distinctly remember our initial meeting in front of Graves Hall, a landmark on the Morehouse College campus. Both from New York City, we were "homeboys," and we instantly solidified a brotherly relationship lasting more than 50 y ears.
With Abyssinian Baptist Church as his pulpit, he has had a significant impact on education, economic and community development including homelessness, senior citizen and youth empowerment, cultural awareness, and ecumenical outreach. I am honored to have been called upon by Rev. Butts to bring leadership skills to the Men's Ministry, and serve as a member of the Trustee Board. Lastly, Rev. Butts' final request of me was to join the search committee for the next senior minister/pastor of Abyssinian Baptist Church.
As I reflect over my years with Rev. Butts, it is with much admiration and a heartfelt thanks for his time on earth, always saving and winning souls for Christ. I vividly recall the numerous times he preached at Union Chapel in Oak Bluffs on Martha's Vineyard, to a standing room only congregation. On these Sundays it was as if the Messiah spoke to the multitudes. How far my brother has come, his time cut short, as he continued to toil in God's vine yard. Deeply missed and irreplaceable, he leaves an indelible mark on his beloved Harlem and the global community. God bless you, Calvin Otis Butts III for your accomplishments, your memory will live on.
— Stephen Ross Johnson
Trustee, Abyssinian Baptist Church
---
The distinguished educator, Dr. Benjamin E. Mays once stated: "Every man and woman is born into the world to do something unique and something distinctive and if he or she does not do it, it will never be done." Dr. Calvin O. Butts, III may have been influenced by the prophetic words of Dr. Mays. He appeared to have been divinely inspired to perform unique and distinctive services to humankind. The question presented here is, would many of his deeds have been done by someone else, were it not for his remarkable life? I think not!
My introduction to Dr. Butts was a Eulogy eulogy that he delivered when he was assistant to the distinguished Dr. Samuel Dewitt Proctor. Later, I remarked to my wife that Abyssinian had an outstanding preacher as its assistant pastor. That observation preceded his social activism within the Harlem community.
The history of The Abyssinian Baptist Church is legendary in its historic role as the leading religious institution for Black Americans. As a young man growing up in the segregated south, I considered Adam Clayton Powell, Jr. to be my congressman and eagerly visited Abyssinian as soon as I moved to New York City. Who could have known that Dr. Butts would bring, both to the church community and to Black America, a level of dedicated service that was unique to his protean level of leadership.
His commitment to community uplift led to the Abyssinian Development Corporation (ADC), which developed an elementary school, along with the first New York City high school in more than fifty years. Of note is the fact that ADC was, at one point, the largest sponsor of affordable housing in Harlem. Concurrently, in 1999 he was appointed to the position as president of a unit of the State University of NY (SUNY). At the time of his appointment, the campus was slated for closure, ; but under his leadership, the campus was fully resurrected to full vitality. By the time of his retirement in 2020, Old Westbury University enrolled the largest number of students in its history. President Butts was recognized by SUNY presidents for his unique success in generating significant sources of funding, both from the public and private sectors, which strengthened the university's financial viability.
ALL OF THIS WHILE SERVING AS SENIOR PASTOR OF THE LARGEST BLACK CHURCH IN NEW YORK CITY!
To quote the distinguished theologian, Dr. Howard W. Thurman, "There is something present in the spirit of man, sometimes even taking the form of great arrogance, sometimes quietly nourishing the springs of resistance to a great tyranny – there is something in the spirit of man that knows that the dualism, however apparently binding, runs out, exhausts itself, and leaves a core of assurance that the ultimate destiny of man is good." I have encountered nothing more descriptive of Calvin Butts than the assurance that he believed in the ultimate destiny that PEOPLE ARE GOOD.
AREN'T WE FORTUNATE TO HAVE KNOWN A MAN AS EXCEPTIONAL AS HE!!
— Johnny E. Parham, Jr. Executive Director,
Thurgood Marshall College Fund (Retired)
---
I talked to Reverend Butts not long before he passed. We had been friends a long time. I came here seeking his support and I didn't get it the first time, and then when I won, he said 'You know you have to remember this is an active church and I have an active faith. The Book of James says that faith is fine but without work it's dead, so I will know your faith by your works. The power of his living example, he demonstrated his faith by his wonderful words from this sacred pulpit but also by his works.
— Former U.S. President Bill Clinton
---
I have known him since he graduated from Morehouse College, and we became friends. My last talk with him was a few weeks ago and spiritually we always met on common ground. I shall miss him as my brother and friend and I pray that Allah's (God's) Peace will be with his family, his congregation and his friends. His was a job well done and a life of service well lived. I shall keep him in my heart until Allah (God) calls me in. Peace Be Unto You All.
— Nation of Islam Minister Louis Farrakhan
---
He motivated each of us through his teaching to be an active and exemplary member of Harlem. Uplifting communities while giving back through service, engagement and social reform.
— Congressman Adriano Espaillat
---
We all have an expiration date, we all going to reach a moment when we're going to transform from the physical into the spiritual. I love Dr. Butts and I'm going to miss him. There's a hole in my heart that I don't think is going to heal for a long time.
— NYC Mayor Eric Adams
---
I was privileged to interview Rev. Dr. Calvin O. Butts III on multiple occasions. We had a rapport. He was friendly, wise, learned, and generous. In a time of need, I and my family were enveloped by his generosity when he officiated my dad's funeral in 2018.
It's never easy to lose a parent. Despite a prolonged illness, we simply never thought the larger-than-life giant who was O.T Wells Sr., would ever leave us. While Dad's death wasn't shocking, it did shake our family's foundation. Beyond that, family members, friends, colleagues, fraternity brothers, club members, military veterans, and wellwishers were flying in from across the country and around the world to pay their respects. We wanted a dignified, personal, service; but we needed a place large enough to accommodate a crowd.
Enter Rev. Dr. Butts and the historic Abyssinian Baptist Church in Harlem, only blocks from where we lived as children and where Dad lived until his death. What better place to host his Homegoing? And Rev. Dr. Butts officiating? It was perfect. Rev. Dr. Butts wouldn't be fazed by the number of people, nor the luminaries from legal, government, and church circles. He would perform his duties and lead the service Dad would have wanted, the service our family needed.
On a day filled with so many emotions, there were also logistics, travel, and egos to be considered. But Rev. Dr. Butts seemingly had no ego. He welcomedand greeted our family in a sober yet caring manner. He assured us he would honor Dad's life as we laid him to rest. His words were comforting, yet rousing, strong, and hopeful. He stressed the importance and satisfaction of a life of service and a life well-lived, which reassured us all and lent a sense of muchneed solace.
After the service our family shook hands, shared hugs, and accepted condolences with the capacity mass of more than 1,000 people. The reality of saying goodbye to Dad was emotionally draining and interacting with all of those people left me, a notorious introvert, emotionally and physically exhausted. Just as I thought I had said my final "thank you," shaken the last hand, and muddled through enough hugs to last me the rest of my life, I heard a familiar voice, then glanced a pair of kind eyes just before a strong but gentle, robed arm encompassed and consoled me.
Thank you, Rev. Dr. Butts for your grace, wisdom, strength, dedication, and tenacity, but most of all, your kindness. You were a titan of faith, education, and development. But most of all, you were a beautiful human. You once told me, "One of the driving forces in my life has been to make my parents proud and happy with the things I was doing. At another point in my life it was elevated to pleasing God." I am sure you succeeded in completing both tasks and your welcome was one for the record books. Rest easy, please continue to watch over us, and say hello to Dad.
— R.L. Witter