Harlem's Cornrowed Cuties
Sonja D. Gracy, author, playwright, and NYC public school teacher is currently working on her next book, God and the Girls.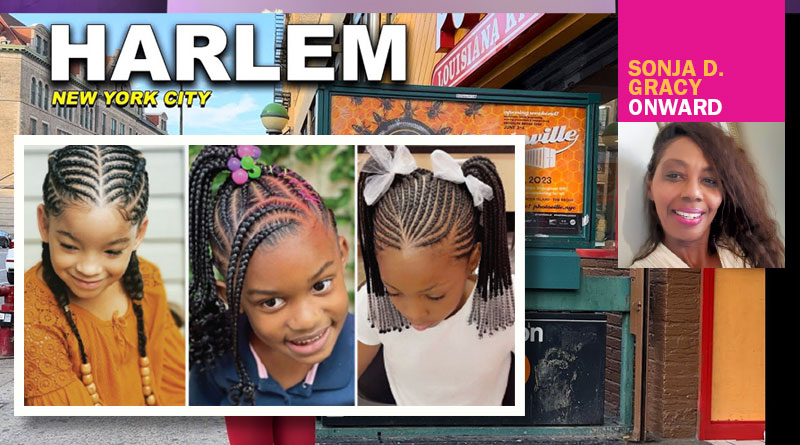 Harlem is to Black hair what vanilla wafers are to banana pudding—they're famously linked. As far as I am concerned, Harlem is "Hair Capital, USA." Braids and cornrows have always been an indispensable part of its allure.
I once wrote a piece, "Ode to Black Hair: The Roots of Our Beautiful Black Hair." As part of my research, I walked a perimeter of Harlem of about fifty blocks and counted nearly 50 Black hair styling salons—for general styling, braiding, natural, and weaving services in all. One famously known Harlem hairdresser's service mantra was, "If you can't grow it, I can sew it, and no one will know it!" Harlem is a veritable "mane mecca" for girls and women looking to sashay stylish hair statements via our inimitable "Black girl switch up." One day we can be in braids, the next day a nouveau 'fro, a week later we're sporting an auburn wig, and two days from then a waist length weave.
Harlem hairstyles (like most things related to beauty and fashion) are subject to trends—for example, Harlem'sRenaissance era had the sleek, signature, finger-wave bob on fleek that did resurface for a blip of a bit in the late '90s, before slipping back into antiquity. And the last time I saw Jheri curls on a woman (or a man for that matter) was in Eddie Murphy's hilarious Coming to America. And I am certain they're not coming back—not after what Murphy did to them via his "Soul Glo" curl activator couch stains scene. There is one hairstyle that is a Harlem-heralded mainstay; it's cornrows, and they accentuate the native beauty of the lovely Black cuties who wear them!
And where else but Harlem would cornrowed crowns, legacy-wise, befit us? Harlem is the cultural, political, and aesthetically perfect regional marker of who we are since our super migration there at the top of the 20th century. It was the inimitable, Black swag of the genius, style, struggle, culture, soul-filled Harlem Renaissance that ushered along with it the hot comb, Black hair salon, and sittin' on the stoop or in the apartment with Mama and her cornrowin' that came in its tow.
Anytime I trek through Harlem, I am reminded of my youth. As kids, cornrows were the easy summer style, whether racing through our backyard in the spring, marching off to Catholic school at the start of fall, or when clasping the hands of my summer camp buddy in our standard doubleline protocol as we trudged through those streets in the heat on the way to the public pool. Much of whatever my sister and I did, we did the way hundreds of girls in Harlem do it today. In squeaky sneaks and taut, perfectly geometricallysectioned cornrows. Harlem and cornrows are yesterday and the present. Cornrows ingeniously emblematize a saga of diasporic perseverance and progress that gives each a signification beyond mere region and hairdo, to depthful symbols of history, politics, race, identity, (gentrification, CROWN Act Legislation) and culture.
From famous, Harlem-hailed, cornrow cuties like Cicely Tyson to emeritus Essence Editor-in-Chief Susan L. Taylor to hip hop stars Kelis, Teyana Taylor, Lil' Mama, Tupac Shakur, Jim Jones, A$AP Rocky, and Dave East—Harlem homeboys wear cornrows, too! Our cornrowed hair and heritage are absolutely always showcased in Harlem, USA. Both embody the backdrop of our beautiful, Black selves, skin, and hair. Harlem is our hair capital, and cornrows are part of its cultural commodity.