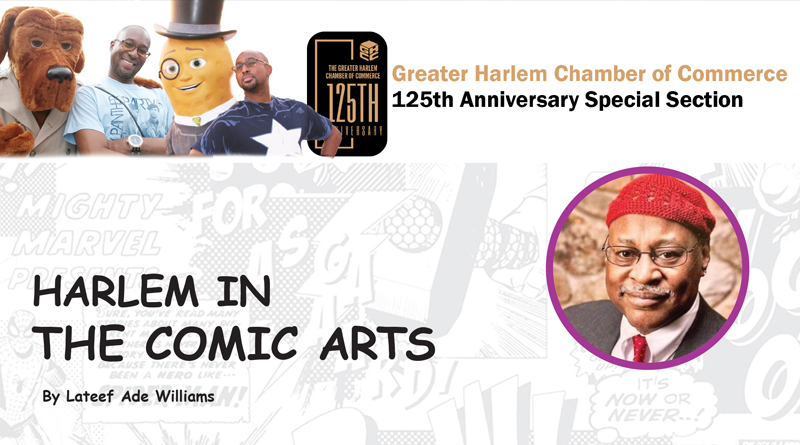 By Lateef Ade Williams
The world's best-known neighborhood is the setting of countless poems, songs, books, music videos and movies. The same is true regarding Harlem in the comic arts. William H. Foster III, a professor of English and Communication who has provided expert comic information for CNN News and National Public Radio, answers:
L.A.: Professor Foster, why are your studies on comics interesting to non-comic readers?
Prof F.: There are few people, even non-comic readers, who don't enjoy a good story. Comic books and cartoons have always been unique sources of good storytelling.
L.A.: Did Harlem continuously appear in newspaper and magazine comic strips?
Prof F.: Indeed. At the turn of the century, the African American press and their great cartoonists like E. Simms Campbell, helped shape the image of Harlem. There was also the Torchy Brown in Dixie to Harlem comic strip (featuring Torchy as a dancer at the Cotton Club) and drawn by a Black woman, Jackie Ormes. Ormes, who had never been to either Dixie or Harlem, used her skills as a reporter to come up with details that made her strip convincing. It was distributed by the Afro-American Continental Features Syndicate from 1937–1940 and resurrected from 1950–1955. Another example is Tommy Traveler in the World of Negro History, created by Black cartoonist Tom Feelings and published in the Harlem-based New York Age from 1958–1959. It told of a young, Black boy reading about and dreaming himself into the settings of African American history and Harlem locales. The collection of the strips was later transformed into a children's book. And Playboy's Buck Brown, the only African American cartoonist the magazine consistently hired, could always be counted on to inject a little color into his cartoons. In the 1960s, he did a cartoon with a clear Harlem reference, though the name is never mentioned.
L.A.: What about Harlem in television cartoons? Prof F.: The Harlem Globetrotters animated Saturday morning cartoon was the most prominent example. Debuting in 1970 on CBS, it ran for a little over three seasons. NBC reran the series in 1978 and debuted The Super Globetrotters in 1979.
L.A.: I'd forgotten that one! The action never took place here, nor is the team actually from Harlem, but that cartoon made legions of kids familiar with the name "Harlem." Fox aired The Avengers cartoon featuring the Harlem character, The Falcon, from late 1999 to early 2000. The only other cartoons that come to mind are Sesame Street-related ones, since Sesame Street is supposed to be located in East Harlem. A natural offshoot of the Harlem Globetrotters cartoon show was a comic book during the same period, so let's hit that subject.
Prof F.: Let's see. There are few places in the world where anyone who knows anything about boxing doesn't know who Joe Louis is. In 1950, when Fawcett Publications decided to tell his story in the Joe Louis Champion of Champions comic book series, they couldn't leave out the name of the place that went wild with celebration of his every victory: Harlem. In 1964, a Harlem social action group decided a comic book would be a good vehicle to spread its message of self-realization, and Youth in the Ghetto: The Voice of Harlem Youth Unlimited was born.
Another addition to Harlem in comics came from Marvel Comics in the early 1960s. Although in reality there was no integration of U.S. military forces until the late 1940s, Sgt. Fury WWII stories gave readers a diverse army squad: an Italian American movie star, a Jewish mechanic, a Southern rebel,an Irish ex-circus performer, an English lord, and an African American trumpet player (Gabriel Jones). In Sgt. Fury and his Howling Commandos #82 (1966), the commandos are on "R & R" back in the U.S. and visit each other's families, including Gabe's at an "uptown jazz spot in Manhattan."
L.A.: In the superhero genre, the first mainstream Black superhero was the Black Panther, an African king named T'Challa, created by Marvel Comics in 1966. For a period, T'Challa functioned as a Harlem schoolteacher. In 1969, Marvel created the first African American superhero: The Falcon. The Falcon was born in Harlem and serviced it as the sidekick of the idealistic Captain America (who debuted in 1941). During the 70s, the two characters were Harlem roommates for a time. Harlem frequently appeared in the comic until the late '70s when the Falcon was phased out as a sidekick and the book reverted to its Captain America title. The Falcon has appeared sporadically in Marvel Comics ever since. In 1972, another Marvel superhero became the first African American character to star in his own series. Carl Lucas was born and raised in Harlem, framed, and imprisoned, where experiments accidentally grant him superpowers… and his very own instant furlough program. The escaped con reasons Harlem will be too hot for him so he renames himself "Luke Cage" and sets up a "Hero-for-Hire" business in Times Square of all places. Once Cage clears his name, he returns to, and operates from, Harlem.
Another Harlem-born Marvel superhero is Storm. Created in 1975, Storm was born in Harlem but never operated from here or lived here for long. In 1979, she visits Harlem and is disappointed, thinking: "In my father's tales, this was a magical place . . . poor, rough-edged but alive … but that was long ago. The magic seems almost gone now. If it were ever truly here." She discovers her family's former apartment is occupied by teens high on heroin. Luke Cage has to rescue her from being mugged by them, which he attributes to "no homes, no decent schooling, no money, no jobs-no hope … in a society more concerned about cagin' 13-yearolds for life than tryin' to give 'em a decent chance." (Uncanny X-Men # 122)
Prof F.: Since the legend of Harlem is far ranging, how about a Harlem story written and drawn by an artist from Italy? 1978's. The Man from Harlem graphic novel is a well told, suspenseful, 1947 tale of Johnny Lincoln, a bass player who must deal with a number of challenges in the pursuit of a career in music. It's a very respectful treatment from an unusual source.
In 1997, when veteran comic book creator Roland Laird teamed up with longtime artist Elihu Bey, they created a unique publication, Still I Rise: a Cartoon History of African Americans.
Key historical events on that journey take place in Harlem. But what about in the future? Imagine the year 2050, where a team of superpowered African Americans play a game using jet packs, martial arts and high-speed maneuvers. That's the Harlem Heroes, whose wonderful stories appeared in Britain's top-selling comic 2000 A.D. by artist Michael Fliesher and John Farrelly. It is a sign that Harlem will continue to be a backdrop for exciting well into the future.
L.A.: "Forever Harlem," 'nuff said.
Professor William H. Foster Ill has written 11 books and nine plays and was a consultant on the historical image of Blacks in comic strips and comic books for Heroes, Heartthrobs, and Horrors: Celebrating Connecticut's Invention of the American Comic Book.
Harlemite L.A. Williams wrote a thesis on the history of Black characters in superhero comics for the University of Massachusetts African American Studies Department and later served as an editor at DC Comics.