The National Museum of African American History and Culture
THE SMITHSONIAN'S National Museum of African American History and Culture opened on Sept. 24 in Washington after a long journey. Thirteen years since Congress and President George W. Bush authorized its construction, the 400,000-square-foot building stands on a five-acre site on the National Mall, close to the Washington Monument. President Obama will speak at its opening dedication.
Appropriately for a public museum at the heart of Washington's cultural landscape, the museum's creators did not want to build a space for a black audience alone, but for all Americans. In the spirit of Langston Hughes's poem "I, Too," their message is a powerful declaration: The African-American story is an American story, as central to the country's narrative as any other, and understanding black history and culture is essential to understanding American history and culture.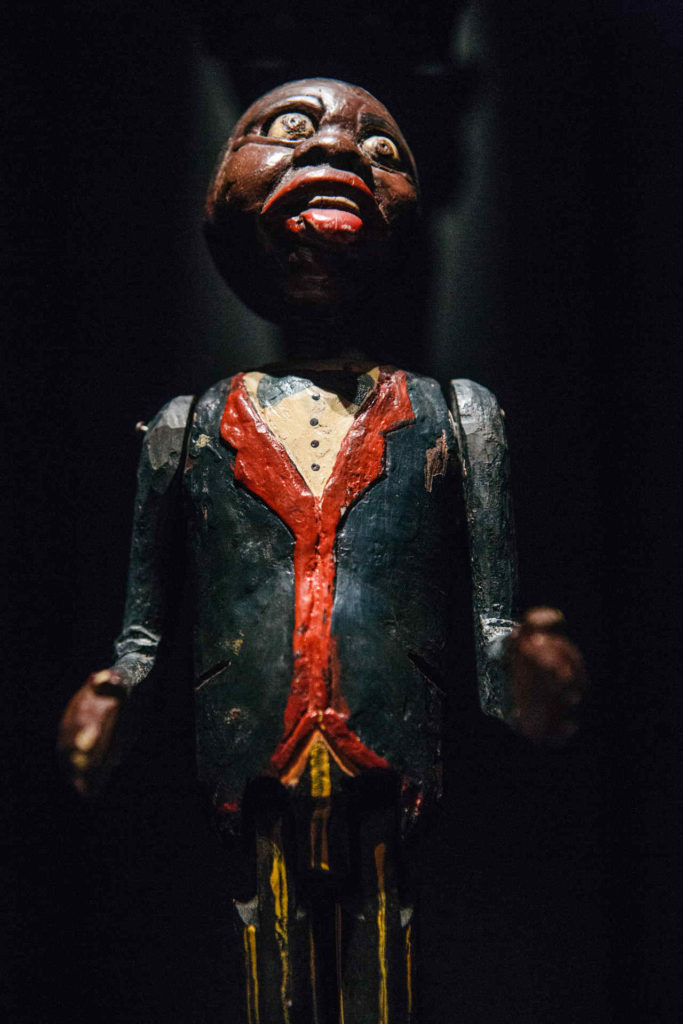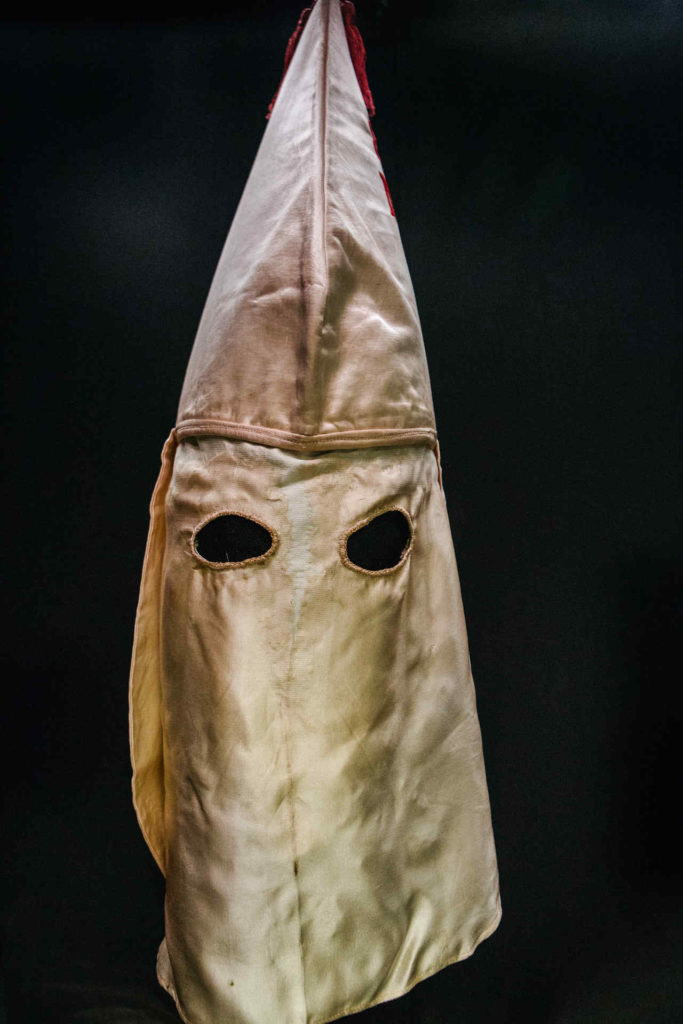 POWERFUL OBJECTS The collection includes potent artifacts, including a Ku Klux Klan hood and stereotypical representations of black Americans.
The museum says the building's three-tiered shape evokes a traditional Yoruban crown. The exterior corona is made of 3,600 bronze-colored cast-aluminum panels. The distinctive architecture alternatively symbolizes hands lifted in prayer, in what the museum says is an expression of faith, hope and resilience.
Unusually, the museum had to start from scratch without a collection. It ran an "Antiques Roadshow"-style project in 15 cities that encouraged people to give heirlooms from their closets and attics, and yielded some of the 40,000 objects the museum now holds. About 3,500 artifacts will be on display in the opening exhibitions, many of them treasures donated by ordinary people.
Here are a few of these donors, and a look at a new museum confronted with the task of capturing both the pain and the pride of America's past.
From Slavery to Emancipation
The museum decided to tell its story in part chronologically rather than thematically. This decision is written into the architecture itself, as visitors descend 70 feet below ground to begin the historical journey centuries ago with the trans-Atlantic slave trade.
The museum confronts head-on America's history of slavery and racial oppression. Yet, while memorializing suffering, the museum wants even the bleakest artifacts to have a positive message. As visitors face an auction block where slaves stood to be bought and sold, they can also imagine the strength slaves summoned to survive.
TUBMAN'S HYMNAL
DONATED BY CHARLES L. BLOCKSON, GWYNEDD, PA.
"Some of my relatives escaped from southern Delaware with Harriet Tubman. It [the hymnal] came to her great-niece and it was divine intervention that she donated it to me. It was a surprise to receive a letter from her attorney after she passed. I was astounded and grateful. I never knew that I would inherit her items. People said, 'Why don't you sell them?' I said, 'Why would I demean her effort and name by selling them?' Money was the last thing from my mind. I kept them under my bed and prayed on what to do with it for three weeks and the idea came to donate the items to the new African-American museum in D.C."
HARRIET TUBMAN has a national park named in her honor, and this year the Treasury Department announced that she would replace President Andrew Jackson on the front of the $20 bill.
NAT TURNER'S BIBLE
MARK PERSON, RICHMOND, VA.
"It's been in the family since 1912 and was kept on top of a piano, then a closet, then a safe deposit box. I look at it as symbolic, as a way of reconciliation. We have a lot of turmoil in the country and the Bible is still significant. People have their beliefs and somehow that comes out on top even after all the struggles. I met with the Turner family two or three years ago and it was a very positive experience. They said 'the Bible is in the right place' [in regards to the donation] and that solidified it. We knew in the family that it was priceless."
MR. PERSON'S ANCESTORS HAD OWNED NAT TURNER AS A SLAVE. Turner is thought to have been baptized with the Bible on the Person family's land. (The gift is courtesy of Maurice A. Person, Noah and Brooke Porter and Wendy Creekmore Porter; Mark Person spoke on behalf of the family.)
From Segregation to Today
The museum will display the original coffin of Emmett Till, the 14-year-old savagely killed in Mississippi in 1955; Ku Klux Klan hoods; and a piece of rope used in a lynching.
The museum tells a history that continues to evolve. It documents the presidency of Barack Obama, but artifacts reflecting events like Black Lives Matter protests underscore persistent inequality and police brutality.
Visitors will be able to leave their own thoughts at public video booths. After such powerful displays, they can also sit in a space called the Contemplative Court to come to terms with what they have witnessed.
A PROTEST SIGN ABOUT TRAYVON MARTIN, A HURRICANE KATRINA DOOR, AND A DETAIL FROM A PRESIDENT OBAMA DISPLAY Some of the objects selected to represent the 2000s. Martin, an unarmed teenager, was fatally shot in 2012 by a neighborhood watch volunteer who was acquitted in the killing.
Community and Culture
Above ground, the museum departs from the chronological narrative to examine African-American achievements in fields like music, art, sports and the military.
Visitors can tour these brighter third-floor and fourth-floor themed Culture and Community galleries without venturing into the history sections below.
Some exhibitions depict the diverse experiences of African-Americans in regions across the nation, from the birth of hip-hop in the Bronx, for example, to life in the South Carolina rice fields. Though here, too, the exhibitions refer to the oppression and discrimination that African-Americans experienced and highlight their fight to overcome segregation and bring about social change.
CROIX DE GUERRE MEDAL
DONATED BY GINA MCVEY, OAK GROVE, CALIF.
"In 2010, I took my car to the dealership to get it fixed and there was a man sitting next to me in military uniform and we started talking. I happened to mention that my grandfather fought in World War I and was awarded the Croix de Guerre medal. He said, 'Do you know what you have?' I said, 'A medal.' He said, 'You have history.' It had been sitting in my parents' home, in a steel box in an armoire, since 1968, when my grandfather died. I immediately looked it up and found out he was part of the Harlem Hellfighters. I went home, my mom pulled out the information, and I just sat there in tears. I looked at the Croix de Guerre, the Purple Heart and thought, 'Oh my God, I had this all this time, and didn't know anything about it.'"
MS. MCVEY'S GRANDFATHER was a member of the Harlem Hellfighters, an infantry unit of black soldiers that fought for several months as part of the French Army during World War I.
ALTHEA GIBSON'S TENNIS RACKET
DONATED BY DON FELDER, SOUTH ORANGE, N.J.
"I was at her mom's house visiting with family members who were still residing at the house. They had some pieces I was interested in and I told them I wanted to give them to the museum. I was elated that I was able to obtain some things, so that we could keep her legacy alive. The more I could find, the better story we could tell of Althea Gibson, of who she was, what she did. They [the Smithsonian] came to my office in South Orange, New Jersey, with gloves and they went through photographs, letters, her writings that I had, the tennis racquet and immediately walked over to a FedEx shipping store near my office and shipped what they could. Althea was an incredible bowler, golfer, tennis player. She was an all-around athlete."
MR. FELDER is Gibson's second cousin. In 1971, Gibson was inducted into the International Tennis Hall of Fame.
MARIAN ANDERSON'S JACKET AND SKIRT
DONATED BY GINETTE DEPREIST, PORTLAND, ORE.
"I know that she was scared to death. That's one thing that she kept telling us. Here is this young woman coming from Europe full of hope and sees that she is the object of racial division and found herself in front of 75,000 people on a Sunday morning. By nature, Aunt Marian was very soft-spoken. She really wanted throughout her career to be known as the woman with the golden voice more than the woman who started this movement, and so I don't think she was very comfortable in that role."
MS. DEPREIST'S HUSBAND, James, was Anderson's nephew. Anderson, the first African-American soloist to perform at the Metropolitan Opera, received the Presidential Medal of Freedom and a Grammy lifetime achievement award.
From the building's upper levels, visitors can view the Washington Monument, Arlington National Cemetery, the White House and the National Mall — a symbolic reminder, officials say, that the museum is a lens on the broader American experience.