Seven Black traveler accounts you should be following on Instagram
Courtesy of Essence Magazine
Don't you wish you could be on a permanent vacation, traveling from various cities to exotic islands and back again? With no worries of work or money, you could explore every crevice of the Earth, meeting new people, sightseeing and eating tons of exotic food. Sadly, that wish will probably never be reality for most. But just because you can't take an endless vacation does not mean you can't feel like you're constantly exploring the world. Thanks to social media, we can discover new cities and countries through the photos of people who have dedicated their profiles to taking you along on their travel journeys. And while there are hundreds of Black traveling accounts on Instagram dedicated to introducing you to new destinations and cultures, here are seven accounts you should be following: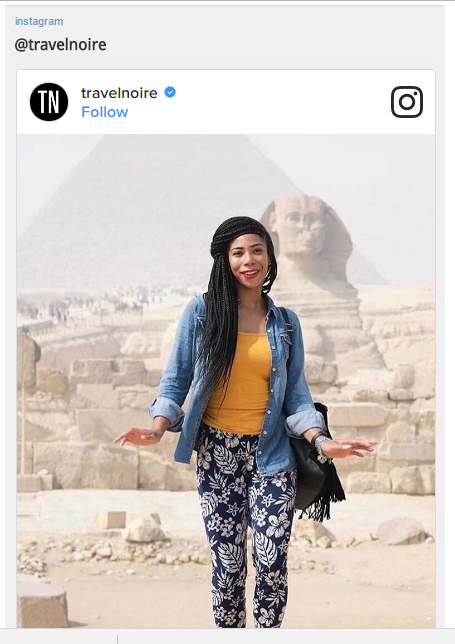 If you choose to not follow any other travel account on Instagram, make sure you are at least following @travelnoire. With approximately 350,000 followers, this account kind of pioneered the idea of promoting pictures of Black travelers. They post a collection of pictures from various personal accounts of (usually) non-famous people who they find through the hashtag #travelnoire. Their photos span hundreds of countries from every single continent. But what truly makes this account special is that they offer their followers the chance join them on curated travel journeys in exotic places. This offer allows young, Black professionals—who may otherwise not have a travel partner—to explore a new destination with a group of like-minded people.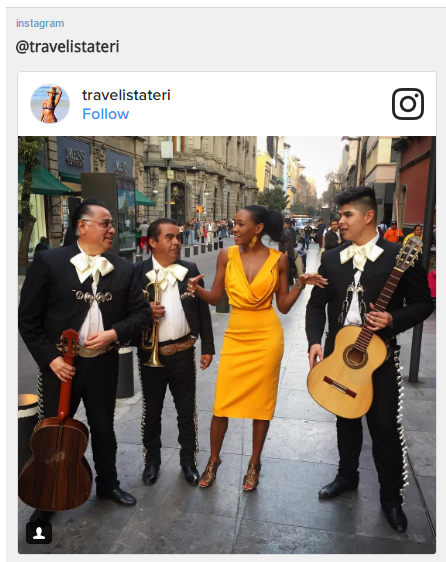 This New York-based travel blogger has crisscrossed the globe. While her blog gives her readers the inside scoop on what they should see or do when they travel to cities she has visited, her Instagram account combines her personal style with those perfect backdrops to create some really memorable snapshots. She has been dogsledding in Quebec, has seen the mosques of the United Arab Emirates and has visited nearly every single exotic beach. Her profile is vivid in color and eclectic in location, and although she does post photos of her friends here and there, her profile mainly consists of pictures of just her enjoying her travels and really awesome landscape shots.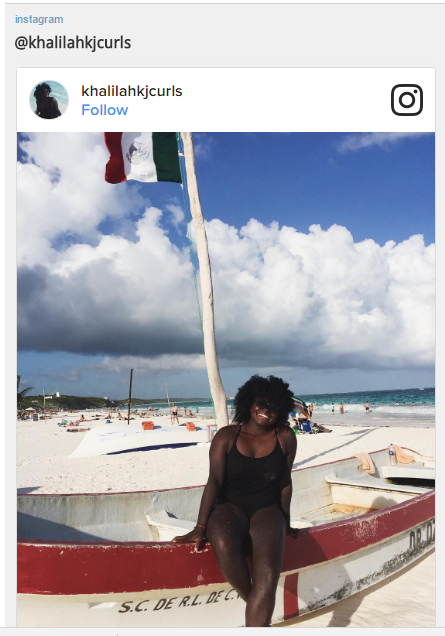 I just recently started following Khalilah and fall more and more in love with her with every post. She refers to herself as the "natural hair nomad" and it's evident why with just a few scrolls on her profile. She has a head full (and I mean full) of beautiful curls and takes her followers along with her on travels to the 20 countries she has visited. Although she is based in Boston, I feel like Khalilah is never there. Instead, you will find her backpacking through Costa Rica, exploring the unpaved roads of Peru and enjoying the unique culture of Spain. At only 22, Khalilah has seen more of the world than most people do in a lifetime, and I'm positive it is just the beginning! Lucky for us we get to keep up with her as she continues to explore.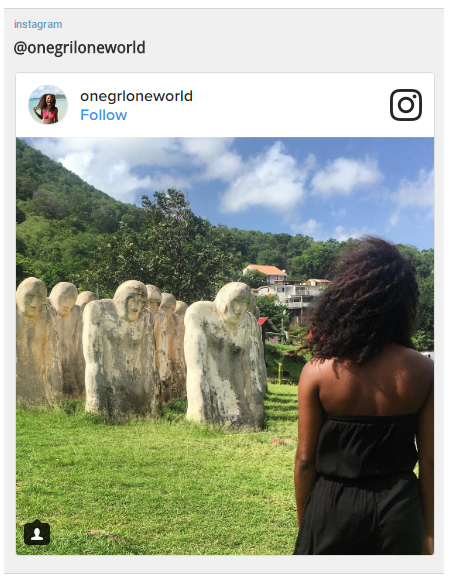 Seeing the world is great, but being able to talk to people in their native language while you travel is certainly special. That's what sets Francesca, also known as One Girl One World, apart from most travelers. She speaks three languages aside from English: French, Spanish and a little Italian. That ability allows her to immerse herself in the cultures of the countries that she visits. There are photos of her with new friends she meets along the way as well as photos that come from her exploring off the beaten path (which can only be done if you are able to communicate with those around you).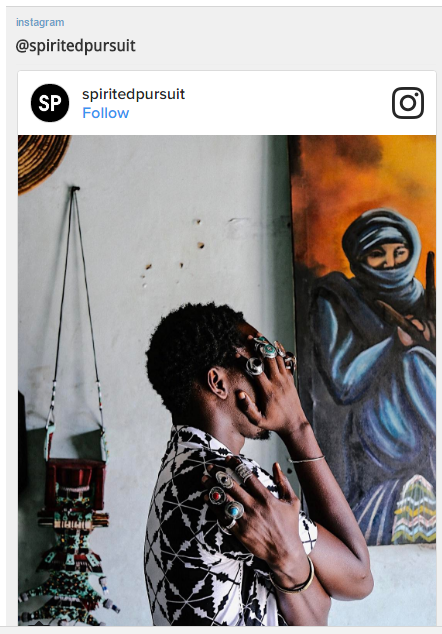 This profile is in a "spirited pursuit" of travel, adventure and new cultural experiences, which I think is what pretty much every traveler is constantly in search of. However, the people behind this account showcase those adventures through truly spectacular photography. There is nothing amateur about these models, angles or edits. Every single one of their posts is worthy of being featured in a travel magazine or on a billboard ad. Their photos have made me want to visit places that I thought I had no interest in. And what is really great is that they are never trying to sell or promote anything through their posts. They simply hope to inspire your next cultural experience!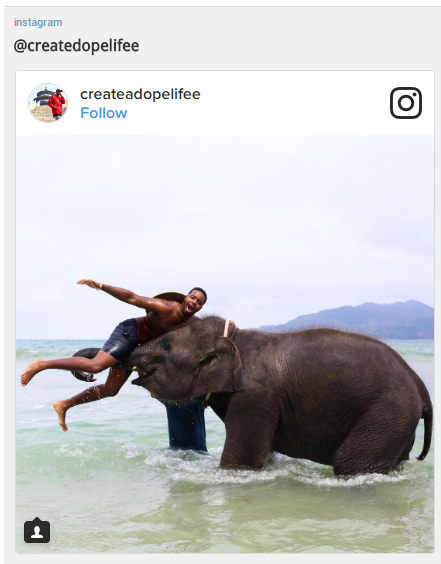 Coming in as the only male public figure account on this list (it was not intentional—I swear), "The Travelpreneur" got my attention because he visited 47 destinations in 36 months! Um, hello LIFE GOAL! His profile is simply a collection of his journeys and adventures. Think: skydiving in Dubai, hiking in Arizona and riding elephants on the beaches of Thailand. He is also the designer of "create a dope life" apparel, which features the phrase on shirts, sweatshirts and baseball caps. Every now and then, he will throw in a picture of others wearing his apparel while they are on a travel journey of their own.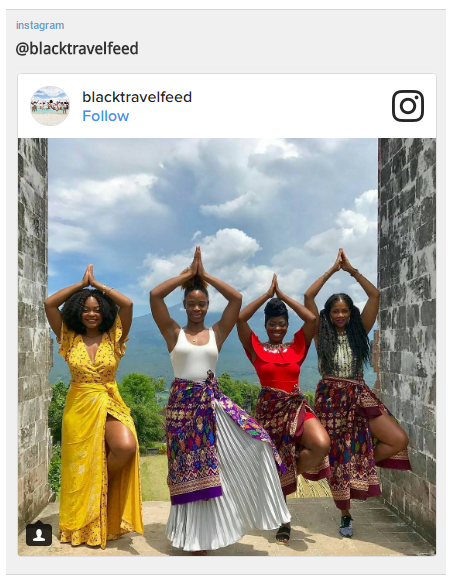 This travel account is very reminiscent of @travelnoire. It is a collection of photos from Black travelers who are found when personal accounts use the hashtag #blacktravelfeed. But what sets this account apart is that they tend to post pictures of groups of people traveling together, instead of just individuals. This feature allows us to see the camaraderie that is created when people experience new parts of the world and cultures together. These photos also seem much more authentic. Although they are all very vivid and intriguing, you can tell most were taken on a cellphone—as most of our vacation photos are!
Megan Pinckney (@shadesofpinck) is a retired beauty queen turned lifestyle blogger who loves exploring the world and writing about it.