The Resurrection of Hinchcliffe Stadium Brings New Life to Paterson
By Helene Fox
On Thanksgiving Day, football fans from across Paterson, NJ used to crowd into Hinchcliffe Stadium for the annual game between Paterson Eastside and John F. Kennedy (JFK) high schools. Prior to that, Hinchcliffe Stadium was the home of storied Negro League Baseball games. Hinchliffe was the home of the New York Black Yankees for more than a decade and even hosted the Colored Championship of the Nation, the Negro Leagues equivalent of the World Series. A far cry from its glory days, Hinchliffe Stadium now serves mostly as a parking lot and a canvas for aspiring graffiti artists. But there's hope on the horizon.
Real estate developer and Paterson native Baye Adofo-Wilson of BAW Development and Edward Martogolio of RPM Partners have partnered with the City of Paterson and the Paterson Public School District to develop an ambitious neighborhood redevelopment project centered around the preservation and restoration of Hinchliffe Stadium. The Hinchliffe Stadium Neighborhood Restoration Project (HSNRP) aims to restore the glory and functionality of the stadium named for Paterson Mayor John Hinchcliff, whose persistence is credited with bringing the structure to fruition in 1932.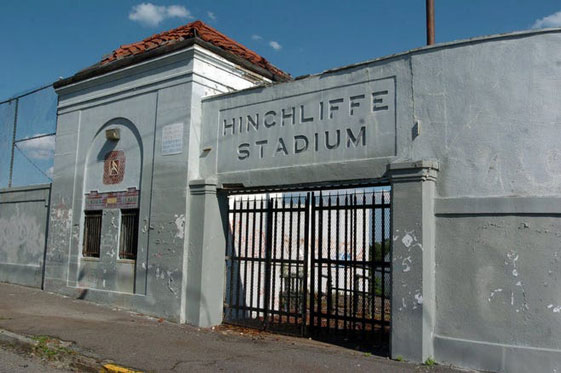 Hinchliffe Stadium is located within Paterson Great Falls National Historic Park and only hundreds of feet away from the majestic Paterson Great Falls. Built in 1932 as a Great Depression Works Progress Administration project, Hinchliffe Stadium soon began renting to Negro League Baseball teams. Hinchliffe is a horseshoe shaped, cast concrete, classical amphiteather stadium that originally held10,000 people and is a National Historic Landmark because it is one of two remaining stadium structures where Negro League Baseball teams played.
Renovation plans for Hinchliffe Stadium include preserving the historic seating bowl for 7,800 seats, making Hinchliffe Stadium Americans with Disabilities Act (ADA) compliant and increasing the number of restrooms. Also planned are new locker rooms, a weight room, a concession area, and offices for coaches, staff and referees. Hinchliffe Stadium will also have a state-of- the art, synthetic field with new lighting and a new scoreboard. Once renovated, Hinchliffe Stadium will be used as JFK High School's home field for football, soccer, track and field, softball, and baseball. It will also host concerts, festivals, sports camps, and other semi-pro and professional sporting events.
A 12,000-square-foot exhibition space and restaurant dedicated to Negro League Baseball will also have a home at Hinchcliff. Both the New York Black Yankees and the New York Cubans called Hinchliffe Stadium home during the 1930s and 1940s, and Paterson's own Larry Doby, the first African-American to play in the American Baseball League and break the color barrier, was discovered at Hinchliffe Stadium. Other legendary Negro League baseball players and teams played at Hinchliffe Stadium including Monty Irvin, Oscar Charleston, Josh Gibson, and the Homestead Greys. An exhibiton space will develop in-person and virtual exhibitions centered around the lore of Negro League Baseball players and teams while addressing issues such as Jim Crow and white supremacy, which spurred the creation of the Negro Baseball Leagues. In addition, there will be temporary and permanent exhibition spaces celebrating Negro League Baseball and local Paterson athletes.
HSNRP will bring Hinchliffe Housing, a seventyfive unit, six-story building located at the northwest corner of Hinchliffe Stadium for the fifty-five and older population, to the local Paterson community. It will provide affordable housing for individuals making 60% or less of the area's median income and the building will be USGBC LEED Plantium. A 5,200-square-foot pre-school will occupy the first floor and there will be a 314-space parking deck for residents and Hinchliffe Stadium attendees.
The total development budget for HSNRP is $94 million dollars, which includes financing through New Jersey State Tax Credits (ERG); New Market Tax Credits; Federal Historic Tax Credits; Low-Income Housing Tax Credits; and federal, state, county, and foundation grants. Construction is scheduled to begin in March with a groundbreaking ceremony on March 29, 2021.