By Moikgantsi Kgama
In 1986, a group of Harlem clergy formed Harlem Congregations for Community Improvement, Inc. (HCCI) in an effort to revitalize Harlem. Their initial focus would be the 40-block north central Harlem area known as Bradhurst. In direct response to the cries of Harlem's poor and struggling middle-class residents, men and women of faith walked hand-in-hand with elected officials, community activists, educators, and engaged residents to remove blight and rebuild the Harlem community. From the birth of HCCI until his death late last year, the beloved Mayor David N. Dinkins remained one of HCCI's strongest allies.
Borough President David N. Dinkins supported funding the institution, then, as the first Black Mayor of New York City, Dinkins leveraged his position to implement HCCI's blueprint for the revitalization of Bradhurst.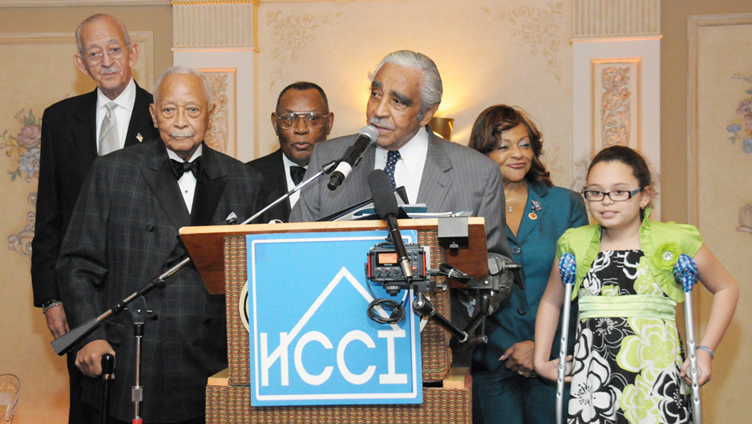 Mayor Koch, whom Dinkins succeeded, didn't believe Black churches had the capacity to pull off the massive plan. His thrust was to exclude HCCI and take the plan to an outside developer. However, Mayor Dinkins set aside $18.4 million in the capital budget for the Bradhurst community at a time when he was striving to cut $3 billion from the budget.
Dinkins made grassroots neighborhood revitalization and the Bradhurst Plan a cornerstone of his administration. The project—which represented pioneering, unprecedented social engineering by a municipal government—envisioned the creation of 2,200 apartments and single-family homes, as well as 300,000 square feet of commercial space over a decade.
Mayor Dinkins' confidence regarding what the organization could accomplish produced results. Today, HCCI's achievements continue to mount and HCCI has become a world-renowned model for community revitalization with a portfolio that boasts 80 buildings—comprising more than 4,000 units of housing, 70 commercial spaces (including a 45,000 square foot supermarket), and the revitalization of the previously blighted Jackie Robinson Park. Author J. Phillip Thompson III, a former member of the Dinkins administration, documents much of this history in his book Double Trouble: Black Mayors, Black Communities, and the Call for a Deep Democracy.
HCCI Chair Joan O. Dawson, Ph.D. spoke of Honorable Dinkins as a friend and colleague who supported HCCI through the years, providing access to funding as Mayor and Borough President and the many contacts he provided. "His invaluable presence at every major funding gala held since the founding of HCCI will be missed," she said. "He is fondly remembered for his words of wisdom that guided us all in helping the Harlem community. We are all indebted to him as a great leader."
In tribute to the mayor and his undying belief and support, New York City's first affordable, green housing complex, built by HCCI in partnership with Jonathan Rose Companies, is named David & Joyce Dinkins Gardens. The 85-unit building completed in 2008 consists of 28 studios, 24 one-bedroom, and 33 two-bedroom apartments. Built on formerly city-owned property, the building design meets the community's critical social and environmental needs. A key element of the Bradhurst plan, the project boasts green building innovations and materials such as: the use of non-toxic and recycled material in construction, EnergyStar-rated appliances and light fixtures, a green roof with a rainwater harvesting system, permeable paving, natural day lighting, sun shading on the south-facing exposure, and energy-efficient lighting. In addition to a roof terrace and backyard garden, integral components of David & Joyce Dinkins Gardens, residents enjoy the now vibrant Jackie Robinson Park a short walk away. It also includes a 2,500-square-foot community facility.
HCCI President and CEO Dr. Malcolm A. Punter recalls Mayor Dinkins' impact on his youth. Born and raised in Harlem, Punter said, "I was inspired by seeing a Black man serve as Mayor of NYC. HCCI transformed blocks I was forbidden to walk down as a kid into vibrant sectors of the community. As president and CEO at HCCI, I have had the honor of hosting Mayor Dinkins and his wife, Joyce at our gala year after year. Knowing his impact on HCCI made those moments precious. Harlem will always cherish the memory of our beloved Mayor."