A Dream Deferred Not Forgotten
Don Peebles Aims to Change the Skyline, the Rules, and the System
By R.L. Witter
He always knew he would make an impact. Don Peebles didn't know how, when, or where, but he was sure of it. Born in DC, he and his mother moved to Detroit when he was three years old. It was a move that would shape his young life in more ways than one. "You had local bastions of Black lawyers and doctors. My uncle was an OBGYN; that's how my mother got there; her sister and my uncle moved there for his residency," he explained. Peebles' best friend was Kerry Gordy, son of Motown Founder and legendary music mogul Berry Gordy. "I felt there was no limit to what I could do. I found myself very optimistic about my future."
Peebles was molded and inspired by the people around him and the lessons he learned from them. "One of the biggest things I was mindful of early was making an impact. I was eight years old when Dr. King was assassinated. I remember when he was assassinated all of the riots and protests that took place afterward and then Robert Kennedy," he recalled.
A quick learner, he picked up on some hard truths early in life. "Our system, when it comes to Black Americans, is innately unfair. It is systemically discriminatory and is just as bad—in fact probably worse than when my father was coming along. It makes our futures so uncertain. It mass incarcerates our kids and the moment we look at some other alternative to that, the media and political establishments say, 'Hey, we're letting all of these criminals out of jail…'" He began to understand the game and that most Black people were losing. "What gets me up everyday is asking, 'Is this the best we can do as a country?' and 'Why does it have to be so hard?' I see other people; I have other friends and they're playing an insider's game. Black people in America are playing an outsider's game."
As he began his career in real estate development, Peebles found—no, created success. Soon he found himself in the company of Black American icons and leaders. He listened to their opinions and advice then made decisions and moves by following his own instincts. Several years ago, he found himself talking with Rev. Al Sharpton at a function at the Grand Havana Room. As they gazed through the window at the lights and the New York skyline, Rev. Sharpton said, "You see all of those buildings there? Not one of them was built by a Black person. You need to come here and do some business." One year later, The Peebles Corporation redeveloped the Tribeca landmark at 108 Leonard Street and more success followed.
A Fair Chance
When New York State issued a request for proposal (RFP) for the property at 35th and 36th streets, 11th Avenue and Hudson Boulevard West—across the street from the Jacob Javits Center, one block from the High Line, Hudson Yards and the No. 7 subway line, Peebles and his team were ready. Their proposal laid out plans for a skyscraper called Affirmation Tower with hotels, an iceskating rink, commercial office space, an observation deck, a cultural center, and more. They offered a building design that honors Black culture with a look reminiscent of an afro pick and would bring jobs and opportunity to the Black community. But, for whatever reason, the RFP was canceled.
"The State and City of New York gave away dozens of acres for Hudson Yards' development. They gave an installment sale, payment plan, built a subway station for them, gave them infrastructure and here we have one tiny little piece of property across from the Javits Center and you would think it's sitting on a goldmine or an oilwell. They don't want to even give us a fair chance for that and I find that indicative of what the problem is," said Peebles. "They want to keep us comfortable with disproportionate poverty… We want our share of the American Dream; and that's what Affirmation Tower says. We're paying a lot of money —$300 million— providing $1 billion dollars in contracts for minority and women owned businesses (MWBEs), thousands and thousands of jobs. We're using business in our capitalistic democracy to bring about some social change."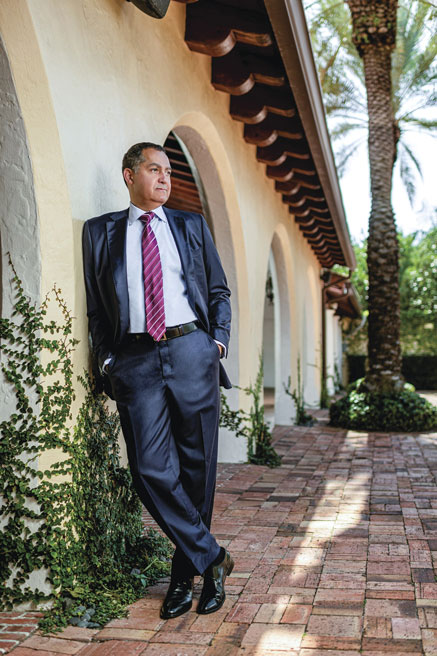 Dreaming Big
With Don Peebles and his team at the helm, Affirmation Tower has the bona fides to bring ownership and pride to the Black community in New York and around the world. "It's the tallest building in the western hemisphere by roofline, and for that to be done by a Black development team; constructed by a construction company founded by a freed slave and now run by his great, greatgranddaughter— Cheryl McKissack Daniel, president and CEO of McKissack & McKissack— for the New York NAACP to be headquartered there; and to have a cultural center, it says something to our young people across the board and it says something to white Americans too — don't look at us as not being capable. Don't down our capacity to be great."
It's About All of Us
The Affirmation Tower is definitely Don Peebles' passion project, but not for the reasons one might imagine. At this point in his life, Peebles has created a company and relationships that have built wealth for him and his family. He's met and socialized with business and political luminaries, and built a life that allowed his son and daughter to pursue their dreams and passions unabated while learning the family business and the life lessons they'll need to carry on their father's work. "This is not about me," Peebles said firmly. "It looks like we played the game so well they had to cancel the game. They said go out and build community support; I did. What this says is if you're Black, don't try to get into this game and do it too well, because maybe there's not a place for you. If New York City is known for anything it's the skyline. And right now, it says no Blacks allowed. So, being able to look out there and see the tallest building being built is like Obama being president. It's a big impact."
Peebles wants people to understand the importance of this project. "This is about us unlocking the doors of economic opportunity. We've had people open the doors of opportunity for us; they've done it already. So, the doors are being locked and there are bolts on the doors and this time around it's not water hoses; it's people smiling at us, saying nice things to us, saying they care… They want to help us get more comfortable where we are but they still are holding those doors closed. The way they get opened is we have to open them." He continued, "We have to be the ones who knock down these doors. Otherwise, they're going to be deadbolted and set even firmer for our kids and our grandkids. Affirmation Tower is about knocking down these doors and we're going to have to crush through, keep going at it to open them up. There's so much money involved, so much power involved."
As our time drew to a close, I asked Peebles one more question: Is this building what you want to be your legacy, the signature accomplishment of your real estate development career? Without hesitation he responded, "Affirmation Tower represents opportunity, hope, and real change. It would be the last development project I build. I will move on to doing something else, probably politics." He smiled, then said with a chuckle, "I'd challenge the system there because I think that needs to be challenged, too."
The Positive Community reached out to the New York Governor's office and local politicians for comment regarding the cancellation of the RFP, but did not receive a response at press time.