Business Mogul Adenah Bayoh Builds Her American Dream

Living Life Out Loud
By Glenda Cadogan
The opening of Adenah Bayoh's first IHOP franchise restaurant in Irvington, New Jersey, was a grand affair filled with excitement for family, friends, and the community. The 27-year-old owner, however, an immigrant from Liberia who had escaped the civil war there at the age of 13, said emotional turmoil engulfed her. "People were celebrating and I was thinking about the journey," she explained. "The truth is, by the time the restaurant opened I was bankrupt. I really didn't have a proverbial penny to my name. I stood there, looked at the restaurant and all I felt was pain."
It took a few years and three IHOPs later before Bayoh, 43, could recalibrate the pain of those trials into the pleasures of triumphant joy. "I remember the day some years later when I pulled into the parking lot of the restaurant and realized that despite all the hardships it was still standing," she said, adding, "And so was I. I broke into tears." Now that flagship IHOP located at 1212 Springfield Avenue in Irvington Township exists as a testament to Bayoh's strength. "I use it as a reminder that no one broke me. I am still standing and will continue to do so and make an impact."
Indeed, Bayoh's impact in Northern New Jersey and beyond is a gigantic one. Founder and CEO of Adenah Bayoh and Companies, she owns multiple IHOP restaurants in Newark and Paterson. With her partner, Zadie Smith, a delightful farm-to-table restaurant called Cornbread has locations in Maplewood and Newark. A Brooklyn Cornbread will open March 29, 2022. Her latest enterprise, Urban Vegan, located near her Newark Cornbread location features fast, casual vegan dishes sourced locally and at affordable prices. And there's more. The mother of two manages a $250 million real estate portfolio in urban redevelopment projects, which includes multi-family, residential, and commercial properties.
As an entrepreneur, multi-restaurant franchisee and developer, real estate magnate, immigrant, and wa survivor, Bayoh has a lot of stories to tell. Her favorite is the heroism and passion of her late grandmother. Only about 8 years old at the time, Bayoh related with sober clarity what happened the day armed rebels came to Foya, the tiny village where her family lived. "They got hold of my aunt and stripped her naked. Everybody froze except my grandmother, who stepped into action. In our tradition it's like a curse to look at naked older women. So, my grandmother started stripping off her own clothes. One of the rebels abruptly ordered the others—who by this time were about to rape my aunt— to stop. My grandmother then took her lapa (wrapped traditional skirt), covered my aunt and walked her away." The incident remains imprinted onto Bayoh's consciousness as the ultimate act of bravery. "I always say to myself that if my grandmother could have the courage to save someone else by standing up to men with guns, then I can do it, too."
In her journey through the challenging and complex world of commerce, Bayoh may not have encountered men with guns, but she certainly had her fair share of boardroom battles with their attitudes and prejudices. "I have been in rooms where it was clear to me that others felt I did not belong. But to quote the late Justice Ruth Bader Ginsburg: 'Women belong in any room where decisions are being made,'" she said.
It was a cold day in May when Bayoh landed at JFK International Airport in New York, the lure of the Statue of Liberty beckoning to the "tired, poor huddled masses." At the age of 13 she was in the care of the airline having traveled with her younger brother as unaccompanied minors. Waiting at the terminal were her parents, already resident in America. Their excitement of coming to America was high, yet what Bayoh remembers most about her feelings could be summed up in a few words —potato salad and McDonalds. "For some reason, I used to daydream about eating potato salad," she recalled with a question in her voice.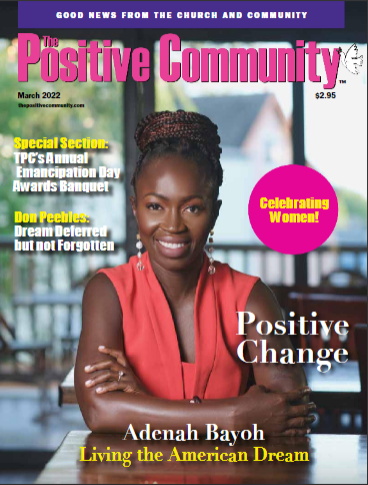 A far cry from her village in Africa where running water did not exist and rebels ruled the land—wonderful; America. The bold prints of the sign just before the Van Wyck Expressway read "Welcome To New York!" and the tall buildings were intimidating. But none of it could match the fire that burned in the heart of the Liberian teenager. No wonder. She is the granddaughter of Jenneh Viskinda; a woman who not only stopped a rebel attack but had a farm, land, and real estate. Grandma Jenneh's words of wisdom play like a stuck record in Bayoh's ears every time her back is against the wall. "She would always tell me, 'The darkness can never trump the light.'"
With plans to open four more restaurants in New Jersey and New York, Bayoh's light eluminates a path for other young girls to follow. Every successful endeavor comes with a bigger, brighter LOL moment: Adenah is Living Out Loud!